South Africa's groundbreaking approach to corporate governance was born out of sweeping political change and the commitment of former judge Mervyn E King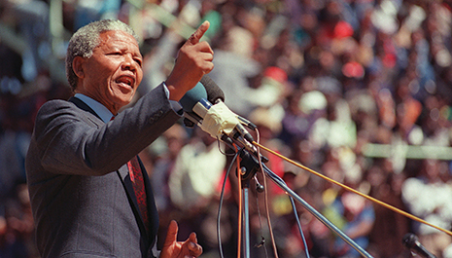 This article was first published in the September 2016 UK edition of Accounting and Business magazine.
Towards the end of this year, the profession and the business world will be watching South Africa, where the latest version of the country's groundbreaking corporate governance code, known as King IV, will be launched.
The King reports and codes on corporate governance – King I, published in 1994, followed by King II in 2002 and King III in 2009 – are widely seen as encompassing the best international practices in corporate governance. South Africa's inclusive, stakeholder-orientated and integrated approach to corporate governance has become influential around the world.
Each of the King reports has been hugely significant. The first shifted the focus of corporate governance firmly onto the stakeholder; the second introduced sustainability into governance and reporting; and the third led directly to the Johannesburg Stock Exchange mandating integrated reporting through its listing requirement in 2010.
The latest update, King IV, which is expected to come into effect in the middle of 2017, will update the existing code to take into account new developments in corporate governance, including directors' pay, integrated reporting, responsible investing, mandated audit rotation and tendering, information security and protection and board diversity. It is likely that, as with the previous King reports, its content will dictate the future direction of travel when it comes to corporate governance around the world in the longer term.
The 'King' of the four King reports and code is Mervyn E King, a former South African Supreme Court judge who has chaired the committee on corporate governance since it was set up in 1992. The first report, he explains, was born out of the huge wave of democratic change that swept the country in the early 1990s as apartheid was dismantled and Nelson Mandela was released from prison.
'In 1991/2 we were moving into democracy,' King told Accounting and Business. 'We'd been a country of unequal opportunity and suddenly we were becoming a country of equal opportunity. The majority of my fellow citizens had not been in the mainstream of the economy; they were going to become directors and managers, and there were no guidelines in place to help. So the Institute of Directors and the Johannesburg Stock Exchange thought some had better be written.'
Mandela mandate
In 1992, King was invited by the Institute of Directors in Southern Africa to chair the first official committee on corporate governance. He already had a strong record in social reform in South Africa; after resigning his post as a Supreme Court judge in 1980 he became the first chairman of Operation Hunger, a charity that feeds children in rural areas. (He is now its honorary life president.) Nelson Mandela's daughters worked for the charity, and when Mandela was released from prison in 1990, King was one of 12 people invited to meet him for lunch.
'Mandela said at the time that if it wasn't for Operation Hunger, the country would have three million useless citizens,' says King, 'because if we don't feed children under the age of three, their brains atrophy.'
It was Mandela who helped persuade King to accept the role of creating a code of corporate governance for the new South Africa.
'When I got the call from the Institute of Directors, I said I would think about it because I was very busy at the time,' says King. 'But then I got a call from Mandela. When he wanted me to do him a favour, the conversation would generally start with, "How's my favourite judge?" That usually meant I would end up doing a lot of work without remuneration. I told him during that conversation that I'd been approached to do this, and he said, "Do it, you're the right man, but make sure no one gets paid. They must do this hand on heart, in the interests of South Africa." So that's exactly what I did.'
He knew that the first King report had to set the tone for the new South Africa. 'It was a time of huge political change, so it had to be almost revolutionary; it couldn't just follow the financial aspects of governance. So we developed what became known as the inclusive approach to governance. Rather than an exclusive approach based on shareholder primacy, the inclusive approach meant that the board as a collective should learn about legitimate and reasonable needs, interests and expectations of stakeholders – and take account of them in its decision-making process.'
Game changer
The first King report was published in 1994 and is widely accepted as the game-changer in terms of corporate governance around the world, stressing as it did the business life of companies and the impact of a wide group of stakeholders over the shareholder-focused emphasis on the creation of value.
The King code is advisory rather than a legal requirement but in 2009, when the third King report was published, its 'comply-or-explain' approach was replaced with an 'apply-or-explain' approach to compliance, which until then had been unique to the Netherlands. This allows companies to apply the recommendations in the way they consider to be the best for the organisation but also to explain any departure from the written recommendation.
King II, published in 2002, went even further than the first report by introducing the concept of sustainability into corporate governance – a direct result of King's experience working with the United Nations on governance and oversight. 'I thought we were reporting on companies but not telling the whole story,' says King.
He later said he regretted that King II set out sustainability in a separate chapter, as this encouraged some companies to separate financial and sustainability reporting. 'Reporting in silos wasn't reflective of what was happening on the ground because companies don't operate with human capital in one room and financial capital in another,' he says today. 'It doesn't work like that; there's an interrelationship, an interconnection between resources and relationships on a daily basis. That's how the concept of integrated thinking and reporting developed.'
King III, published seven years later, recommended the integration of economic, social and environmental reporting, including an explanation of how the company had impacted on the community. King, who subsequently became chairman of the International Integrated Reporting Council, has continued to lobby for an integrated reporting framework to support this approach. 'Sustainability reporting is critical but on its own it's not sufficient,' says King. 'I can't believe the traction that integrated reporting has gained. It was a concept whose time had come.'
The King reports have encouraged companies down a path they had to follow, he concludes: 'It's a question of value creation. If you have scarce natural resources, and you just focus on short-term profit and concentrate on trying to get more dividends to shareholders, you're going to destroy the company. All of these factors are changing the way companies are thinking. If companies don't think about value creation in a sustainable manner, that company might survive for the next three to five years but it will become a stranded business.'
Liz Fisher, journalist
"If you have scarce natural resources and you just focus on short-term profit and paying dividends, you're going to destroy the company"