An entrepreneur since the age of 15 and now a member of several influential boards, Her Excellency Sara Al Madani says UAE women should take a risk and pursue their vision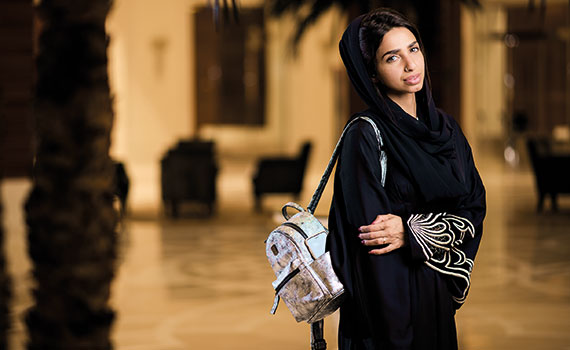 This article was first published in the March 2017 international edition of Accounting and Business magazine.
Her Excellency (HE) Sara Al Madani ventured into the business world at a time when very few Emirati women dared to do so. Defying gender and cultural norms, she started her fashion label Rouge Couture, now known as Sara Al Madani Fashion Design, at the age of 15.
Eager to give a new twist to the abaya (the robe-like dress worn by some Muslim women), she went on to create dozens of unconventional designs of the traditional garment and opened three branches of her boutique in the United Arab Emirates (UAE). Following her early success, in 2014 Al Madani, now 30, was selected by Sheikh Sultan Al Qasimi, ruler of the UAE emirate of Sharjah, as a board member of the Sharjah Chamber of Commerce & Industry (SCCI). As a result, she is now known by the honorific Her Excellency.
Inspiring women
Today, the entrepreneur travels throughout the UAE and beyond to share her story and inspire women to pursue their dreams: 'You can see drastic change happening and women are stepping up to make a difference,' HE Al Madani says. 'Women don't need empowering; they are already strong. They just need inspiring – someone to help them find their passions, then let them go and watch wonders happen.'
The problem, in her opinion, comes when women talk among themselves about how female entrepreneurs and financial professionals within the UAE are making insufficient headway. 'When that happens, it becomes a gossip session; not much gets solved. We need to involve more men in these discussions,' says Al Madani, who was the keynote speaker at ACCA Middle East's Women in Finance event in February 2016 and participated in a women's empowerment conference in Faridabad, north India, last November, organised by The Human Design Foundation and supported by Hope India, both non-profit organisations.
'I believe when you want to be a leader, you need to inspire by setting examples,' she says. 'I started my business when I was 15 and it was a man's world; nobody helped me.' With many facilities and initiatives available nowadays for Emirati women, however, there is no excuse, she adds.
'When an expat woman succeeds here, she sets an example for locals. I use these case studies to motivate local women,' says Al Madani. 'I tell them: 'Look, they left their home towns and came to a different country; they have a lot of risks to take and yet they're doing something. You are in your own country and you have it easier. Do something. Take a risk.'
Al Madani recently forayed into the world of food and drink, with the opening of a British restaurant Shabarbush, in Dubai. (Its name reflects the way many Arabs pronounce the London district Shepherd's Bush, which is popular with Emiratis.) At the same time, she runs a creative consultancy, Social Fish, alongside her fashion line, all while also a brand ambassador for Nivea and Natura Bissé in the Middle East.
So how does she manage to juggle all these roles? 'A lot of people start their day by doing random things, but you need to prioritise what's more important to finish,' she says. 'If there's anything that will stop you, it's you. You are your own wall.'
Moreover, she says, women are natural multitaskers, as numerous studies have shown over the years. This ability should give women an edge over men, she says: 'I'm always out and about and I take my child with me. I even gave a speech once with my son in my hand; nothing stops me.'
For Al Madani, there's no single formula for success, although there are qualities that are common among high achievers. 'I'm very stubborn and don't take no for an answer,' she says. 'I need reasons for why things don't work and I'm not afraid of failing. It's also important to be open to suggestions and adapt if necessary.'
Inspiration is also essential, even though it is sometimes downplayed and seen as purely artistic. 'The source of inspiration should be your vision and goal. The reason I wake up every day and do all these tasks is because I have a goal and want to get there.'
As a board member for the UAE SMEs Council and the Sharjah Economic Excellence Network, an initiative created by the SCCI to incubate and recognise startups, Al Madani regularly meets with financial institutions to discuss new small business rules and regulations. On one occasion, she was told by a bank that their finance and accounting department did better when it was managed by women.
Yet some UAE companies are still reluctant to place women on their boards. Data from the Arab Women Organisation shows that women account for 1.5% of board members of publicly listed companies in the UAE. This is compared with a global average of 19.7%, according to Women on Boards.
False assumption
Al Madani believes that many corporations falsely assume that women are more emotional and less realistic than men: 'This is very wrong,' she says. 'Women can add a lot of value to any sector and are more disciplined with money; they naturally manage households so they're always thinking ahead and planning.'
An electronic poll of delegates at the 10th Annual Corporate Governance Conference staged in November by Hawkamah, the Dubai-based Institute for Corporate Governance, identified cultural biases as the biggest obstacle to greater female board membership within the Gulf region. Nearly two-thirds of participating senior executives felt that women needed to work harder than men to prove themselves, UAE newspaper The National reported.
'Many companies in the financial sector make women feel that men should be in their place,' notes Al Madani. 'There's still pressure on them when they take on 'male roles'. Even with all the success a woman might have achieved, they expect her to prove herself in different ways.'
Moreover, some women perceive their femininity as a weakness, an idea that limits their careers to female-oriented fields, she says. 'Even as entrepreneurs, you see them opening bakeries and sweet shops. I want to tell these women: "Don't be intimidated and believe in yourselves."'
One way women can give themselves a head start in UAE business is by having a financial professional background, she says. According to Al Madani, the most common reason behind the failure of startups in the region is lack of financial understanding. 'Accounting and finance are subjects everybody needs to know about because money is in everything,' she says. 'If I didn't have a financial background, my businesses would've probably died within three to four years of operation.
'You have so many minutes in your day and so many months in your life, so you need to be selective in what you invest in and find your true passion. It's a self-discovery journey.'
Heba Hashem, journalist in Dubai
"You need to prioritise. If there's anything that will stop you, it's you. You are your own wall"