As CFO of BAIC Group, Zhang Jianyong FCCA has seen the automotive company go from strength to strength as it leads the way in China's international partnerships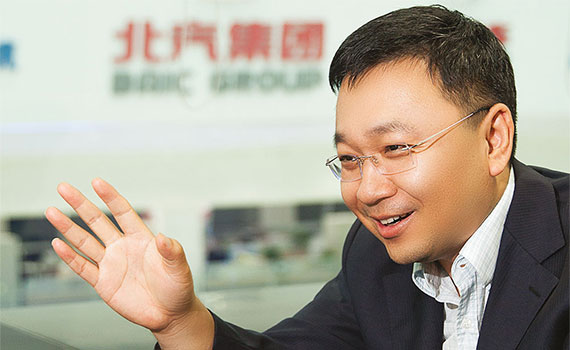 This article was first published in the October 2017 China edition of Accounting and Business magazine.
When Zhang Jianyong FCCA joined Beijing Automotive Group (BAIC Group) in 2003, it was a risky move. The company was on the verge of bankruptcy – not even qualified to issue a mid-term bond at home. With China's accession to the World Trade Organization, the country's automobile industry, since its first truck rolled off the production line in 1956, had never been so full of uncertainty.
However, the time of most difficulty tests the greatest capabilities, says Zhang, who has risen to become deputy general manager (CFO) of the Fortune 500 company – one of China's top five automotive companies by sales volume – as well as overseeing its financial services and industrial investment arms.
Zhang credits his individual as well as the group's success with a grand vision. 'The privilege of working as an accountant is having a trans-departmental perspective,' he says. 'I know how much each pine in our industrial park costs and how six lifter machines carried the rock standing by the entrance all the way from the north east of Shandong province.
'It's okay for technology, sales or purchasing teams to tend to their own businesses, but not for finance, where whole-picture vision is a must.'
For Zhang, one particular experience has influenced his methodology. When BAIC and Daimler were preparing to create their joint venture, Beijing-Benz, in 2005, Zhang was impressed at how the German multinational placed financial controllers at the centre of negotiations. 'Instead of the strategic cooperation department taking charge with some rough figures, our German partner would adopt a bottom-up approach, dismantling the future budget into a precise headcount, equipment investment and construction schedule,' he recalls.
'As the auto industry comes into a mature stage, capital operation and cost control has become increasingly crucial.'
Changing habits
For BAIC Group, developing financial services is vital. Under a corporate five-year plan that began in 2016, financial businesses are expected to contribute 25% of the automaker's total profit, or 10 billion yuan per year by the end of 2020. 'That should be an easy target,' Zhang says.
The auto consumption habits of China and the US are converging, the veteran notes. A large chunk of US car purchases are made through vehicle financing, points out Zhang, and the Chinese consumer market is buoyant as affluent households and a growing middle class drive consumption of goods, including home-grown brands. Given the penetration rate and current sales level, buyers of BAIC motors are expected to generate a 'credit demand of as much as 1,000 billion yuan', Zhang says.
'Developing financial services can support car sales while generating a stable cashflow for the company,' Zhang notes. 'A favourable loan term also helps avoid outright price cuts that could hurt feelings among existing customers.'
Technology will also help to ensure that the risk of such loans is manageable, Zhang says, citing developments in BAIC's South African subsidiary; cars bought on loans have their engines disabled through a smart chip when crossing borders.
At the same time, BAIC Group is gaining ground in private equity (PE) investment. This is in line with some of the world's biggest players, such as Daimler and Toyota, both of which invested US$50m in Tesla prior to the electric car manufacturer's public offering. 'Our unique offer to invested companies is that we can help accelerate their commercialisation,' Zhang says. 'They will have a greater chance to be included into our supplier system.'
In addition to an investment team of 30, BAIC's PE arm also borrows engineers from its research department for technical evaluation and coordinates a procurement team for qualification screening.
'We invest in technologies that can best represent the future,' Zhang continues. 'Some PEs would not even bother with due diligence and would invest alongside us.'
Natural fit
Back in his college years, being an accountant wasn't the first profession that came to Zhang's mind. As a 25-year-old graduate he joined China Electric Power Research Institute, hoping to be part of the restructuring and listing of the state grid. As the plan was postponed indefinitely, however, Zhang's superiors identified the monetary banking major a natural fit for accounting.
Extended thinking is an essential quality even for the most junior of accountants, Zhang says. 'The job involves much more than bookkeeping,' he explains. 'To deal with figures and think beyond is essential in almost every corporate meeting.'
Communication is another quality that can set the top-tier apart, Zhang notes, as accountants sometimes have to act like bad guys, pushing projects away. 'Saying no itself is easy; now, once you type in variables, even a computer program can lead to a "yes" or "no" conclusion. But how do you ensure thorough communication? How do you factor in missed opportunities? If one can propose other solutions, offering constructive contributions instead of mere objections, that's how you win trust and recognition from colleagues.'
Having been an ACCA member for eight years, Zhang has ineffable affection for the association. 'It has been a rewarding learning experience. ACCA tests a vast scope of accounting knowledge as well as one's ability to solve problems,' he says. 'Preparing for exams helped me better understand the issues covered in negotiations with international peers, and it was also mutually beneficial to apply what I learned at the table in the study.'
In addition to working on the Beijing-Benz agreement, Zhang has been involved in other international project negotiations, including a joint venture with Fiat Chrysler, the transfer of Saab's technology, the purchase of the assets of the Swedish WEIGL Transmission Plant and the acquisition of Dutch vehicle roof system provider Inalfa Roof Systems.
Inspired by its international counterparts, BAIC Group places a high value on the input of its accountants. 'The financial department hasn't had a dominant role in Chinese companies, but here our corporate culture gives it greater emphasis, as it especially connects to shareholders' interests,' Zhang says.
Through years of cooperation, Zhang observes that Japanese and South Korean peers tend to place emphasis on cost control, while US car companies like to hire CFOs from Wall Street, who focus on financing, restructuring, mergers and acquisitions. A voracious learner, Zhang appreciates what he has gleaned from global partners.
Shifting role in globalisation
Meanwhile, the role of China's auto industry in the global arena is shifting. 'China used to approach globalisation in a more or less passive way, importing advanced equipment as well as management philosophy. Now we are going outbound, advocating Chinese brands and our own technology,' Zhang says.
As one of China's global pioneers, BAIC Group has established strong networks in Central and South America, West and South-East Asia, Africa and Eastern Europe. 'The regions are closer to China in terms of economic development, and therefore share a similar taste of cars,' Zhang explains.
To speed up its internationalisation drive, BAIC Group has also set up joint ventures in Russia and India. It will complete building three global manufacturing bases in South Africa, Mexico and China's Yunnan province bordering Myanmar by the end of 2017.
The Belt and Road Initiative will, Zhang says, be the key to not only boosting economic development along the routes but also unleashing tremendous demand. 'There's a grave gap in infrastructural conditions of different countries,' he says. 'Such a proposal shows China is a responsible global power. And better roads have a special appeal to auto companies.'
However, Zhang also offers advice for the growing number of Chinese companies seeking overseas expansion. Forging partnerships is a win-win option, he says. 'Help is needed to understand local regulatory policies, while hedging against currency risk as well as political risk.'
Companies must also think carefully before making a move into new markets, he adds. 'In most of the cases, we can be better off by pooling collective strength and working as a team,' he says, citing an example of the company's auto-financing platform, set up in South Africa and offering services to all Chinese brands.
When asked whether his heart has settled with the profession, he smiles. 'Now, whenever people consult me on which major to study at college, I tell them accounting, for we can see problems where others hardly can,' he says.
As for his love of the automobile industry, his smile is equally wide. 'Cars are a combination of fashion and technology. They are men's clothes and toys,' he says. 'I found myself deeply mesmerised.'
Sarah Dai, journalist
"The privilege of being an accountant is having a trans-departmental perspective. I know how much each pine in our industrial park costs"