Kholeka Mzondeki FCCA is an outspoken advocate for professional women looking to climb the corporate ladder into leadership roles, finds Ramona Dzinkowski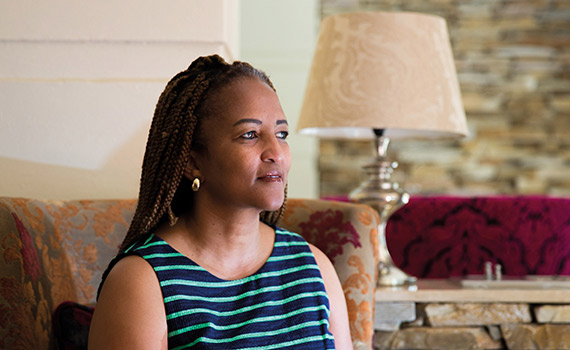 This article was first published in the January 2018 Africa edition of Accounting and Business magazine
A South African native and former ACCA Council member, Kholeka Mzondeki FCCA has garnered an impressive portfolio of independent non-executive directorships on the boards of a number of Johannesburg Stock Exchange-listed companies. She also consults on financial/wealth management at Asset Protection International. With extensive experience in senior finance executive roles as an FD and CFO, in 2008 she was a finalist for South Africa's prestigious Businesswomen's Association Businesswoman of the Year Award.
Mzondeki's journey to the top table was not an easy ride and, as she explains, reveals 'a history of defiant struggle'. She recalls: 'I was born in Johannesburg under apartheid, in the time of Bantu education – an education system for black people that was deliberately made inferior so as to direct blacks into unskilled labour.'
The Black Education Act of 1953, which segregated schools and higher education institutions into black and white, had led to a dramatic decline in the number of qualified black teachers. The minister of native affairs at the time, the 'Architect of Apartheid' Hendrik Verwoerd, she explains, stated that 'There is no place for [the Bantu] in the European community above the level of certain forms of labour... What is the use of teaching the Bantu child mathematics when it cannot use it in practice?' Mzondeki's father wanted more for his children. He decided to move his family to neighbouring Botswana in pursuit of a better education for them.
Desire to inspire
It proved a wise choice. Growing up, Mzondeki was attracted to accounting as 'something that pervades everyday life. It's a natural way of thinking for me.' After gaining a degree in accounting at the University of Botswana and her ACCA Qualification in the UK, she embarked on a career characterised by progressive responsibility, diversity and, perhaps above all, a personal agenda to inspire women to pursue advanced degrees and to seek a spot at the decision-makers' table.
Botswana offered Mzondeki an opportunity for education and she spent her early career in the country, becoming chief accountant at Water Utilities Corporation of Botswana. In 1996, eager for bigger and better opportunities in the new environment of independence and freedom in South Africa, she returned to the country of her birth. 'My vision was that I would use accounting as my base, and move back to Johannesburg to broaden my career. She ventured into the world of financial instruments as a risk management consultant. From there her passion for diversity would propel her into progressive senior finance positions at 3M, Masana Petroleum and Arup South Africa.
In the corporate world at the time, it wasn't unusual for her to be the only woman in a senior position, or the sole female accountant. 'Add to that that I was a black woman working in an environment where you're not expected to succeed, and that was a huge challenge, but I looked at it as an opportunity.
A place at the table
'The ACCA Qualification gave me the foundation. People thought that only a certain kind of person could reach positions of influence, or have a place on the company board, but I never doubted what I had to offer. When I sit on boards, I'm working with very influential, powerful people. I ask myself, what makes you think you have the right to sit at this table? My answer is, I'm bringing my experience, my education, a woman's perspective, and diversity.'
Mzondeki's determination to succeed is something she is keen to inspire in other women. She has spoken at various conferences and seminars in South Africa on women in leadership, the role of mentoring, and climbing the corporate ladder, and also at the Kampala Women in Finance Round Table in Uganda, which was organised by ACCA Uganda.
Her perspective on women in senior positions reflects what she sees as innate traditional female strengths. 'I believe because we are historically the primary caregivers in the home, we are used to multitasking. We've got to juggle children, we've got to juggle work, so there's no time for distractions.' Women tend to pay more attention to the details too, she adds, but 'we are inclined to simply get the job done, so are less politically oriented in our approach to corporate life and our professional positions. Women are also key decision-makers in the home, so to know where consumer demand is going you've got to have a woman's perspective.'
A culture of resilience
Mzondeki credits much of her career success to her upbringing. It was her parents' philosophy, she says, that fuelled her ambitions and her determination to succeed in a challenging and often discriminatory environment. 'My parents decided that we weren't going to put up with discrimination. They instilled a culture of resilience in us, a culture of knowing who you are regardless of what the system tells you, or what other people tell you. And living as a foreigner in Botswana, it was important to overcome the opinion that you really didn't belong there. When I came home to South Africa as a black woman and a fairly young person looking to advance my corporate career, I had to say to myself that despite all of these challenges I do know who I am and what I've got to offer.'
One of her most formative learning experiences, she recalls, was as a young accountant at 3M – her first role in a diversified industrial company where she had to get to grips with a whole new sector, pharmaceuticals, and consumer and industrial products. 'I was quite young in a senior role and people weren't used to having a black person as their boss, let alone a woman. It was great experience. And not only that – I learned about operational finance, that cash is queen, the importance of following the money; I learned about value drivers rather than just producing accounts. It was a very operational role, and it still serves me well in my board positions.'
Fast-forward 20 years, and South Africa and Africa are now very different places. 'Companies have gone through a cultural revolution compared to when I first began my career,' Mzondeki says. 'Businesses today understand the value in all of the six capitals [financial, manufactured, intellectual, human, social/relationship, and natural, as identified by the International Integrated Reporting Council]. They recognise that people are important, that they create the culture, and that it's important to have a culture of respect, transparency, diversity and innovation.'
Legislation and policy, particularly from the Johannesburg Stock Exchange, have accelerated the process of board diversity in South Africa, she adds. 'Companies have to provide their equality statistics, and if they aren't representative of the population they will be penalised. This has helped move the corporate culture for women along quite a bit.
'It's a matter of being given an equal opportunity. When you give people equal access, you'll find that there is talent in all of us.'
Ramona Dzinkowski is an economist and editor of the Sustainable Accounting Review
"People thought only a certain kind of person could reach positions of influence, but I never doubted what I had to offer"