The UK's industrial strategy recognises the need for government to cooperate with companies to create the right conditions for business to flourish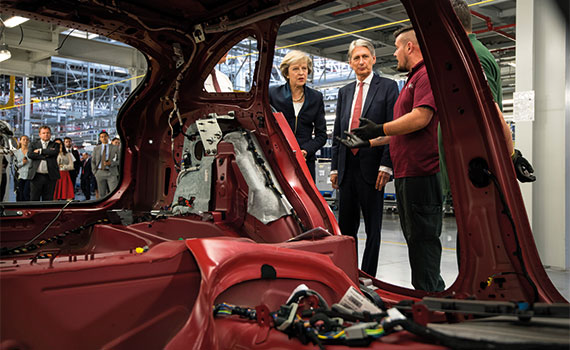 This article was first published in the March 2018 UK edition of Accounting and Business magazine.
The government's industrial strategy 'will help young people develop the skills they need to do the high-paid, high-skilled jobs of the future,' explained prime minister Theresa May at its launch in November 2017. She added: 'It identifies the industries that are of strategic value to our economy and works to create a partnership between government and industry to nurture them.'
The prime minister put the business minister David Prior directly in charge of developing the industrial strategy. He tells AB: 'It had two very clear objectives. One was to increase productivity and so raise people's earnings. The second was to address the issue of inequality and get more highly paid jobs.
'This is a long-term strategy and it will take quite a long time to deliver. The mission is to get the whole country behind clean growth, healthy ageing, artificial intelligence and autonomous vehicles. I think that in these areas the UK has a very, very significant competitive advantage, because we have extraordinary strength in research.'
Prior adds that government has to put money behind these four 'grand challenges' to take advantage of global trends and push the UK to the forefront of the industries of the future. However, with a great deal of public money having already gone into research and development (£2.4bn), he says he is 'reasonably confident we will get there'.
Broadening approach
What makes the industrial strategy significant is that it recognises the central role of government in creating the conditions – in particular the skills and infrastructure – required to strengthen the economy, including manufacturing. In doing this, it has rejected elements of the approach taken by Margaret Thatcher's Conservative governments from 1979 to 1990. Prior explains: 'For me it was a rather complacent view we took in the 1980s about moving to a service economy and not worrying about manufacturing, and it has proven to be misguided.'
Delivery of the industrial strategy includes establishing a technical education system to provide the economy with stronger vocational skills. The aim is to invest £406m in STEM (science, technology, engineering and maths) subjects. A national retraining scheme will help people reskill as the economy becomes reshaped through the deployment of the latest technologies. Billions of pounds will be invested in core infrastructure, including increased housing supply, better transport and improved digital connectivity. A national charging infrastructure is also to be created to support the expansion of the electric vehicle sector. The government also promises to focus the strategy on all regions and all UK nations, not just south-east England.
Infrastructure
Brian Collins is professor of engineering policy at University College London, director of the International Centre for Infrastructure Futures, a former chief scientific adviser to both the business and transport government departments, and helped draw up the recommendations that led the government to establish the National Infrastructure Commission to provide expert advice on the UK's infrastructure challenges. He welcomes the industrial strategy's focus on investment in improved infrastructure.
Collins tells AB: 'Investment in infrastructure should be at a scale that allows sustainable value across a range of social and environmental benefits to be easily captured, and the risks spread across a range of individual projects. This is likely to result in programme and portfolio investments containing tens of projects rather than projects by themselves. Crossrail and Thames Tideway are good examples of current activities.
'The use of much better data and data management methods throughout the lifecycle of infrastructure programmes will reduce costs, improve productivity and result in lower cost and higher reliability of operation of systems and services.'
But when it comes to skills training, the industrial strategy has been criticised as lacking ambition and scale. Ben Willmott, head of public policy at the Chartered Institute of Personnel and Development, says: 'On skills, there is nothing in the strategy that addresses the UK's chronic underinvestment in adult skills and life-long learning, with the focus mainly on education policy and the supply of skilled labour for the future in niche sectors.'
Working with councils
There has been a more positive response to the announcement that local enterprise partnerships (LEPs) will play an important role in the delivery of local economic growth, working with councils and backed by a £115m Strength in Places Fund. The Local Government Association's spokesman for the economy, Martin Tett, says this has created 'important opportunities to secure an even stronger partnership between business and public sector leaders', backed by 'robust local governance arrangements that are supported by new local powers and funding, and underpinned by local democracy and a strong business voice'.
Christine Gaskell of the LEP Network agrees. 'LEPs are entering a new phase of their development as they meet the challenges of productivity growth,' she says, 'and the focus on strengthening their future role is vital to that.'
Productivity error
The irony is that soon after the industrial strategy was published, it was suggested that UK productivity was not as bad as had previously been feared. The Office for National Statistics admitted that its calculations for productivity in a key sector, telecoms, had been flawed. The sector's productivity had been measured as flat because prices had been roughly static, ignoring the big increase in data transfers and other services provided at little extra cost. But while that overlooked the productivity gains in a sector worth 2% of the total UK economy, it does not affect the general picture of a productivity problem.
'Measuring productivity is extraordinarily difficult,' says Prior. 'But by any measurement we are significantly behind other parts of Europe and the US. We can only get earnings up if we improve productivity.'
Paul Gosling, journalist
"The industrial strategy recognises the central role of government in creating the conditions needed to strengthen the economy"