As Myanmar's economic transition continues, the accountancy profession has a vital role, says Tin Latt FCCA, managing director of MAT Audit & Professional Services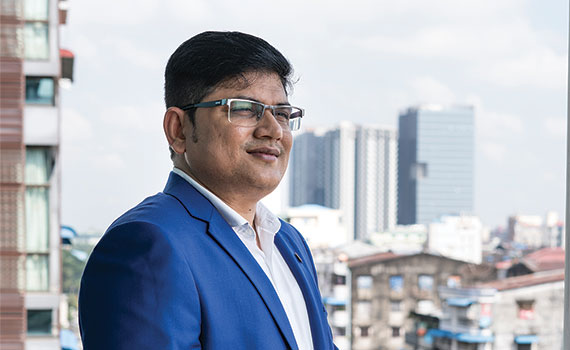 This article was first published in the June 2018 International edition of Accounting and Business magazine.
In recent years Myanmar has experienced radical change. After decades of military rule, a gradual liberalisation process began in 2010 and 2016 saw the election of the first democratically elected government.
At the same time the country has been undergoing a major economic transition, which has witnessed acceleration in growth assisted by increased gas production and exports. Economic growth is projected to continue despite political change and natural disasters; in particular, major flooding in 2015 decreased the supply of commodities, while low commodity prices and slowing foreign investment, contributed to widening the current account and fiscal deficit, according to the World Bank.
Despite these setbacks, the economy is expanding: the World Bank predicts that it will grow 7.1% a year over the next three years. And as industries such as manufacturing and hospitality continue to develop, more businesses will need accountancy and tax services. This is where finance professionals such as Dr Tin Latt FCCA, managing director at MAT Audit & Professional Services, come in.
Building and sustaining
'I strongly believe that accountants contribute their initiative and intellectual abilities to building and sustaining the economy of any nation,' Latt says. 'Accountants play key roles in maintaining the transparency and accountability of any enterprise, which is crucial to gaining the trust and confidence of stakeholders.
'As a result, organisations can pursue investors and other stakeholders for their strong participation and relationships, which in turn contributes to the growth of the nation's economy.'
As well as providing corporate advisory, tax and consulting services, Latt runs a training college (Management & Accountancy Training), which he founded in 1995. He has taught and mentored hundreds of students and, since 2003, he has worked as a visiting lecturer at the Myanmar Accountancy Council (the country's conferring body for accountancy practice and licences). He also writes on finance, economics, law and accountancy for local trade journals and magazines.
As Myanmar's accountancy profession develops, training is vital, Latt says. 'Because of changing laws and regulations in the country's reform process, it is a major challenge for professional accountants to update their knowledge,' he says.
Latt knew that he wanted to be an accountant when he was a teenager, starting his training before he turned 20.
'I would say that initially I was not interested in choosing accountancy as a career,' he admits. 'But my environment convinced me. I graduated from the Yangon Institute of Economics with a commerce specialisation. Then I attended certified public accountant programmes for two years and became an apprentice, training under the supervision of the Myanmar Accountancy Council.'
International outlook
Latt has seen the services offered by firms in Myanmar's accountancy sector become increasingly diverse as the economy develops.
'Today, accountancy firms in Myanmar provide a wide range of services to their clients, which include not only traditional accounting and audit, but also other value-added services such as risk-based auditing and transaction activities,' he says. 'Local firms working in collaboration with international firms may have more experience and greater capability in providing these kinds of services.'
Another significant factor in the development of Myanmar's accountancy sector, Latt notes, has been the growth in legislation. Ethics laws, originally created in 1972, were revised and updated in 1994 and again in 2015. These changes mean that professionals must be on their toes and ready to learn new skills as the landscape changes. 'Myanmar's accountancy law ensures accountants spend their professional life in an ethical manner,' he says.
Capacity building
For Latt, the education and training of the next generation of finance professionals is a vital issue.
'Professionally qualified accountants have different skill sets and experience in the field of finance, accounting, business, management, governance, law and economics, which are in high demand in the process of driving businesses,' he says. 'It is important to build capacity in fledgling accountants so that they have the opportunity to extend their career in local conglomerate businesses and international companies.'
For this reason, Latt is also involved with the Myanmar Institute of Certified Public Accountants (MICPA), of which he is currently vice chairman. 'MICPA is playing a big role in developing the accountancy profession in Myanmar by supporting its members in collaboration with local and international stakeholders,' he explains.
MICPA
The institute collaborates with public affairs offices in countries such as Australia, and works with international organisations on professional development programmes. It also works on drafting laws and regulations, and helps advise government departments on taxation, auditing, accounting, and other financial and economic issues.
ACCA plays a crucial role in Myanmar, says Latt, who decided to study for the ACCA Qualification because he believed it would help him develop into the internationally qualified professional accountant he now is. After qualifying, he went on to help other students gain the ACCA Qualification.
'I delivered ACCA programmes in my ACCA training schools from 1998 to 2012, and I taught more than 3,000 ACCA students in various subjects, such as advanced financial reporting, audit and assurance, financial management, performance management and business analysis,' he explains, adding that following the signing of a memorandum of understanding between MICPA and ACCA (see box), he will continue to collaborate with ACCA in the delivery of professional development programmes in Myanmar.
Cristina Maza, journalist
"Accountants contribute their initiative and intellectual abilities to building and sustaining the economy of any nation"
"Because of changing laws and regulations it is a major challenge for professional accountants to update their knowledge"