'Tech accountants' are vital to firms looking to move into the digital space, says Darren Kong FCCA, managing director, corporate strategy and alliance at Fusionex International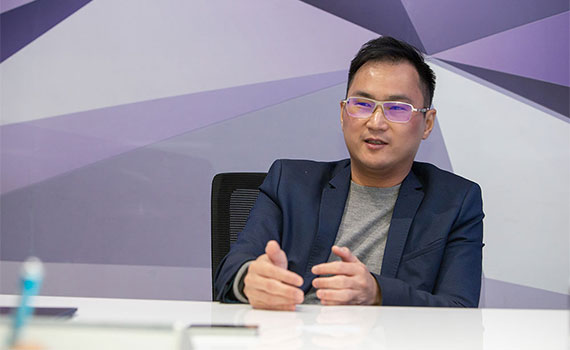 This article was first published in the June 2019 Malaysia edition of Accounting and Business magazine.
Accountants are in a great place to serve 'as the bridge between business and tech', says Darren Kong, managing director, corporate strategy and alliance at Fusionex International, a data technology solutions provider. And he should know – with a degree in applied accounting from the UK's Oxford Brookes University, Kong exemplifies this new breed of hybrid accountants, or what he terms 'tech accountants'.
Fusionex's culture is very different from most organisations, notes Kong, whose role involves designing the organisation's roadmap and engaging closely with various stakeholders comprising business partners, enterprises, SMEs and trade associations (the 'alliance' part of his job title). He credits this to founder and group CEO, Dato Seri Ivan Teh, who encourages multitasking in order to nurture seasoned all-rounders. 'He constantly stresses the importance of growing "inside-out" and embracing a cross-fertilisation approach in our roles, where we get involved in as many aspects as possible,' Kong explains.
This holistic and integrated approach is key to solving the challenges faced by many businesses in the tech industry, especially the SMEs that comprise close to 70% of the Fusionex customer base. At its core, a tech conundrum is about solving a business issue. Businesses, especially SMEs, want to 'know how to start, when to start, and what is the cost and return on tech investment', Kong explains. 'Our role is to help our fellow business partners dissect these questions and design the right strategy and roadmap for their business.'
Key to determining that strategy is to design data-enabled solutions that suit what Kong describes as the three key phases of a business's development. During the start-up phase, businesses need help in terms of branding, populating their customer database and finding the right market. After two to three years, they should have generated a certain amount of historical sales and customer data, and Fusionex helps them to analyse these datasets to use their resources more effectively and sustainably: focusing on costs, matching them to the right customers and demographics, and managing their marketing spend more efficiently.
By the third phase, a business should have matured into a sizeable, export-ready enterprise with larger capital and resources. 'This is the phase where you need to automate a lot of operations and ready them for the digital space,' explains Kong, citing measures such as onboarding electronic trade facilitation, as well as the need for seamless integration of logistics and inventory management.
While the industry is currently experiencing explosive high growth, Kong is transparent about the challenges faced by tech companies, including around talent and economic disruption. 'Many specialised technology companies still find it difficult to recruit the right "fit" at the right time,' he says. 'As such, they invest in training and talent-matching as early as tertiary education level.'
Keeping the talent
At Fusionex's head office in Petaling Jaya, management is clearly putting its money where its mouth is to draw in and keep talent. Fusionex's 'office of superheroes' alleviates the daily grind with perks such as superhero-themed rooms, pantries with free snacks, pool tables, gym, karaoke, massage chairs and rejuvenation capsules spread over three floors. The workplace is in tune with the wants of the 500-strong local staff and Kong believes that this is one factor that keeps the unplanned attrition rate down to less than 8% a year.
Strategic partnerships also enable Fusionex to punch above its weight. In 2017, the company partnered with Alibaba Cloud, the cloud computing arm of Alibaba Group, to provide cloud-powered software solutions to businesses in the ASEAN region. Companies in various sectors including financial services, trade facilitation, e-commerce, retail, aviation, travel and hospitality, and manufacturing have adopted these solutions to drive performance.
Fusionex continues to conduct further research and innovation into big data analytics (BDA), machine learning, AI and the Internet of Things at its labs and R&D centre in Petaling Jaya, in order to roll out tech-enabled business solutions that are suitable and affordable in the local and Asian context. 'There are many new technologies riding on the growing use of AI, machine learning and deep learning. These new technologies are moving towards the enhancement of a more agile business environment, to adapt to consumer convenience, higher standards of living and healthcare, and resulting hopefully in less wastage,' says Kong.
Push and pull
Economic uncertainties can create 'push-and-pull' factors for technology investment. While some adopters might choose a 'wait-and-see' approach, others might opt to embrace technology, says Kong. For example, news of retailers shutting their
bricks-and-mortar stores might seem like a death knell for heritage brands such as Toys R Us and Crabtree & Evelyn. 'However, some of them are moving online, making their products more available across borders and reaching a wider consumer audience,' he points out. 'Tech companies naturally play an important role in such migration.'
In the local context, Kong welcomes incentives that can cushion economic volatility and stimulate growth, such as recent government announcements on equity crowdfunding, peer-to-peer lending, an RM3bn industry digitalisation transformation fund with subsidised interest rates at 2%, and various venture capital funds and matching grants. 'These are good measures in the long run,' Kong says. 'For the shorter-term, it would be good if some form of grants is allocated to businesses, especially SMEs, to encourage them to kickstart their e-commerce or digital journey.'
For the longer-term, Kong suggests that capital spending by businesses in e-commerce, big data, AI and related expenses be granted reinvestment allowances or double tax deductions. 'At this stage, many businesses are ready to export and expand outside of Malaysia, thus higher investments are anticipated to build and promote our Malaysian brand abroad as a source of supply of goods and services to the global economy,' he says.
So how can finance professionals reinvent themselves as hybrid tech accountants? Kong says that accountants have got to layer multiple skills on top of a strong analytical foundation. Kong credits ACCA with helping him to achieve this. 'When I started with ACCA in 1997, I wanted to build a strong foundation in finance, tax and accounting that is essential as a head of finance,' he says. In doing so, ACCA also provided Kong with a foundation in tech through the Level 1 MIS paper, while his interest in big data came through reading articles on the subject published in AB.
ACCA accountants
In sync with Fusionex's emphasis on multiskilling and multiple intelligences, Kong welcomes ACCA's long-term push to upskill its members – not only in finance and accounting, but also in business management, project management, leadership and human capital management. 'At Fusionex, we are happy to work with such individuals, and are willing to consider ACCA-qualified accountants for project manager roles – to manage project feasibility and team deliverables against customer expectation,' he says.
For those keen on moving beyond the finance function, Kong notes that each accountant has the capability to be a strategist, as they 'know the ins and outs of a company'. But to be a good strategist, 'first of all we need to know our numbers, our operations and, most importantly, our people and how our business works beyond just the accounting aspects of things'. To effectively turn strategies into action plans to achieve the desired results, 'we need to understand our data, discover the actionable insights, form the right strategy and execute at the right time with the right resources and people'. But that's not all: 'You need to have the right mindset and approach to be a strategist, because the role requires forward planning and creating value at the forefront.
'For faster and accurate decision-making, accountants also need to acquire skills in data acquisition, data management, data analytics and data translation,' Kong adds. 'They have to be able to find insights and relationships between internal and external environments, and predict what is going to help grow businesses.'
Career aspiration
Prior to making the jump to IT, Kong spent 15 years in the automotive sector, starting as an entry-level finance analyst in management accounting at Ford Asia Pacific Malaysia, before becoming group financial controller at MBM Resources (MBMR). During this period, he spearheaded a four-year property development project under MBMR to redevelop a premium plot of land along Kuala Lumpur's Federal Highway into the 24-storey Menara MBMR, which now houses the 3S centre for Volvo and Perodua.
A key part of Kong's career development has been learning how to harness the power of business networking, which, he says, helped him make the quantum leap from automotive and property development to IT. 'In 2017, I decided to venture into the tech world and I knew that I needed to start from scratch,' he recalls. Through an entrepreneur friend in Vistage Group Malaysia – the global club for CEOs and business owners – Kong met various business owners and entrepreneurs who wanted to embark on their own digital journey. He also got the chance to participate in various tech roadshows and events, an invaluable experience and a 'strong foundation' for his role at Fusionex.
To give back to the profession, Kong is more than willing to help mentor talents in commercial accounting as well as technology. 'I am happy to work with the ACCA mentoring programme to nurture a new generation of tech accountants,' he concludes.
Nazatul Izma Abdullah, journalist
"For faster, accurate decision-making, accountants need to acquire skills in data acquisition, data management, data analytics and data translation"