As managing director of Mazars Hong Kong, Stephen Weatherseed has helped the firm as it takes on its biggest challenge yet: conquering China's domestic market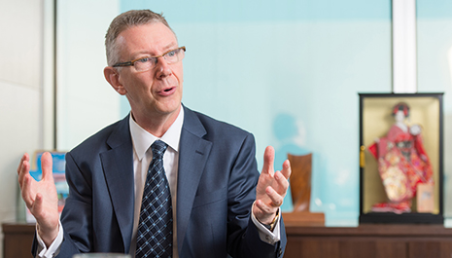 This article was first published in the July/August 2016 international edition of Accounting and Business magazine.
The first thing to understand about Mazars is that it is a truly integrated firm. Based on a democratic partnership, each partner has the right to vote on strategic decisions. The emphasis is around sharing, and this is dramatically illustrated by the fact that Mazars shares its profits worldwide.
'This means we can deploy our resources more easily and share what we have globally, therefore we end up punching above our weight compared with the competition,' says Stephen Weatherseed, managing director at Mazars Hong Kong. 'Even though we are relatively small as an organisation – we have 17,000 people worldwide – we rank number 11.'
The integrated business model was a refreshing change for Weatherseed, who joined Mazars in 2011 after over 30 years with Grant Thornton. He arrived as the firm was launching the first of its China desks, initially in Europe and then across offices in Africa and the US, to cater for mainland Chinese businesses operating across those countries. This represented a fundamental shift in the evolution of the China business.
Mazars Hong Kong operations began in the mid 1980s and in 1997 the firm opened an office in Beijing, followed by one in Shanghai in 2002 and then Guangzhou in 2007. The focus was on catering for inbound foreign business, predominantly European firms as well as American ones. What these companies typically needed was accounting and outsourcing – all of which had to be carried out in Chinese – as well as traditional audit and tax services.
China has seen exponential growth over the last 30 years and Mazars recognised that it was time to adapt its business model. It needed to be more engaged with domestic business within China and to better understand what was driving businesses to invest and operate outside the country. It was this recognition that led to the development of the China desks – small teams that could meet with Chinese companies and see how they could support them.
Bigger domestic presence
'What they were seeing on the ground in their respective countries was mainland Chinese companies coming in and setting up and doing business there,' Weatherseed says. 'There was enough corporate activity going on outside China to justify the investment in setting up these China desks.'
On the mainland, Mazars had a profitable, healthy business servicing inbound investment but it wasn't tapping into the domestic market. In order to be a credible player it needed a bigger domestic presence – to effect a merger. The timing was good, coinciding with a drive by the Chinese government and many Chinese firms to go global.
'We'd been receptive and actively looking for four or five years – all the time I've been with Mazars,' Weatherseed says. 'Then, about two-and-a-half years ago, we were introduced to ZhongShen ZhongHuan.'
A well-known firm with more than 30 years' standing in China, ZhongShen ZhongHuan had 1,500 employees in 14 locations across the country. Some very serious and lengthy discussions began, including essential talks with the Chinese Institute of Certified Public Accountants and the Ministry of Finance in mainland China, to make sure that they understood the arrangement Mazars was after. The talks went on for two years.
'Because of our structure – an integrated model – it makes for quite a lengthy merger anywhere in the world,' Weatherseed explains. 'To some extent the business coming in gives up some of its independence or autonomy and for us we are taking a bit of a risk saying welcome to the family.'
Weatherseed and his colleagues were familiar with mainland firms professing to be profitable, offering high-quality services to their clients and guaranteeing a good place to work for its employees, but ZhongShen ZhongHuan was touting something different as its core value.
'The way they approached their business was very much along the lines of clean, above-board, ethical, with a focus on technical quality encapsulated in the value of integrity. It was something new for us to be hearing. In a China environment, where many of these firms are relatively new and the profession is relatively young, it was quite unusual,' says Weatherseed.
This wasn't all talk; Mazars saw it in action. During lengthy merger discussions, ZhongShen ZhongHuan's more junior colleagues were also present alongside senior executives. Mazars was encouraged to see that the less experienced employees were encouraged to participate and their views seriously considered. It was clear that this wasn't the guarded talk of someone trying to appease their boss, but a genuine discussion.
'Real DNA'
'I think they are enlightened,' Weatherseed says. 'They passionately feel that this is the right way to be building a business. For Mazars, it's almost as if someone had waved a magic wand and brought the two parties together. You can change policies and strategies about how to deal with staff or how your profile is perceived, but it's real DNA like this you can't change.'
The merger with ZhongShen ZhongHuan went through in January. It was hot on the heels of several other mergers in 2015 in Germany, Australia, Mozambique and Cyprus, but of these it was the German merger that was by far the largest. By joining forces with Roever Broenner Susat it created a business with more than 1,000 staff and a turnover of €110m. The German merger talks were happening at the same time as those with ZhongShen ZhongHuan and the sizeable economies that Germany and China represent meant that both sides were acutely aware of each other.
'Knowing that Mazars had a strategy to expand in China was important to Germany,' Weatherseed says. 'And it's very important to our new friends at ZhongShen ZhongHuan that we have capability and capacity in Germany to be able to service those existing clients, let alone any new ones.'
The Chinese economy has grown fast, with many businesses making the most of opportunities and growing to be hugely successful. This has helped foster an opportunistic culture that does have its merits, but Weatherseed believes it is time to introduce a more strategic mindset.
'When we talk to Chinese companies and ask them which business line they want to expand into and where, very often you get inconsistent answers,' he says. 'That makes it very difficult as an adviser because if we bring an opportunity one day it may get their attention, but the following week they've decided against it.'
He is committed to helping businesses understand that if they spend more time devoted to strategy, they will be healthier in the long run. Successful companies that are very strategic in the way they operate outside China – such as Alibaba, Huawei and Dalian Wanda – will help lead the way, he says.
No sign of a slump
As for the slowdown in the Chinese economy, Weatherseed has yet to see its impact. He still has appointments in his diary to talk to overseas businesses about setting up in Hong Kong and there seems to be no sign of a slump. The only sector where he expects to see a slowdown is the fashion and luxury end of retail that has been hit over the last year. Meanwhile, businesses involved in construction and infrastructure are going strong.
'They come to Hong Kong, test the market, get their business model right and then either independently take their business into China or establish relationships here with local business which can take them into China,' he says.
Weatherseed is committed to the region; his wife is from Hong Kong and he has made the city his home, having arrived in 1989. What he hopes to see over the next five to 10 years is Hong Kong reinforcing its position as the international finance centre for China and, equally importantly, industry leaders working to integrate Hong Kong into the Pearl River Delta.
'We are very influenced by what goes on across the border but at the moment my feeling is that we are insulated against it; we are trying not to receive those messages. Where is the collaboration? Why aren't we hosting a lot more meetings with the mayors of the cities and provinces? Why aren't we proactively doing this as a city?' he says.
He believes passionately that Hong Kong can play an even more key role working alongside China, but the direction needs to come from the top, from government and industry leaders. 'Potentially this place could be really transformed – or not, if we keep the shutters down,' he says.
In China, ACCA is valued for its educational role; Weatherseed says it has the status of a virtual university. And it is respected for its long history. 'China listens to large, important, long-lived, well-respected institutions like ACCA; they take them very seriously,' he says.
He believes the focus should be on training and quality and standards to reinforce messages to the membership. He also sees an important role for ACCA in communicating the importance of standards and of professional qualifications.
'That message needs to be got across to the informed public outside the accounting profession – it's the business environments and government as well – and to continue to engage with the community at large to share the values relating to integrity and quality that I know ACCA embraces.'
Kate Whitehead, journalist