As ACCA and CA ANZ celebrate the first anniversary of our strategic alliance, Brian McEnery looks back on a busy year of events, projects and opportunities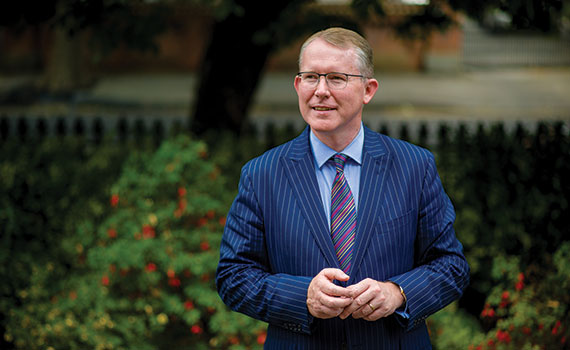 This article was first published in the May 2017 China edition of Accounting and Business magazine.
With almost a year gone by since we announced our groundbreaking strategic alliance with Chartered Accountants ANZ, I thought I'd take the opportunity to reflect on how our alliance has evolved, and the mutual benefits that we, and CA ANZ members, enjoy as a result.
I was interested to read about my CA ANZ counterpart, the recently appointed president Cassandra Crowley, in the March issue of Accounting and Business. Crowley and I have much in common, from accountancy being in our blood – her mother is a member of CA ANZ and my brother of ACCA – to our passion for engaging with the next generation of finance professionals and finding ways for our organisations to equip them for a rapidly changing profession.
And I believe that our organisations and members have just as much, if not more, in common. We might span the globe but we are all united by a passion for this profession and a vision for its future.
So, what have we been up to together since June 2016? We've been running joint events in a number of markets, including the following:
CA ANZ hosted 'Future of Professional Associations' events in London and Sydney, and extended invitations to both memberships.
CA ANZ contributed two well-attended sessions at ACCA's global virtual conference.
ACCA and CA ANZ hosted a joint member breakfast event discussing the future of robotics in finance, which was held at KPMG's headquarters in Sydney
ACCA joined a CA ANZ/South African Institute of Chartered Accountants joint event in London in March.
Both bodies hosted a table at the Australian Accounting Hall of Fame celebrations.
ACCA was invited to join the CA ANZ annual dinner in Hong Kong.
We have opened up CPD opportunities for both our member bodies. CA ANZ members have access to a huge range of online courses and BPP learning programmes, while ACCA members can enjoy CA ANZ member rates on its recently launched Lifelong Learning platform, offering a great number of opportunities in a range of formats, from webinars to workshops.
We've also been working on jointly branded professional insights projects.
At the end of March, we successfully launched a major joint research project: G20 public trust in tax. ACCA worked with IFAC and CA ANZ to survey 7,200 taxpayers across G20 nations about their views of and trust in tax policies and policymakers. The results were fascinating and are sure to be useful for finance professionals in all of these markets; you can read the full report on the ACCA website and read the highlights in next month's edition of Accounting and Business.
Finally, in December we launched the joint publication Reach, which focuses on the common challenges and opportunities faced by professional accountants across the world, whatever their role. Reach is available on the ACCA website: visit accaglobal.com/alliance.
It's been a great first year for members of both organisations.
Brian McEnery is a partner specialising in corporate restructuring and healthcare consulting at BDO Ireland