Meeting members and stakeholders around the world enables the executive team to strengthen ACCA's reputation as trusted advisers, says president Brian McEnery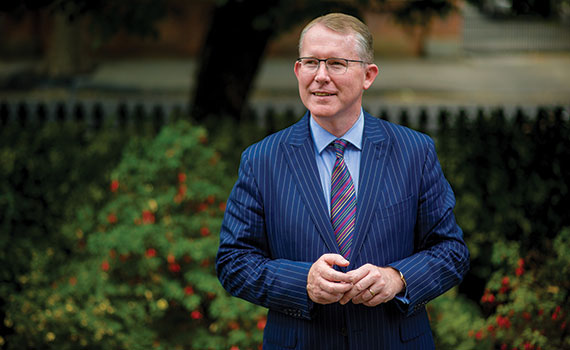 This article was first published in the international edition of Accounting and Business magazine.
It has been a busy few months for the ACCA Council and executive team, as we spend time working with our markets around the world to shape our perspective and activity. Alongside my day job, I have been travelling extensively to meet hundreds – if not thousands – of ACCA members, students and stakeholders.
I've spent time in Pakistan, Singapore, Kenya, Uganda, Rwanda, the UK and China. Soon I'll be visiting Canada and Guyana.
It's been a whirlwind of learning, experience and forging relationships. My main reason for market visits is, of course, to meet with members. So many of you have been generous enough to share local insights, which helps me to continue to work for you. It's my discussions with all of you that allow me to speak on your behalf – so thank you to the many of you who have hosted me and helped steer my leadership of ACCA over the past few months.
I've also been giving out awards to students who achieve exceptional marks on their ACCA papers and to ACCA-qualified professionals who are excelling in their careers and giving back to the profession.
Each visit usually involves some consultation with local stakeholders, including employers, regulators and government officials. In all our markets, we look for local relationships that can strengthen ACCA's position, ensure that your Qualification is respected and open doors for ACCA members to local opportunities.
I travel around to ensure that my perspective remains truly global. I need to be aware of the local movements and dialogues within which ACCA can be situated. It also allows me and the ACCA executive team to have a broad view of the economy and environment as a whole; we can see and act on trends and opportunities that span several countries, such as the China-Pakistan Economic Corridor or the One Belt, One Road initiative.
I have met with so many inspiring ACCA professionals throughout my term, but particularly over the last three months. It has really demonstrated the authority that we have around the world as trusted advisers.
My fellow Council members have also produced a series of webinars, giving an overview of strategic progress from the last few months and to answer your questions. If you weren't able to make these live, you can still watch them at bit.ly/ACCA-councilweb.
I hope that you find these useful and that my travels have been valuable to many of you as well!
Brian McEnery is a partner specialising in corporate restructuring and healthcare consulting at BDO Ireland