Companies' involvement with the voluntary sector can bring great benefits to the workforce, as well as the cause - and the rewards can be wider than you might imagine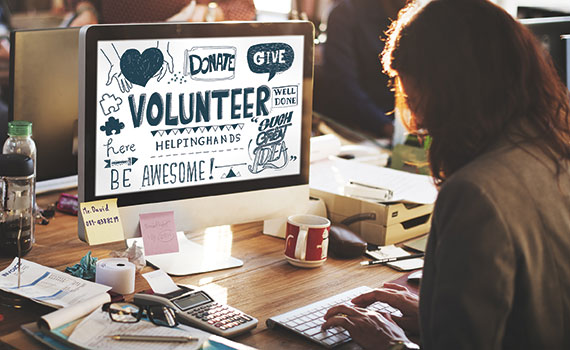 This article was first published in the July/August 2017 UK edition of Accounting and Business magazine.
The concept of 'work' has evolved over the years. Historically it has been a simple contract between employer and employee, where the latter would provide a service in return for an agreed remuneration, but expectations have changed.
Today, employees want more. They will often demand that their workplace be a place to build wealth, develop social networks (in the traditional sense), satisfy intellectual curiosity and contribute to wider society. It's not surprising, then, that an increasing proportion of companies are looking to methods well beyond cold, hard cash to satisfy their workforce.
One such way is a commitment to worthy causes and social good, which can differentiate employers from their competition and attract a generation of workers who, while dedicated to success, are in possession of a strong social conscious and moral compass. (Of course, let's not forget that this type of activity also plays well with shareholders.)
According to the National Council for Voluntary Organisations (NCVO), a UK-based organisation that represents the interests of more than 12,000 voluntary groups, in 2014/15, private-sector organisations contributed more than £1.9bn to total voluntary sector income of £45.5bn. It's a substantial contribution – more than four times that provided by the National Lottery Fund – and is just one indicator of the importance that profit-focused organisations are placing on the so-called third-sector.
But while raising funds is a crucial element of how companies can help charitable or social organisations, increasingly businesses are working at a deeper, more collaborative level.
Research published by the Chartered Institute of Personnel and Development (CIPD) in late 2015, On the brink of a game changer? Building sustainable partnerships between companies and voluntary organisations, points to four different types of employer-supported volunteering (ESV) that are typically found at companies:
team-based/unskilled
skills-based
existing volunteering role
wider corporate engagement.
Within each area, the report states, it's possible for a corporate to support either short- or long-term projects, giving staff the freedom to contribute to worthy causes through a variety of means.
Where to start?
For those organisations looking to explore volunteering more actively, the CIPD points to four areas that they might want to consider. First, ESV works best when there is a mutual benefit: for the company, the voluntary organisation and the volunteer themselves. Costs can be significant – whether direct or indirect – so it works best when all stakeholders are fully aware of the benefits.
Second, and inextricably linked to the first consideration, is the cultural element. Both organisations will have different cultures, challenges and expectations, so understanding these from the outset is crucial to a successful partnership.
Third, it can be beneficial to work with third-party brokers or intermediaries to help find the right organisation to provide support to and, ultimately, to partner with.
Finally, scale is an important consideration, and there is often a preference for working with smaller voluntary organisations where impact can be felt more keenly.
There is no doubt that volunteering is a highly effective way to provide vital support to charitable organisations, a point backed up by Kate Lovesey, a senior corporate volunteer manager at Macmillan Cancer Support, who, writing for Civil Society Voices, says that it can be just as important as fundraising.
'Volunteering has increasingly become as much a key component to corporate partnerships as fundraising,' she writes. 'I believe the shift in preference for skill-sharing is a great investment for both charities and corporate partners. Progressive organisations recognise the business value of skill-sharing, encouraging their people to use skills the organisation wants to be known for whilst also developing new skills to bring back.'
But, while volunteering and skill-sharing is a vital source of support for the charitable and voluntary sector, there is no getting away from the fact that they need significant funds to carry out the work they do. And here, as the NCVO research proves, private-sector companies play a significant role. There is no shortage of examples of private-sector organisations – including many accountancy firms, from Big Four to small, local practices – raising funds for or contributing time to charities. But one of the most straightforward and durable ways this can be supported by companies, at least in the UK, is through Payroll Giving.
April 2017 marked the 30th anniversary of the scheme, an initiative that allows the staff of enrolled companies to donate pre-tax to charitable causes through PAYE. While a million of us have done so, to the tune of £130m a year, the campaign Geared for Giving is committed to doubling this by 2021 by convincing every company in the UK with more than 250 employees to enrol. Just 23% have done so to date. Several well-known companies lend their support to the initiative, including BT, Asos, Experian and Linklaters, and it could be the most straightforward and effective method to help charities.
As Michael Rake, BT chairman and former chairman of KPMG, says on Geared for Giving's website, 'Payroll Giving is the simplest and most effective way to give to charity, both for employers and employees. BT alone raises £3.5m for charities through Payroll Giving every year, and we encourage more British businesses to get behind the scheme.'
David Rae, journalist
"Raising funds is a crucial element of how companies can help charities, but businesses are increasingly working at a 
deeper, more collaborative level"