International alliances are helping accountancy firms to offer more to their clients and forge new relationships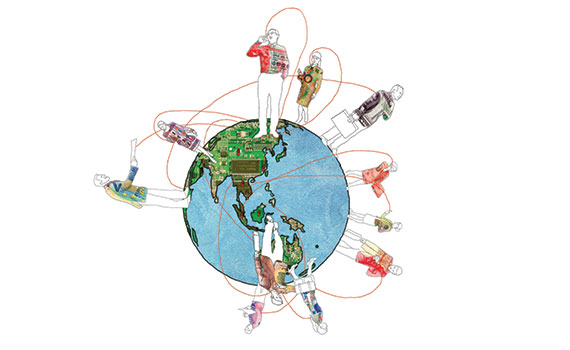 This article was first published in the July/August 2017 China edition of Accounting and Business magazine.
As the world becomes more connected and integrated through technology, international accounting alliances have increased in popularity. These offer a range of benefits to individual accountancy firms if they can strike a good balance between the costs and the benefits.
Small and mid-sized accountancy firms are increasingly looking to join alliances to leverage their business and streamline their services. Accountancy firms in Asia have picked up on this trend as well, especially those in business hubs such as Hong Kong and Singapore.
Case in point is Lawrence Cheung CPA, a practising audit firm registered under the Professional Accountants Ordinance with the Hong Kong Institute of Certified Public Accountants. Lawrence Cheung CPA was founded in 1978 and joined Alliott Group in 2013.
'We joined Alliott Group in order to expand our business globally,' Amie Cheung, principal at Lawrence Cheung CPA, explains. 'There is a limitation to our professional industry such that each jurisdiction has its own tax laws and different accounting and auditing standards. So, in order to expand globally you have to either obtain qualifications in other jurisdictions through your staff, which is hard to do in a timely manner for expansion, or you can join an international network to get the needed resources.'
Founded in the UK in 1979, Alliott Group is a global association of independent accounting, law and consulting firms. The group aims to cultivate creativity and innovation among its members by providing them with new ideas, technology and industry connections around the world 'who have a strong desire to learn more about their business and that of their clients', according to the group's website.
Reach out
The worldwide connections are the key reason for joining, Cheung says. 'The international network allows us to easily reach out to member firms, which we meet with at least twice a year. Some member firms have common clients with us, and this makes things much easier in terms of organisation structure planning and tax planning for our clients,' she says.
Cheung adds that every other month, Lawrence Cheung CPA joins a conference call with Alliott Group's other member firms. The network enables easier and more frequent communication, which makes working with other member firms' staff similar to working with in-house colleagues.
'When you have to refer your client to an accounting firm overseas, it feels more reliable to refer them to a member because you know the firm and their standard already,' she says. 'You wouldn't have to take the risk of referring your client to a stranger.'
Since Alliott Group screens firms before admitting them to the network, members do not have to worry about the capabilities and knowledge of those they choose to work with. It is a given that all the members have very good practice standards and expertise in their own jurisdictions.
In an age where it has become increasingly common for businesses to operate in multiple countries and regions, this network benefit is crucial for an accountancy firm to serve its clients effectively. According to Soo Rui Chua, audit partner at CA Trust PAC, a Singapore-based accounting firm that is a member of international accountancy network TGS Global, many Singaporean companies set up holding companies or subsidiaries in Hong Kong and need overseas audit assistance. TGS Global is trying to expand across Asia; Most of its member firms are based in Asia.
'We refer our clients to TGS members for auditing,' she explains. 'Member firms are more willing to share papers with each other so there is more collaboration.'
When clients want to set up a new office or subsidiary overseas, Chua says, they ask whether the firm can recommend contacts. 'So, for example, if a client wants to set up a new business in Indonesia, we would check the requirements for doing that and understand the market first, then we would share the knowledge with them and advise them on whether or not they should go ahead,' Chua says.
Business opportunities
The ability to share clients in this way makes finding business easier, too. Joining accounting alliances therefore leads to huge business opportunities.
'It is quite an important part of our clientele,' Chua says. 'Now everyone wants to go global. Singapore is too small, so they always ask us for overseas contacts and information.'
TGS Global aims to make the complex world of international trade as simple as possible while at the same time providing its clients with opportunities to advance their global business development.
The group holds annual conferences to share updates on country-specific and regional regulatory requirements. A current focus of discussions is global anti-money laundering, with the group providing advice on implementing anti-money laundering measures.
Another initiative that TGS Global is working on with its member firms is the development of an auditing software that can be used across jurisdictions. Such software would make it easier for member firms to share and review information.
TGS Global currently has 48 members from 44 countries. Firms are all independently owned and specialise in the provision of accounting, audit, tax, business advisory and commercial legal services.
'Accountancy firms have to diversify to other areas and services to stay competitive,' Chua says. 'Just accounting is too small a business.'
The advantages of joining an international accounting alliance are a no-brainer for firms that have their eyes set beyond the borders of their home country. But with a growing number of alliances, how should accountancy firms pick which one to join?
Cheung warns that, for some accountancy firms, typically very small local ones that are just starting to position themselves in the industry, the benefits of joining an international alliance may not outweigh the costs.
'When you join these international networks, they have rules for membership,' she explains. 'An example is the speed of your response to questions from network members. Alliott Group requires a 24-hour response time, so small firms might not have the manpower to entertain that.'
Language limitations
Cheung adds that, in addition to numbers, accountancy firms also need to have staff who have the right language skills. 'If no staff speak fluent English, I would suggest the firm does not join, as the common language within the network is English,' she says.
And, of course, there is a membership fee. 'You have to balance the benefits with the costs,' Chua points out.
Whether or not a firm should join therefore depends on its characteristics. According to Chua, nowadays clients often prefer to use auditors who are part of the same group. Being a member of a well-known accounting alliance with a strong brand reputation is a sign of credibility.
'When clients want to expand overseas, they trust our choice of member firms to help them with various issues,' Cheung explains. 'They feel like you're very handy in terms of information on local business environments. A good alliance therefore makes things hassle-free for clients and helps us to make sure they are in good hands.'
However, overreliance is never a good thing. Trust should be built mainly between the firm and its clients. And local businesses can also be successful without an international network, Cheung adds.
'It depends on how you position your firm in the market – whether you focus on local clients or have a vision of going global,' she says.
Hong Kong is an example where many accountancy firms would aim to go global. 'Hong Kong is a hub for international business, the world's freest economy and a gateway to mainland China,' Cheung says. 'The needs of our clients to expand to overseas countries and mainland China drive the needs of our firm to go global.'
Carmen Ho, journalist
"It is a given that all the members have very good practice standards and expertise in their own jurisdictions"