Marc Fecher FCCA, managing director of Kingston Smith's corporate finance unit, says that impartial advice is key to a good deal – even if clients don't always want to hear it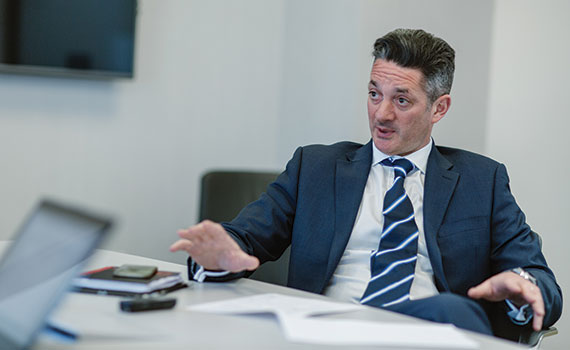 This article was first published in the July/August 2017 UK edition of Accounting and Business magazine.
Marc Fecher didn't just want to do corporate finance; he wanted to build a business. 'I had a clear entrepreneurial drive. I always wanted to be in the calm at the centre of the storm.' But maybe as head of corporate finance at accountants Kingston Smith he has found a role that offers storms aplenty.
To be a corporate financier is all about results. Fecher says that the key is to understand the aspiration of the client and 'help get them on that journey'. While the desired outcome could be 'a bag of cash', it could be something more strategic – perhaps to grow the business or to make an acquisition. 'We need to understand where they want to end their journey.'
Raising finance, making an acquisition and strengthening the management team could all be steps on the way to realising the entrepreneurial dream. Fecher aims to give clients 'a balanced, impartial view' of the situation. He adds: 'It is often challenging for the business to receive this advice, as most people who offer advice are conflicted. But the benefits will come.'
And the people will come back, too; Fecher has worked with some of his clients over many years. 'In each deal you do, you give a little of yourself so you build a rapport.'
Rapport-building used to be intuitive, but now Fecher and his team have a more formalised process designed to help companies grow and innovate. Fecher brings his own practical experience to the party, having been involved in acquisitions of various manufacturing businesses. 'I've had to take my own advice,' he says.
Perhaps that has helped to hone his direct approach. 'Treat people as you want to be treated,' he says. 'In a negotiation, if you have to deliver bad news – for instance, on price – you do so in a professional way.
'One-on-one with a client you work out the best route from the available options. The name of the game is working with people who want to do things. They need help doing it.'
Fecher has been giving that help for some time. He is managing director and one of the founders of Kingston Smith's regulated corporate finance business, and has been with the UK's 18th-largest accountancy firm for 20 years, joining after qualifying with ACCA at a London-based firm. During his time with Kingston Smith he spent several years in the early 2000s chairing ACCA's corporate sector panel.
He says: 'Training as an ACCA in practice means you understand the basics of accounting and business. And however big the deal or the boardroom, you still rely on those basics. If you don't understand something, then [with the qualification] you have the confidence, the stability, the foundation to ask the question.'
When he first arrived at Kingston Smith he split his workload between general practice and corporate finance, specialising in the firm's AIM-listed clients, before his time became filled with transactional work.
Targets and budgets
Over that time, the corporate finance business unit has completed 550 deals, including 28 last year. As head of the unit, Fecher has two main tasks: looking after his own clients and making sure the 17-strong team is hitting targets and budgets. In his view, corporate finance is split between origination – 'meeting interesting people who want to do interesting things' – and delivery.
The Kingston Smith pitch is clear: 'We are an advisory firm. We are not competing with those just offering businesses for sale.' Fecher is also responsible for marketing the firm's corporate finance services – and he appears well suited to the demands of public speaking and networking.
To professionals who are looking to move into corporate finance he says, 'You have to have the spark to start the journey. You also need to be in an organisation that will give you the opportunity.'
Kingston Smith is commercial, he adds, and spots those who have the drive and energy to build a business. In the early days, the volume of work often saw Fecher and his colleagues working into the small hours. 'I'd say we did five years' work in three,' he recalls. 'In the late 1990s and in the dotcom boom, I gained masses of experience. It was a steep learning curve.'
And corporate finance is again buoyant. Fecher attributes this to debt providers looking to fund deals, and to interest from private equity firms making forays into the mid-market: 'There is lots of money looking for a return, and that's a great thing.'
The strong pipeline is also driven by the unwinding of the pent-up demand that was created when the recession put disposal plans on ice, as owners couldn't achieve the price they were after. Key conditions for maintaining buoyancy in the market are political stability and the retention of Entrepreneurs' Relief, which cuts the Capital Gains Tax bill on business sales.
Whatever the state of the market, the challenge for Fecher is to expand Kingston Smith's share. Market cycles used to last about 10 years but that period seems to be falling to nearer seven. The firm's corporate finance business emerged relatively unscathed from the 2008–09 recession in the UK, partly because its advisory services help businesses through challenging times. More significantly, though, corporate finance professionals work business-side, helping directors and managers if they have a problem. As Fecher says: 'Entrepreneurs who want to do something will always have a need for straight advice.'
Peter Williams, journalist
"The ACCA training means you understand the basics. However big the deal, you still rely on those basics"