ACCA members have a 'unique insight' into current business challenges, Taoiseach Leo Varadkar told the audience at the President's Forum in Dublin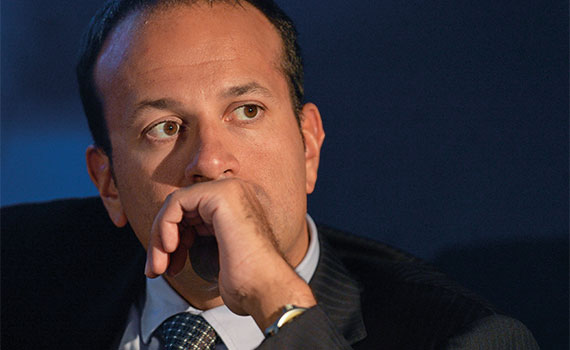 This article was first published in the September 2017 Ireland edition of Accounting and Business magazine.
Taoiseach Leo Varadkar has made clear his view that the accountancy profession has a key role to play as the country enters the next cycle of economic growth. He paid tribute to ACCA's leadership role in encouraging debate around significant business issues, describing it as entirely appropriate given the importance of accountants to the economy.
'It is natural that you do and should continue to debate the economic issues of the day. You have unique insight into the successes and struggles of Irish businesses, and that insight is really valuable,' he said. 'As we work to create a republic of opportunity in this state, we rely on your contribution to ensure we meet and maintain high standards in business life.'
Speaking at the President's Forum in Dublin in June, the Taoiseach opened by saying the annual event had proven itself over the years to be a place for 'opening up judgments and assumptions'. He went on to reflect on a number of important pieces of recent legislation of direct relevance to the profession and the current debate. They include the Companies (Accounting) Act 2017, which reduces reporting obligations for small business and micro companies, and the Companies (Amendment) Act 2017, which increases the scope for some companies to report under US accounting standards. Further legislation in the pipeline includes the act that will transpose elements of the EU audit directive into Irish law.
Growth
Moving on to the economy, Varadkar said: 'Despite challenges and risks, we are entering the next budgetary cycle from a position of reasonable strength and stability.' Ireland has been the fastest-growing EU economy over the past three years, with growth of 4.3% expected this year and 3.7% next year, and domestic consumption is increasingly driving that growth. This is particularly encouraging, he said, because the domestic sector is rich in employment opportunities and in revenue.
The Taoiseach said the government was determined that all parts of the country should share in the return to national prosperity. 'While housing supply remains a big problem, we are seeing clear trends in planning permission and housing starts that will translate into output in the coming months and years.'
Although current needs are a priority, and a 10-year plan for capital investment is central to the government's commitment to meet the needs of a growing economy, the Taoiseach also reflected on the shape of things to come. 'We now have the opportunity to plan with some ambition for Ireland's future and for an Ireland with 1,000,000 more people in it by 2040.'
Key steps being taken to safeguard this future include the government's national mitigation plan for climate change, which will signal a decisive move to a low-carbon economy. It is a journey, he said, that 'will bring profound shifts in how the economy looks and works in years ahead'.
Brexit
Turning to the topic of Brexit, Varadkar welcomed the opening of negotiations but said it was still not entirely clear what the British government thought Brexit would mean. 'Ireland wants to see the closest possible relationship between the EU and the UK to minimise the impact on citizens' rights, trade and the economy, and we are confident that can be achieved. We've done so much to build social, cultural and economic links across these islands, which is why we adamantly oppose an economic border on our island.' He also suggested that in the new post-Brexit reality, 'more often than not, the UK will have to implement decisions that they are no longer party to the conversation about'.
He added that Ireland was committed to being at the heart of the EU at this critical juncture. 'At a time when so many issues are beyond the capacity of nation states to deal with or address, such as climate change or terrorism, and when money markets and many corporations are more powerful and richer than nation states, it's bodies like the EU that represent our best opportunity to exert democratic control and to bring about solutions that serve the interest of the people.'
Tax policy
With taxation an issue for debate at the President's Forum, the Taoiseach highlighted some government priorities in advance of Budget 2018. He said the guiding principle would be to reduce income tax in a sustainable and affordable way, with work having begun on how to merge the universal social charge (USC) and pay-related social insurance (PRSI). He told attendees that Ireland's corporation tax sovereignty would remain integral to the drive to attract foreign direct investment (FDI) in a post-Brexit arena, adding that Ireland's consistency and certainty of approach in this was a core strength. 'The fact that our corporate tax rate hasn't changed through boom, bust and recovery is important in itself. While others may be reducing their tax rate, few offer the consistency we have.'
Finally, the Taoiseach outlined ongoing government policies to support economic development in a post-Brexit landscape. These include a sustained focus on attracting FDI, the continuing central role of the FDI agency IDA, open and accessible government, investment in a skilled workforce and what according to Varadkar was most important of all – Ireland's role in a modern Europe.
In a nod to the thoughtful and reflective debate at the President's Forum, the Taoiseach concluded by quoting George Bernard Shaw. 'Progress is impossible without change, and those who cannot change their minds cannot change anything,' he recited, adding: 'Let tonight be about changing minds and sharing ideas.'
"We rely on your contribution to ensure we meet and maintain high standards in business life"