ACCA has enjoyed three decades of partnership in mainland China. We look back at some of the highlights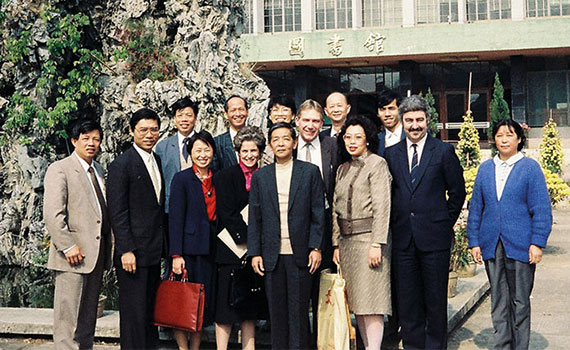 This article was first published in the June 2018 China edition of Accounting and Business magazine.
1980-89
1988
An ACCA delegation visits the China Association for International Exchange of Personnel, the Ministry of Finance and the Chinese Institute of Certified Public Accountants (CICPA), two weeks after CICPA's establishment.
1990-99
1993
The first ACCA training programme is set up, at Shanghai University of Finance and Economics. Selected universities in Beijing, Guangzhou, Tianjin, Dalian and Wuhan set up similar programmes.
1998
ACCA opens offices in Beijing and Shanghai.
2000-09
2000
More than 100 graduates attend award ceremonies in Beijing and Shanghai.
2001
ACCA opens an office in Guangzhou.
2004
ACCA holds its first 'Job Hunting Competition' in Shanghai to help university students improve their employability. It has since become a national university competition. | Ping An becomes the first Platinum Approved Employer in China.
2006
ACCA and CICPA co-organise the first Training for Trainers programme for university lecturers. By the third year of the programme, 82 university lecturers receive training.
2008
ACCA holds its first Educator Forum in Shanghai to accelerate the development of accounting talents. | Shanghai University of Finance and Economics is the first ACCA Platinum Approved Learning Partner in China. | First ACCA Steering Team formed in Shanghai comprising senior ACCA members. Teams in ACCA Northern and Southern China are also formed. | ACCA opens an office in Shenzhen.
2010…
2010
ACCA and CICPA sign a memorandum of understanding (MoU) during the World Congress of Accountants in Malaysia, signed by ACCA chief executive Helen Brand and CICPA secretary general Chen Yugui. | ZTE Corporate becomes the first ACCA Global Approved Employer in mainland China.
2012
ACCA opens an office in Shenyang.
2013
ACCA and BDO sign a strategic MoU in Shanghai to develop international finance talents. BDO becomes one of ACCA's Platinum Approved Employers. | ACCA signs an MoU with Xiamen National Accounting Institute. | ACCA China Professional Expert Forum is established to cooperate with industry on economic reform and enterprise transformation.
2015
ACCA opens offices in Wuhan and Qingdao. | Shanghai National Accounting Institute (SNAI) and ACCA launch SNAI-ACCA CFO Leadership Research Centre in Shanghai.
2016
ACCA signs strategic cooperation agreement with Beijing National Accounting Institute and Shanghai National Accounting Institute respectively. | ACCA launches its landmark ACCA Qualification – the future at a national ceremony in Shanghai.
2017
ACCA partners with ZTE Finance Cloud to launch the Chinese Certificate in Global Business Services. | ACCA opens an office in Changsha.
2018
ACCA creates new China portfolio. | ACCA celebrates 30 years in China.