After leading the capital markets regulator for 16 years, Japheth Katto FCCA now finds himself in the regulatees' corner as chairman of Stanbic Bank Uganda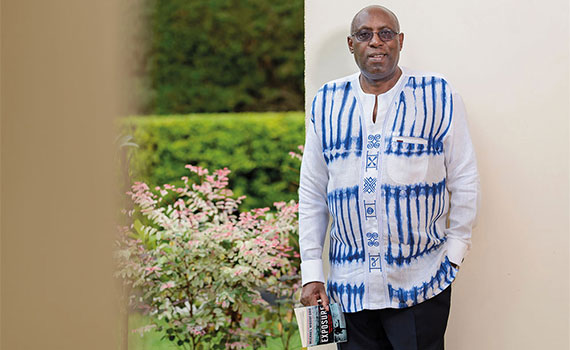 This article was first published in the July 2018 International edition of Accounting and Business magazine.
It's not unusual for the poacher to be appointed the gamekeeper, but Japheth Katto FCCA has taken a very different trajectory in his career.
Shortly after leaving the Uganda Capital Markets Authority (CMA), where he had been CEO for 16 years, he crossed over to 'the other side', and became chairman of Stanbic Bank Uganda, the country's largest bank. He also became an independent non-executive director of Kenya-based holding company East African Breweries (majority-owned by Diageo, and where he is also chairman of the corporate governance committee and a member of the audit and risk committee), and a member of the board of Uganda Breweries (a subsidiary of East African Breweries). In addition, he is a corporate governance consultant.
Moving from a regulatory body to a regulated entity has been quite an experience for Katto. 'When I crossed to the other side, from being a regulator to being regulated, I realised we have probably over-regulated business,' he says. Stanbic Bank, for example, has to meet the requirements of several regulators, including the CMA, Bank of Uganda, Uganda Securities Exchange, an insurance regulator for bancassurance business, and the South African Reserve Bank (Stanbic is part of South Africa's Standard Bank Group).
Katto accepts that financial services regulation, if well done, is in the interests of investors and depositors. However, he says, 'Some harmonisation or even consolidation among financial services regulators in East African countries could actually make the system more efficient and effective.' It would also, he adds, reduce the cost to regulated entities and hence the cost of doing business.
As well as staying abreast of all the regulatory requirements, a major challenge for the chairman of Stanbic is the speed of change in banking. 'New developments are happening so quickly,' he says. 'For instance, when I joined the bank four years ago, a lot of the transactions were manual – but now around 80% are done digitally. And the threats and disruptions keep coming. There is no board meeting now where we don't talk about cyber threats and risk management. We face competition from non-banks – from fintech and mobile – and as a board chair, you have got to understand what is going on.' This includes understanding the need for new skills. 'We are all fighting for high-level skills now,' he says. 'The banks in Uganda are all looking for highly skilled people in risk management, IT, global banking and so on.'
Governance imperative
Good corporate governance can help banks and other entities cope with such challenges, he believes. 'We need good governance and a good, diversified board in terms of skills, experience and gender,' he says. Katto has a passion for corporate governance, strengthened by his experience as part of the 2000 judicial commission of enquiry into the closure of three Ugandan banks. 'The problem was not that these banks did not make money,' he says. 'The problem was actually governance – things like insider lending, ineffective audit and internal audit.'
Katto does think that standards of corporate governance have improved, particularly in regulated entities such as banks and listed companies. 'I see a lot of improvement since 2000 in areas such as board responsibilities, the role of the audit committee, board diversity and disclosure,' he says. On diversity, he thinks progress has been made in terms of gender balance, but would like to see more diversity in the skills and age of board members. 'We need to take a risk and have some young people on these boards – some disruptors,' he says. 'In Stanbic Bank we're going more digital, so we need to find people to help plan how that affects the business. Quite a lot of them will be young.'
However, Katto still thinks 'a lot of work needs to be done' to persuade smaller businesses of the benefits of good corporate governance. 'In most economies much of business is done by SMEs,' he says. 'But how do you convince an SME or family business that they should have an independent non-executive director?'
Corruption also remains a significant challenge – one that all the professions should try to tackle. 'Every profession should be underpinned by ethical standards,' Katto says, adding that accountants have a particularly important role to play. He explains: 'Accountants are in every organisation. We are in influential positions – often as the CFO, and also strong in internal audit and compliance. In Uganda ACCA members are chief executives of listed companies and in influential positions in government. If we strictly follow our ethical standards and do the right thing, we can influence the behaviour of organisations and make an impact.'
Although he has now crossed over to the other side, Katto has spent most of his career inside regulatory organisations – initially in the UK at the Department of Trade and Industry and then the Investment Management Regulatory Organisation, which was subsequently absorbed into the Financial Services Authority. After 18 years in the UK, he returned to Uganda in 1997 to head up the CMA as its first chief executive. The CMA and the Uganda Securities Exchange had just been set up. 'It was a big advantage to establish the organisation,' Katto says. 'The board was already there. But as CEO I recruited the [management] team – everyone apart from one person. It was a challenge because skilled people were not locally available. So you get bright people – accountants, lawyers, economists, research people – and then you have to train them in the capital markets industry. The advantage is then that you can develop the culture of the organisation.'
Resourcing the organisation was a challenge – there is a limit to the fees that can be charged in a new capital market. A lack of awareness in Uganda of capital markets and how they work was another challenge. Nevertheless, the CMA has become well established since it was formed in 1996. 'Twenty years ago there was no stock exchange and no Capital Markets Authority,' Katto says. 'We now have companies that are listed and that have raised capital through bond issues. We have enhanced public education and awareness.' However, he believes that market forces will bring about a rationalisation of stock exchanges within East Africa – in Kenya, Tanzania, Rwanda and Uganda – to create a regional exchange. 'Each is not big enough to sustain itself,' he says, 'so I can see some acquiring others, and mergers taking place to create one big stock exchange.'
Katto has long been involved with ACCA. He's a past chairman of the Ugandan branch (as it then was) and a former International Assembly delegate for Uganda. He was co-opted onto ACCA's Council in 2013 and elected to serve another term in 2015. He's deeply involved in the International Federation of Accountants (IFAC) too, participating in numerous committees, panels and working groups, and was on the board for six years; he has also served as vice chairman of the Africa and Middle East regional committee of the International Organization of Securities Commissions.
He has relished all these experiences. 'At IFAC you meet members from institutes of accountants all over the world – and they are so different. Some institutes have more government influence on them, and some are very independent; some have a separate regulator, and some don't. It widens one's understanding of the profession and you meet some high-quality people. You get enriched.'
Uncovering potential
Apart from his own achievements, Katto gains huge satisfaction from helping others develop, including through the corporate social responsibility (CSR) activities of Stanbic Bank. 'A lot of our CSR activity is geared towards education,' he says. 'We're running a competition to help school students gain some soft skills. This year we had 60 schools participating. They identify a business idea, develop a business plan and then start implementing that plan. The bank gives teams seed capital to run the business, and at the end they are measured to see who has followed their business plan and succeeded in recordkeeping. I enjoy that. There is such great potential among these students.'
Alongside these activities, Katto still finds time to look after a small tea plantation and some cows in his country home 300km from Kampala, and to raise funds for the local school and church projects. 'It's a busy life, but a fulfilling one,' he says.
Sarah Perrin, journalist
"When I crossed to the other side, from being a regulator to being regulated, I realised we have probably overregulated business"
"Accountants are in every organisation in influential positions. If we strictly follow our ethical standards we can influence an organisation's behaviour"