A special ACCA Singapore dinner provided an opportunity to welcome new members, celebrate membership milestones and present the Advocate of the Year Award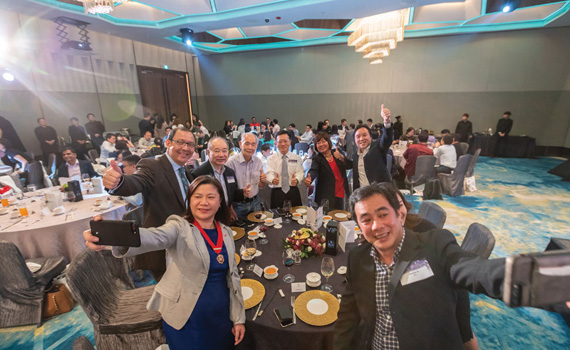 This article was first published in the October 2018 Singapore edition of Accounting and Business magazine.
In August ACCA Singapore held a special dinner at the Pan Pacific Singapore to welcome its newest members, as well as honouring those marking membership milestones.
The event, presided by ACCA vice president Jenny Gu and James Lee, chairman of the ACCA Singapore Network Panel, included a presentation of the ACCA Singapore Advocate of the Year Award to Alice Tan, CFO, Land Transport Authority.
Acknowledging the achievement of those who had reached membership milestones of five, 10, 25 and 35 years, Reuter Chua, ACCA Singapore country head, highlighted the importance of encouraging more ACCA members to be part of the movement to shape the accountancy profession, by joining with the Network Panel and sub-committees. 'Together we can create an environment for the profession to excel as professional accountants of the future,' he said.
From June 2017 to May 2018, ACCA Singapore welcomed 383 new members – rewarding their dedication in developing their ability to uphold the highest ethical standards, critical thinking and technical skills.
New members, June 2017 to May 2018
Ai Way Tay
Alex Lee Yong Hui
Alice Tan Sheh Fung
Alicia Chua Hweefang
Allen Liao
Amanda Kong
Andy Lee Tian Xiang
Ang Hui Xian
Angeline Wang Yilin
Anitha Sudarsanam
Ao Xiaoling
Aparna Anna Kurian
Asvendeep Kaur Gill Hakam Singh
Audrey Low
Babu Kalpathy Parameswaran
Baofei Ho
Barry Lim Fu Sern
Beatrice Koh Li Ling
Beng Ling Jane Leow
Benjamin Gan Junming
Benny Yeo Kah Kiat
Boh Shiun Yee
Cai Zhe Ling
Calvin Chua Yit Chiang
Cao Lin
Carlson Koh Kian Teck
Chan Joo Kee
Chan Pei Hwee
Chan Seok Fung
Chan Sow Ying
Chang Hueh Siah
Chang Pei San
Chee Yi Yu
Chen Hui
Chen Shiyan
Chen Weizhong
Cheng Zhang
Cheo Ken Loong
Chew Chee Tong
Chew Thing Lee
Chia Hee Joo
Chia Kong Yew
Chia Yew Long
Chien Soon Leong
Chin Chew Bin
Chin Mee Fong
Chin Shee Lok
Ching Soo Ling
Chiok Ching Cheong
Choi Chee Sun
Chong Lee Mee
Chong Siet Wah
Chong Yoon Shen
Choo Kiat Tan
Choo Wei Hau
Claire Corden
Cui Xin
Damian Tay Cheong Yew
Dang Thi Nhung
Danny Lim Boon Chyuan
Dao Thi Thao
Dennis Guan Yik Siew
Dulguun Ganbold
Edmond Tan Jin Ye
Eng Jia Goh
Eng Lye Chan
Ettrick Liew Wei Da
Eve Chan
Evelyn Li Bee Yin
Fan Zhang Yang
Fangfang Gao
Feidunawei Judistio
Feng Jin Qiu
Feroz Khan S/O Mohamed Sultan
Floris Yee Ting Chi
Fu Qin Chua
Fui Ming Chang
Gaik Im Tan
Gan Qiu Yong
Goh Xin Yi
Goh Xing Keng
Grace Tan Ru Yu
Guang Wei Teo
Guangyang Cai
Han Rui Xue
Harryanto Hanitio Teoh
Hazel Arellano
He Qi Wei
Hee Huey Sun
Heidy Chong
Hemavathi Gunasekaran
Heng Gek Hui
Heng Mian Lee
Ho Chin Sian
Hong Xueling
Huang Bo
Huang Lizhen
Huang Qinning
Huang Tingfang
Hun Pin Yuen
Hwee Yen Ong
Isaac Yang Enming
Ishita Banerjee
Jack Lim Teck Long
Janet Wong Xiu Ling
Jarrel Thang
Jasmine Toh
Jasmine Wong Yin Peng
Jay Mohnot
Jia Hui Chua
Jia Lin Alicia Pe
Jia Min, Sally Ang
Jian Wen Lim
Jiang Lingjun
Jiang Yan
Jih Jing Ma
Jin Yan
Jinfeng Gao
Jingjing Ren
Jinlian Wang
Jinn Yin Chan
Joanne Chan Mei Juen
Jocelyn Jing Yi Tan
Jolene Tan
Jonathan Choong
Joycelyn Soh Pei Wen
Jun Jie Kenny Chiang
Jun Jie Koh
Junrong Feng
Juntong Liu
Kang Loong Ng
Kardi Ng
Ke Ren Peng
Kee Rui Jie
Kee Schiueh See
Kelvin Cheong Ming Yang
Khai Lone Han
Khong Wai Kwok Benjamin
Khoo De Wan
Khoo Ee Sar
Khoon Chyi Lee
Khorli Tan
Khyati Kapai
Koay Shen Ting
Koh Ern Piaw
Koh Song Leong
Lam Lin Kit
Lau Vivian, Ming Yen
Laura Muljati
Lee Chen Keong
Lee Chew Yee
Lee Fui Yen
Lee Jin Zean
Lee Ray Men
Lee Si Ying
Lee Wei Keat
Lee Wern Ping Ben
Lee Xing Ying
Li Fujiaxiang
Li Han
Li Huiqiong
Li Jia Lee
Li Jun Yap
Li Lu
Li Sha Charis Pok
Liew Kui Feng
Lim Chee Siong
Lim Chun Hwee
Lim Kong Hooi
Lim Meng Huang
Lim Qiuping
Lim Shuxian
Lim Wei Huang
Lim Zhong Jie
Lin Deng
Lin Ee Li
Lin Jing
Lin Liu
Lin Long
Lin Yue Ling
Lindawati Hendrawan
Ling Wang
Liu Chunguang
Liu Jing
Liu Qi
Liu Siwei
Liu Yao
Liu Yingyao
Liu Yu
Loke Pui Er
Loong Poh Yee
Low Wan Ling Adeline
Low Wei Ting
Low Yin Mei
Luwei Xu
Lynette Marie Lloyd
Mansimran Kaur
Martin Lunan
Mau Ching Wong
Mechelle Chow
Meilin Zhang
Melisa Teh Kim Kuen
Mengjie Xu
Mervyn Low Wei Wen
Mianzi Chew
Miao Lan
Michelle Ning Xiao Ying
Michelle Shannon Lee Wei Ping
Min Liang Liew
Mohamed Kamil Bin Amanullah
Mohammed Nasir Bin Sawal
Moo Siew Pik
Na Song
Nan Cui
Neo Poh Leng
Ng Chun Meng Royston
Ng Swee Wen Roger
Ng Sze Fang
Ng Wei Sze
Ng Wei Xiang
Ng Yi Zhen
Ng Yu Hui
Ni Jun
Nicholas Tang
Norio Koide
Nur Hasyirin Binte Jamil
Nurashikin Binte Abdulla
Ong Gim Hwai
Ong Yi Ting
Ooi Wai Loon
Patab Singh
Patricia Lee Sha Yee
Pei Juan Sheena Chia
Pei Li Lee
Pei Pei
Pei Wen Ong
Pei Yee Wai
Peng Ji
Peng Zijuan
Pham Phuong Anh
Poh Leng Yip
Prahlad Neelabalan
Qu Meng
Qu Ye Qing
Rajat Gupta
Raymond Teo Kian Poh
Rita Carolina
Rosanne Han Wan Lin
Sa Ren Na
Sam Yang
Santo Dominggo
Seah Veralyn
See Hau Toh
Seema Goyal
Seow Wei Thing
Shanshan Yin
Sheila Octania
Shen Rouli
Sherly Mulyana
Shilpa Ainambakam
Shu Xin Chong
Si Heng Tan
Siew Mun Teng Amelia
Silin Li
Sim Zi Yi
Simon See Yilong
Sin Shi Ling Serene
Soh Xiang Ting
Song Bei Bei
Sook Fang Lee
Sora Yoo
Steffi
Stella Li Xingmei
Steve How Ka Hock
Su Yi Chew
Sum Wee Min
Sun Jiaqi
Susan Wong Ling Rou
Tan Chiu Yan
Tan Chor Suan
Tan Eng Keat
Tan Gaik Hwa
Tan Ginn Min
Tan Kai Xi
Tan Kuan Yi Andy
Tan Poh Cheng Ivy
Tan Qiu Tian
Tan Seng Mein
Tan Siu Hong
Tan Sok Chen
Tan Soo Chung
Tan Swee Lan
Tan Wei Jie Joren
Tan Yan Siang
Tan Zhimin
Tang Yu Jie
Tanvee Katyal
Taro Tada
Tee Liew Sin
Tengku Adibah Binte Tengku Kamarudin
Teoh Wei Ping
Tessa Teo
Tham Ai Leng
Tham Kar Foo
Thana Yattho Kurniawan
Thong Kar Lai
Tian Meng Yao
Toh Pei Ling
Tran Thanh Ngan
Vanessa Jia Yan Lim
Velary Koh Yun Yun
Viknesvara Krishna Murty
Wan Yuen Lim
Wang Hui
Wang Luan
Wang Wenyan
Wang Xiaoni
Wang Xiyang
Wang Zhengxi
Wei Hu
Wei Na
Weijian Darren Loh
Wen Jun Soo
William Christopher Li Kam Wa
Wong Kah Yee
Wong Khing Yii
Wong Sher Yee
Wut Yee Thynn
Xian Li
Xiao Tian Sui
Xiao Xiang Chua
Xikun Hu
Xin Xu
Xu Fumei
Xu Guifeng
Xu Jing Quek
Xu Lei
Xu Qing
Xuejing Wu
Xuetao Cui
Yafei Chen
Yang Wen
Yao Yong Yeo
Yap Kok How
Yau Ying Le
Yaw Shyy Yuan
Yee Chuan Loh
Yee Sheue Jing
Yee Voon Lim
Yelei Jin
Yelly
Yik Fei Felix Choo
Yim Theng Chong
Yin Chau Ng
Yin Hua Cui
Yin Ling Law
Yiran Liu
Yiting Tan
Yong Ling Fong
Yongsheng Li
Yow Yoh Tong
Yu Zhen
Yuan Mai
Yuexin Li
Yufei Zhou
Zan Jun Tay
Zhang Boya
Zhang Hang
Zhang Hong
Zhang Mu
Zhang Qi Feng
Zhang Yaowen
Zhaoying Li
Zhen Yang Tan
Zheng Jia
Zheng Long Wong
Zhi Hao Lim
Zhi Xing Shee
Zhou Wen Ying
Zhuang Wei Tam
Zi Xuan Yeo
Zitian Huang
Zixuan Huang