Tanka Mani Sharma Dangal, Nepal's auditor general, doesn't just aim to root out accounting irregularities, but to reform the whole cycle of public finance management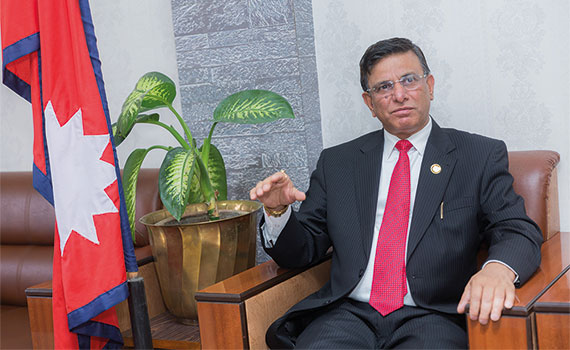 This article was first published in the November 2018 International edition of Accounting and Business magazine.
Having spent the bulk of his professional career in various roles in Nepal's Ministry of Finance, Tanka Mani Sharma Dangal knows the shortcomings in the Himalayan nation's bureaucratic system of government – including the flaws in its financial management – like the back of his hand.
Appointed auditor general in 2017, he is in no doubt about the heavy responsibility he shoulders as the watchdog of the state's resources. 'My office is responsible for ensuring transparency, integrity and accountability in the management of Nepal's public finances so that the state's resources are used for the benefit of all its people,' he declares.
Over the past decade the South Asian country has undergone a protracted political transition, transforming itself from a constitutional monarchy to a parliamentary federal democratic republic. During this challenging period, delays in budget presentation were commonplace, state resources were not used efficiently and expenditure on development initiatives slowed. Last year the Office of the Auditor General (OAG) conducted audits of around NPR4,600bn (US$38.6bn). The latest annual report of the auditor general reported NPR500bn (US$4.2bn) as the cumulative amount of irregularity against NPR396bn (US$3.3bn) in the previous report. The growing number of irregularities highlighted in successive auditor generals' annual reports shows the extent of the challenge.
As the OAG prepares its audit of the 2017/18 financial year, Sharma faces a bigger challenge than ever. Following Nepal's adoption of a new constitution in 2015, and federal, provincial assembly and local-level elections in 2017, the OAG will audit all three tiers of government – federal, provincial and local – for the first time. Auditing at the provincial and local level is a particular challenge, as local authorities are still finding their feet, Sharma points out.
'The OAG strives to be a credible institution,' he says. 'We work to provide an independent and quality audit service to assure our citizens that public funds are effectively used.'
To fulfil this trust, he believes the OAG must itself work hard to raise the quality of auditing. 'Since we are responsible for the external audit of all constitutional bodies, budget entities, public enterprises and spending units of the government right down to the local level, we must adopt a serious approach,' he says, speaking in his office in Babarmahal, across from Singha Durbar, the country's main administrative hub in Nepal's capital, Kathmandu.
Structural shortcomings
Sharma's office has identified a number of problems in public sector financial management, including in planning and budgeting, the management of expenditure, the timeliness of reporting and submission of financial statements, public procurement, project management and public enterprise management. There are also weaknesses in revenue management, infrastructure development and public service delivery. In this context, Sharma has spoken out about the need for reform of the whole cycle of public finance management in Nepal.
Currently, all three tiers of government have their own set of financial procedures and guidelines. Sharma's fear is that this will lead to a lack of uniformity in public finance management. 'If all 761 governmental units [753 local governments, seven provincial governments and a federal government] have their own financial regulations, it will be difficult to predict the kind of challenge and risk it would pose for the national financial management system,' he says.
While the human resources available for auditing so many government offices (last year it audited around 10,000) are limited, the issue is being addressed. This year Sharma's office has 614 approved staff positions, and he has four deputy auditors general and 14 assistant auditors general. The function has specialist accounting and audit staff, but few with multidisciplinary skills, Sharma says, adding that it is commendable that so many government entities were audited by this limited staff last year.
The constitution of Nepal makes the auditor general a completely independent institution. However, the OAG is still dependent on the government for human resources and budget. In the past, the OAG had authority to administer its departmental staff. However, this provision was amended in 2006 and shifted to the government. 'At present I have been requesting the government to provide the personnel administration authority for my staff to OAG office as a separate cadre in the new federal civil service act,' he says. 'Making the OAG a credible watchdog to help maintain transparency in the government system is of paramount importance and needs proper resourcing.'
Apart from the regular staff, the OAG contracts in chartered accountants to conduct audits of state-owned enterprises, and other experts as required. As for that resourcing having the skills to carry out high-quality audits, Sharma recognises that professional organisations such as ACCA will play a crucial role. 'The OAG and ACCA should cooperate when it comes to training OAG staff in issues related to financial reporting, taxation, corporate affairs and strategic management,' he says. 'OAG staff have already attended some ACCA courses, such as the Diploma in Public Financial Management and the Certificate in IPSAS.'
Accounting, reporting and audit in Nepal follow internationally recognised standards and practices, with the final consolidated financial statements being prepared annually and then submitted to the OAG for review and scrutiny. The OAG has adopted a risk-based audit methodology. 'The OAG's current focus is on performance audit on issues of national importance. We're also giving priority to the country's Sustainable Development Goals' preparedness with implementation auditing as well as environmental auditing,' Sharma says. 'We are encouraging stakeholders and citizen participation in the audit process.'
According to Sharma, the OAG undertakes a lot of planning work before conducting audits. 'The government's procedural process, sectoral policy, periodic plan, and annual policy and programmes are also taken into account, along with the INTOSAI [International Organization of Supreme Audit Institutions] framework of professional pronouncement and international best practice,' he says.
Into the future
One of Sharma's first actions following his appointment in 2017 was to prepare a six-year action plan to cover the period 2017 to 2023. It is a guiding document for the OAG for ensuring accountability in public entities, maintaining transparency in public financing, and clamping down on the misuse of public funds. The plan is intended to improve the system of audit in government offices to ensure sound internal control and good governance. It identifies six areas for reform: institutional setup and working mechanisms; the policy and legal framework; the audit process; quality and effectiveness in audit systems; financial discipline and accountability; and institutional relationships and communication.
'We are actively participating in international forums, such as INTOSAI and ASOSAI [the Asian Organization of Supreme Audit Institutions],' says Sharma. 'The supreme audit institute of Nepal [ie the OAG] was recently elected for a second three-year term as a member of the governing board of ASOSAI. It will enhance our international exposure.'
According to Sharma, a well-equipped audit excellence centre is to be set up, together with an audit follow-up and irregularities clearance unit to carry out effective monitoring and resolve problems of arrears in government offices.
The OAG also has plans for an audit quality assurance unit to drive quality control. Likewise, special sector audit units will be established to perform audits based on sector and degree of risk. 'There are also plans to establish field offices at provincial level to enhance the effectiveness of the audit function in subnational government,' says Sharma.
The AG's action plan, according to Sharma, also targets managing human resources, implementing an office automation system, amending the Audit Act, and developing compliance with international standards.
Sharma believes that good auditing will contribute towards the country's overall development drive. The OAG report diagnoses the state of public finance management and gives a picture of whether state resources are being efficiently and effectively used for public interests. 'The OAG identifies these anomalies in its report,' says Sharma. 'It is the media, civil society and parliament that must question the government. Advocacy by these stakeholders forces the government to act to correct anomalies.'
To this end, he says, the OAG 'puts a lot of effort into making our report understandable by the common people'.
System reboot
Despite some institutional weaknesses, Nepal has made significant efforts to improve its public financial management system in recent years. The operation of treasury single account, a line ministry budgetary system, a revenue management information system and an electronic procurement system are some of the measures taken by the government. And, there is a public expenditure and financial accountability secretariat which regularly coordinates work with the OAG.
As well as setting up a public expenditure review commission, the government has launched an integrated public financial management reform project to embed the financial management system in a federal context.
Following last year's general elections, federal, provincial and local governments are all actively engaged in delivering and developing public services. 'The federal parliamentary public accounts committee has been formed and it has started its oversight functions, initiating discussion on auditor generals' reports,' says Sharma. 'After all these efforts, I am hopeful and confident that the government of Nepal will make efficient use of its scarce resources. And, with the continued support of government, development partners, professional advisers and my staff, I am sure the OAG will be able to maintain financial discipline in the country in the days ahead.'
Mukul Humagain, journalist in Kathmandu, Nepal
"The OAG identifies anomalies. It is the media, civil society and parliament that must question the government"