With Irish companies falling behind in achieving greater female representation at board level, organisations need to consider how best to promote change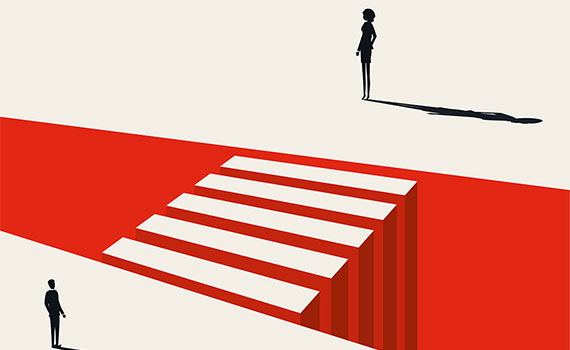 This article was first published in the February/March 2020 Ireland edition of Accounting and Business magazine.
The arguments in favour of gender balance on the boards of Irish businesses and organisations seem self-evident: to more accurately represent the society they exist in, to better reflect the public they serve, to counterbalance groupthink or to mitigate risk. And recent research backs this up. For example, in its study of gender diversity on the boards of financial institutions in 21 European countries, the UK-based Cass Business School found that those with greater female representation incurred fewer financial penalties for misconduct.
Yet, in spite of the arguments and the evidence, gender diversity is an area where aspiration remains consistently ahead of action. Last December, the most recent report from the government-supported initiative Balance for Better Business found that serious gender imbalance remains commonplace at the upper levels of business in Ireland. Among ISEQ 20 companies, it found that 25.3% of directors were female, while among other listed companies the figure dropped to just 12.4%. Based on data sourced from the Central Statistics Office, the report noted that the proportion of female board members across private business in Ireland stands at 17.1%.

Direct approach
Research by the Institute of Directors in Ireland (IoD), also published in 2019, offers some insight into why this imbalance continues to perpetuate itself. A survey of its members found that just 12% of respondents were appointed to boards following an independent recruitment process. Approximately 34% were approached directly by the board or a board member and, tellingly, men reported a far greater frequency of such invitations than women. With resignation and retirement found to be the dominant reasons for boardroom changes, Maura Quinn, chief executive of the IoD in Ireland, observed that the 'lack of planned processes around succession planning militates against effective board diversity for good governance'.
Among a number of eye-catching findings from the IoD research was the strong, and growing, support for the use of targets over quotas, despite their failure to deliver progress. In all, 39% of respondents favoured gender targets over mandatory quotas, while 38% said that gender quotas were 'the wrong approach'.
It is far from a pervasive opinion, however. 'I wasn't always a fan of quotas until the day, many years ago now, when I realised that nothing was going to change in my lifetime without some significant intervention,' says Ann Horan FCCA, chairman of the Health Products Regulatory Authority. 'While quotas aren't ideal, I believe that they are necessary and that they work.'
Also of the opinion that more robust action is needed is Imelda Buckley FCCA, non-executive director and chair of the finance, audit and risk committee at Mountaineering Ireland. 'We must challenge ourselves to look at the "how" and whether the strategy and underlying initiatives we are implementing to attain gender diversity are really effective and equitable,' she says.

Confidence, commitments
Horan and Buckley believe that a multiplicity of issues lie behind the low percentage of women in non-executive director (NED) roles. 'There are many factors at work here,' Horan comments. 'If I were to pick just two, I would highlight confidence and family commitments. Woman are slower to put themselves forward and often suffer from niggling self-doubt. Family commitments are a fact of life for most women and when we have to prioritise, sitting on boards may not be high on the list.'
Buckley concurs: 'For the vast majority of women, even though they may be working full time, they are still the primary care providers looking after young and teenage children or elderly parents. Committing to board membership, while time is a constraint, can be challenging in terms of work/life balance.'
Self-belief is an issue that ACCA Council member Michelle Hourican FCCA also picks up on. She says women 'have to have the confidence to believe in themselves'. Hourican points to Council as a model for where international organisations could be moving to. 'It's the most diverse global board by gender, ethnicity, and geography, with the majority of the board female,' she says.
Closer to home, ACCA Ireland's Business Leaders' Forum (BLF) is making the case for higher numbers of ACCA members to participate on boards, and recognises the particular challenges and opportunities for women in NED roles. BLF chair Carol Lynch says the key message is that ACCA members in Ireland provide an excellent pool of talent for organisations filling board seats.
'Greater gender equality is something we want to actively encourage, and as the BLF looks to highlight opportunities and potential pathways, we anticipate a very positive response from our members,' she says.
With the IoD research finding the most significant barrier identified by female respondents (54%) as 'access to the same networks as men', the question of how pathways can be opened is a pertinent one. 'In the past, friendships were forged and decisions were often made at male-only sporting events,' Horan notes. There are, she says, other ways to succeed.
'My suggestion would be to start by applying to a public sector board. The Public Appointments Service is inherently fair and unbiased, and public boards are not just incredibly interesting: they also offer the opportunity to give something back.'
Buckley points to the opportunities of the online age through virtual networks and organisations such as Boardmatch, which facilitates men and women interested in board membership. 'Women need to take ownership of their own ambitions and interests, seek out opportunities and build networks for themselves,' she argues.
As to whether the issue of under-representation will finally be resolved when the next generation of talent comes on stream, she is optimistic. 'Their attitudes and expectations are not those of "things will be better for us than the last generation" but rather an attitude and expectation that there is no capability difference between genders,' she says.
'I think anything less than equality for the next generation of female business talent will just not be tolerated.'

Donal Nugent, journalist

"Women need to take ownership of their own ambitions and interests, seek out opportunities and build networks for themselves"