Jack Chan FCCA, managing partner of EY China Region and a member of the Global Executive of EY, takes on the regional reins of the firm at a time of flux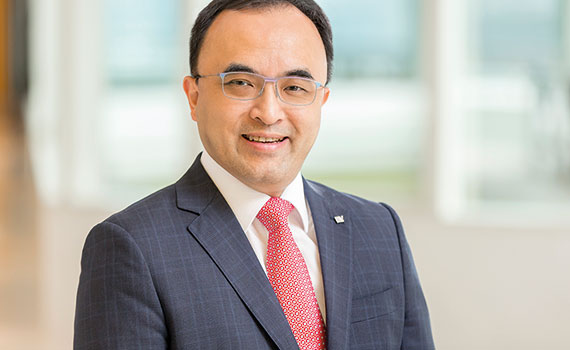 This article was first published in the May 2020 China edition of Accounting and Business magazine.
Jack Chan, the newly appointed regional managing partner of EY China, is looking forward to driving digital transformation and sustainability services such as green finance and tapping into the synergies that the Greater Bay Area can generate as he takes on the latest challenge in a successful career.
'I feel very honoured and humbled by the appointment. It is a very important career move for me,' Chan says enthusiastically. After joining EY in 2006 he quickly moved up the ranks and was appointed regional managing partner in January. He has responsibility for all business functions in China, overseeing 29 offices and more than 20,000 employees.
Based in Hong Kong, Chan takes over the regional reins of the Big Four firm at a time of flux. He says key opportunities are likely to emerge from the growth and development of the Greater Bay Area (GBA) initiative that links together nine cities in southern China with Hong Kong and Macau. In 2019, Beijing released its Outline Development Plan as a framework to guide the future economic development of the region, which has a population of 70 million. An important channel for these opportunities is likely to be the improved ties between Hong Kong and mainland China that the GBA can generate.
'The GBA is unique, even on a global scale, as it involves three different currencies, tax and legal systems,' Chan says. 'Hong Kong has an interesting role in it because it is the third biggest financial hub in the world, right after New York and London. The "One Country, Two Systems" status has granted Hong Kong a unique position, giving it the ability to connect China to the rest of the world.'
Chan explains that Beijing's aim is to leverage the advantages of Hong Kong as an international financial centre and Shenzhen as a pioneer of reform and technology hub.
'But in order for it to be successful, we must be able to manage the free flows of capital, talent and information,' he cautions. 'If we can manage this process, the cities in the GBA scheme could create exceptional synergies.'

The role of technology
Stepping into his new role also coincides with a time of great technological advancement in mainland China.
'It was not that long ago when many people in China did not have access to basic banking services but through some very impressive technological advancement in recent years those services have become much more common,' Chan says.
Technological advancement has now made it possible for Chinese people to not only access banking services but also to walk around without wallets, relying more than most of the world on mobile payment systems such as Alipay and WeChat Pay.
'Technology in China has evolved at a speed so fast that it has turned from ice straight into steam, skipping the water stage,' Chan says. 'Facial and posture recognition is developing at an amazing speed, and big data, blockchain and AI advancement are also very impressive.'
Chan notes that Hong Kong's near neighbour, Shenzhen, is a prime example of how a city can tap into technological innovation to emerge as a future-facing technology hub that is home to a multitude of start-ups with great potential.
'It is a good environment for incubating start-ups because the government is willing to invest resources into the sector and support its growth,' he says. 'As a result, the city is now more advanced in technology industries than Hong Kong.'
The firm is, Chan says, well-positioned to tap into the myriad growth opportunities. He joined EY in large part because of its culture, which makes it stand out from others.
'EY has an excellent firm culture and I felt it was easy to integrate with everyone and blend in when I first joined,' says Chan, who has been involved in financial services consulting and auditing for almost three decades.

Responding to need
Chan graduated from Hong Kong Polytechnic University with a bachelor of arts in professional accountancy and a master's degree in corporate finance, and for much of his career he has provided advisory and audit services to financial institutions in restructuring, inbound oreign investment and initial public offerings. In 1992 Chan joined Arthur Andersen, where, in 1993, he achieved an early career milestone when he was involved in Hong Kong's first batch of H-share listings. In 2002 he moved to PwC, before joining EY in 2006.
With a decades-long career in Big Four firms, Chan has witnessed how they have broadened their service lines to meet demand. 'Many of our clients have multiple and diversified business lines, and we figured that it is crucial to treat each of them as an individual case, to understand their needs and to mobilise our resources in an efficient way to ensure the clients' needs are met,' he says.
In order to achieve this, EY has consolidated and operated its financial services practice – including assurance, advisory, tax and transaction advisory service – on one platform, Financial Services Organisation (FSO). This has, says Chan, proved to be a successful approach. 'Personal relationships with our clients are well maintained and it is also easier to mobilise our resources,' he says.

Green agenda
A key task facing Chan is the promotion of sustainability services – in particular, green finance products and addressing environmental issues. China has moved towards ensuring technological and economic advancement while at the same time addressing environmental concerns.
'In recent years, China has built many green buildings and vehicles, and has vowed to invest more resources in developing greener lifestyles and energy systems,' Chan says. 'In order to achieve this, lots of capital is needed. That is why mediums like green bonds and green notes are in demand.' With this in mind, Chan established EY's Climate Change and Sustainability Services (CCaSS) in FSO in China, providing financial institutions with products and services including green bond assurance, green finance advisory and more.
'Green financial products and services have long histories overseas but in China the idea is relatively new,' he says. 'That has changed in recent years. Many people are becoming more and more aware of environmental change, especially the younger generation. Climate change is certainly a hot topic, and China has put many resources into pushing for greener lifestyles and energy.'
Beyond his day job, Chan is a frequent speaker and coach, working with banking executives, government officers and accountants. 'I think those experiences have been very helpful to me. I enjoy sharing my knowledge and experience with younger professionals and students,' Chan says.
'Communicating with different people is very important for me: as a professional service provider, the interactions allow me to stay abreast of market trends and get to know what services are in demand.
As a leader, such communication offers me insights that are essential as we plan the medium- to long-term strategy for the organisation. The market is changing rapidly and the younger, new buyers represent the future.'
The interview took place before the Covid-19 pandemic.

Alex Ho, Journalist
"Technology in China has evolved at a speed so fast that it has turned from ice straight into steam, skipping the water stage"