As IT becomes ever more indispensable to business, dealing with the growing quantity of electronic waste presents both risks and opportunities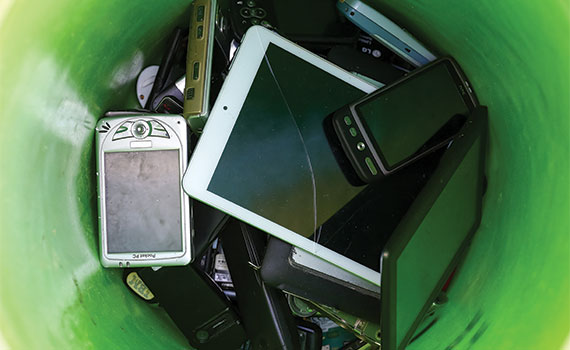 This article was first published in the May 2018 International edition of Accounting and Business magazine.
The information technology age might seem spotlessly clean compared to the smokestacks of the industrial economy. But there is a dirty side to the pristine devices that drive modern businesses. Electronic waste from discarded computers, mobile phones and other electronic goods, known as e-waste, has become the fastest growing global refuse stream in recent years. In 2016, 44.7 million metric tonnes of e-waste were generated, equivalent to roughly 4,500 Eiffel Towers, and this is expected to grow to 52.2 million tonnes by 2021, according to the Global E-Waste Monitor 2017 report.
The tide of trash is especially problematic since modern devices contain harmful chemicals such as lead or mercury. E-waste already accounts for an estimated 70% of toxic waste in US landfills. Only around 20% of the world's e-waste is documented to be collected and recycled. And much waste is exported from rich nations to less developed countries in Asia and Africa, where it is crudely disposed of in a manner that is damaging to the environment and human health.
While governments in many parts of the world have been seeking to reduce this toxic trade and ensure the proper disposal of unwanted devices, only around 66% of the globe is covered by national e-waste management rules. Regulation is both broad and strict in the European Union under the Waste Electrical and Electronic Equipment directive. By contrast, the US federal government has passed the buck to the states, and only around half mandate recycling. In most cases the manufacturer of the device is held responsible for recycling, rather than end users. In Latin America, Africa and much of Asia the rules governing e-waste are weaker still. That has created the potential for companies to step into the breach by creating sustainable practices, as government regulation spreads.
'E-waste is both a risk and an opportunity for companies,' says Henry le Fleming, assistant director of sustainability and climate change at PwC in the UK. 'Disposing of old IT irresponsibly can undermine both a company's reputation and data security, since confidential information can remain on the discarded devices. But ecologically friendly technology policies enable firms to demonstrate their sustainability bona fides to shareholders, staff and regulators.'
And this is a priority for a growing number of businesses. A survey of 4,900 companies worldwide by KPMG found that around 75% are publishing corporate social responsibility (CSR) reports, detailing their impact on society and the environment, up from less than half a decade ago.
The good news is that a burgeoning industry of e-waste firms has emerged to help enterprises to manage discarded devices responsibility.
Minimising damage
One such firm is Sage Sustainable Electronics in Ohio, US, which counts two of the US's five largest banks among its clients. CEO Robert Houghton believes there are various steps that companies can take to minimise environmental damage from the churn of tech devices. The first is to more effectively redeploy older devices within the company. 'The best ecological outcome results from simply extending the life of technology and resisting the temptation to always have the latest model for all staff,' he says. 'Loan officers at banks, for example, might only use laptops to fill in forms, which is a very undemanding IT process. Any three- or four-year-old computer can do this.' Providing such employees with the most powerful new device can be compared to picking up your groceries in a 40-tonne articulated lorry. And the life of a device can be extended by several years with a few simple tests and repairs, and some cosmetic improvement.
Ecologically friendly sourcing of equipment can play a role, too, says Ann Starodaj, director of sustainability at Optoro, a technology company that helps retailers and brands manage returned goods, including IT devices. 'Technology is a lifecycle issue,' she says. 'Companies can choose devices that last longer and meet higher energy-efficiency standards. They can also buy refurbished computers that look brand new from e-commerce sites like those run by our firm and our peers.'
And in cases where technology has no further use within a company, an external market can often be found by tech firms like Sage or philanthropic enterprises. For example, Recycling Lives, a UK venture, donates old devices to people who have become homeless or unemployed in order to help them get back on their feet. 'Such ventures can help companies both promote social wellbeing and protect the environment at the same time,' says le Fleming. 'That's a compelling proposition for companies seeking to become better corporate citizens.'
Where devices have finally ended their useful lives, it is vital to ensure that the disposal process is handled ethically, says Jim Puckett, executive director of the Basel Action Network, whose organisation combats toxic trade from technology and other products discarded by developed countries. Since regulation is patchy around the world, companies can often be misled by the partners they entrust to dispose of their IT waste. 'Instead of being responsibly recycled, devices are often exported to developing countries, where they end up being disposed of or recycled in ways that are damaging to the environment and human health,' he says. The Basel Action Network recently placed GPS trackers on 205 old devices from US companies and found that 40% of those that were handed over for recycling ended up being dumped in developing countries, where many were broken down by hand in informal junkyards.
Much of this e-waste is being shipped to West Africa, with Ghana a particular hotspot. And since China has recently clamped down on toxic imports, the waste is instead being diverted to the likes of Pakistan, India and Vietnam.
Puckett claims that very little of the metals or plastics used in electronics is actually recycled and returned to be used in new products. Such neglect also results in the waste of precious metals, including gold and platinum, that are used in electronic devices. Industrial metals such as aluminium and copper are lost, too, increasing greenhouse gas emissions, as mining and processing metals is more energy intensive than recycling.
To combat such practices the Basel Action Network has launched a global certification programme, e-Stewards, to ensure that firms can trust that their old IT devices are being refurbished or disposed of in the most responsible and secure fashion and in accordance with the Basel Convention – an international treaty designed to prevent global dumping of hazardous waste. The certification includes strict obligations to protect data as well as environmental and labour protections.
One important function of such e-Steward firms is to provide companies with the tools to calculate the resulting ecological benefits for their CSR reports. 'Clients can promote the benefits of each laptop or mobile device they reuse or recycle properly in terms of volume waste diverted from landfills and also of greenhouse emissions averted,' says Neil Peters-Michaud, CEO of Cascade Asset Management, an e-Stewards certified firm. 'This data can then feed into their annual reports and is something they can trumpet both within their companies and outside.' For example, drug developer Covance was able to publish that the refurbishment and recycling with Cascade of 5,900 devices, from computers to mobile phones, had prevented the release of more than 662 tons of carbon emissions – equivalent to removing 403 passenger cars from the road annually.
The drive to combat e-waste fits well with the recent drive by many firms to move towards a 'circular economy', which minimises waste, emission and energy leakage through repair, refurbishment and closed recycling loops – in contrast to the 'linear' corporate model of 'take, make, dispose'.
'Companies need to get better data on the flow of materials and figure out how they might be missing value,' says le Fleming. 'This makes a lot of sense in ecological, reputational, and financial terms.' Dealing properly with e-waste is a crucial starting point.
Dijana Suljovic, journalist
"The best ecological outcome results from simply extending the life of technology and resisting the temptation to have the latest model for all staff"