The annual pilgrimage of Muslims to Mecca is a massive logistical challenge for Saudi Arabia, which has been making significant investment in infrastructure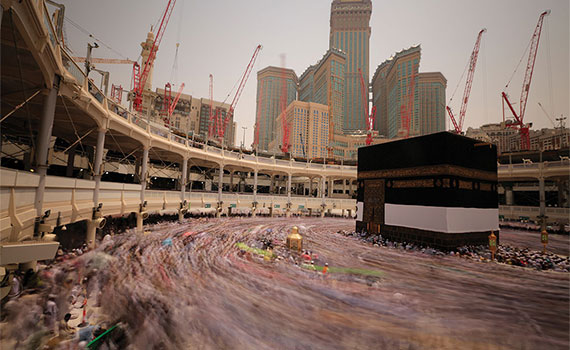 This article was first published in the July 2018 International edition of Accounting and Business magazine.
The hajj pilgrimage to Mecca is one of the five pillars of Islam, a religious duty every Muslim is expected to make once in their lifetime if they can afford it and are healthy enough. But with a worldwide Muslim population of 1.7 billion and the hajj taking place over just five days every year, the event is a massive logistical challenge for the Saudi Arabian government and the tour operators, hospitality service providers and retailers who make it happen.
In 2017, around 2.4 million Muslims descended on Mecca, the holiest city in Islam, for the hajj. Of these, some 1.8 million came from outside Saudi Arabia, according to the kingdom's General Authority for Statistics.
'It is a staggering operation if you think about the number of people that arrive over a very short period of time,' says Thomas Wigley, partner at law firm Trowers & Hamlins, in Oman. 'It is hugely difficult to manage.'
The pilgrimage is performed from the 8th to the 12th of the last month of the Islamic lunar calendar (Dhu al-Hijjah) and coincides with the holiday of Eid al-Adha, which follows Ramadan, the month of fasting. This year it starts on 19 August. Pilgrims (or hajjis, as they are called) usually arrive several days in advance and often stay on for a week or more, generating around US$8bn in revenues and making the hajj Saudi Arabia's second largest income earner after hydrocarbons.
'The hajj industry is probably one of Saudi Arabia's most valuable treasures due to the money it generates for Mecca and Medina, and the wider hajj logistical train,' says Theodore Karasik, a senior adviser to Gulf State Analytics, a Washington DC-based consultancy.
Mecca also hosts umrah – the non-obligatory pilgrimage that can be performed at any time of year. Umrah attracted eight million pilgrims in 2017 and generated a further US$4bn for Saudi Arabia. Under its Vision 2030 strategy, the government plans to attract 30 million a year for umrah.
According to the Mecca Chamber of Commerce and Industry, 25%–30% of the private sector's income in the region around Mecca and Medina depends on pilgrimage. However, there is little broader data or research on the economic impact of the hajj as a whole. 'It is difficult to work out the economic impact [of the hajj] as it is so all-encompassing, touching on almost every aspect of the economy – not just Mecca and Medina, but all of Saudi Arabia,' says Wigley. The hajj also has a spillover effect throughout the Middle East, for aviation services in particular.
Pilgrim quotas
Government policy changes on pilgrimage quotas have added to the difficulty of estimating average annual revenue for the kingdom from pilgrimage. 'In total it is estimated at US$16bn, but it could be much more than that,' says Mohsin Tutla, chairman of Hajj People, which organises the annual World Hajj and Umrah Convention (WHUC) in London.
In 2013, Saudi Arabia reduced pilgrimage visa quotas by 20% to accommodate ongoing infrastructure works in Mecca, restoring the numbers in 2017 when much of the construction work was coming to an end. 'With a drop in visas [issued], hotel prices dropped, but while the number of pilgrims from Muslim-minority countries went down, demand for five-star hotels went up, which is baffling,' comments Tutla.
Hajj packages vary by country. In the UK they average around £4,750 whereas for umrah the equivalent figure is £1,050. The average profitability for operators is £100 to £200 per pilgrim, according to Tutla.
Saudi Arabia sets so-called hajj quotas on the basis of an international Organisation of Islamic Cooperation (OIC) agreement, allowing 1,000 pilgrims per million of the total Muslim population in each sending country, although Saudi Arabia is flexible over the caps. According to Seán McLoughlin, senior lecturer in religion, anthropology and Islam at the University of Leeds in the UK, 75% of non-Saudi hajj pilgrims come from eight countries: Indonesia, Pakistan, Bangladesh, Iran, Egypt, Nigeria, Turkey (all with Muslim-majority populations) and India. Quotas in Muslim-minority countries are disproportionately higher, although Muslims in the West typically have higher disposable incomes than those in poorer countries, and so can make the most of the visas available. Around 25,000 British Muslims go on the hajj every year, according to McLoughlin; in 2017, 221,000 journeyed from Indonesia and 179,000 from Pakistan, while the largest contingents from Africa came from Egypt (108,000) and Nigeria (79,000), according to ilmfeed.com.
Hajj investment funds
'Muslims in the West are privileged as they can go on demand,' he says, unlike in poorer countries, such as Indonesia, home to more than 220 million Muslims. Indonesia is one of the Muslim-majority countries where a government agency (BPKH – the Haj Fund Management Agency) handles hajj pilgrimages by holding deposits on behalf of future pilgrims (who may wait 30 years or more for a hajj visa). The deposits are held in a fund used to help subsidise poorer pilgrims. Set up in 1963, Malaysia's equivalent, Tabung Haji (the Pilgrims Fund), had assets of 73 billion ringgit (US$18.3bn) under management in 2017.
'Every country has a different way of splitting visa allocations,' says Tutla. He adds that only 10% of visas allocated to Indonesia go to the private sector – about 20,000, while 200,000 go to BPKH, so wealthy pilgrims use the private allocations. Pakistan has a 50/50 private/public split, while in Bangladesh it is 90% private. In Muslim-minority countries hajj tours are organised solely by the private sector.
There has been a drive to professionalise the hajj over the past decade, says McLoughlin. 'Hajj used to be very much about independent travel, but since the mid-2000s pilgrims from the West have to go through a package tour,' indicating greater consolidation and professionalism, he says.
However, there are concerns about security and regulation. The Ministry of Hajj and Umrah regulates the pilgrimage sector, acting in coordination with the Ministry of Interior and Public Prosecution, working via a disciplinary council. In September 2017, for the first time, a handful of Saudi-based pilgrim service providers (tawafas) were referred to the council for breaching service contracts. 'Within the kingdom, hajj operators are under heavy scrutiny and so are behaving in an appropriate way,' says Karasik. He adds that hajj operators in other countries 'are being taken to task to ensure more accountability'. In April this year, the chairman of Akbar Hajj Group Bangladesh fled the country after being accused of embezzling 500 million taka (US$5.9m) from 2,000 pilgrims.
'The Ministry of Hajj is developing due diligence, as they are creating e-systems where all companies have to upload packages to its system. This increases oversight of companies, so they are cleaning it up,' says Tutla.
Future projections
According to the national real estate committee at the Council of Saudi Chambers, the hajj and umrah are expected to generate US$150bn of income in the country over the next five years, creating a further 100,000 permanent hajj-related jobs. The kingdom also plans to set up specialised research centres to develop a hajj economics index.
Given the limit on how many pilgrims can be physically accommodated in Saudi Arabia during hajj, umrah is expected to be the focus of the promotion of tourism in the future. 'Umrah means you can visit any time of the year, and there's been big growth from countries with large waiting lists, so hajj agencies have been trying to push people towards umrah,' says McLoughlin.
The kingdom is also trying to encourage pilgrims to stay longer in the country. According to Said Ladki, interim dean at the Adnan Kassar School of Business at the Lebanese American University in Beirut, 'Religious tourism is a sustainable option for Saudi Arabia, but there needs to be far more research into its impact on the economy.'
Paul Cochrane, journalist in Beirut