Seeing and contributing to the many ways that ACCA works in the public interest has been the highlight of the year, says outgoing president Brian McEnery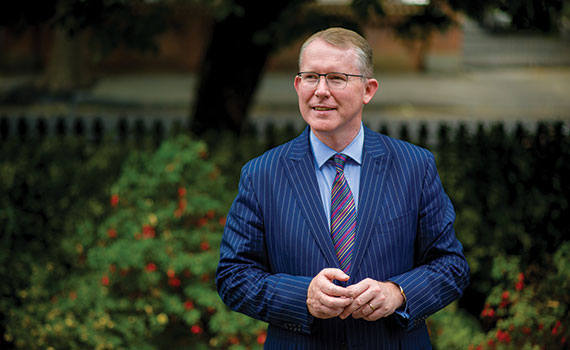 This article was first published in the November/December 2017 international edition of Accounting and Business magazine.
My time as president, and as a Council member and officer before that, has instilled me with a real sense of pride in ACCA and the work that we do. I have always had pride in my qualification and ACCA designation, and the hard work and technical prowess that it represents, but over the last few years I have also grown to appreciate the bigger picture and value the work that ACCA does to advance our profession.
The highlight of my presidential term has been seeing and contributing to the many ways that ACCA works in the public interest around the world.
Across our many markets, we play a really valuable role in safeguarding the public trust in the accountancy profession; in helping governments and other stakeholders to build and protect their economies; and in training the frontline of finance professionals across all sectors.
Just this year, for example, we have worked extensively in Vietnam with the Ministry of Finance, the State Audit Office and other stakeholders to build a young generation of accounting and finance professionals who will be essential to the economic growth of the country. We have also assisted an important project to strengthen the capacity of the Accounting and Auditing Policy Department of the Ministry of Finance in Vietnam as it evolves to incorporate more autonomy and resources.
Another highlight of my time as president has been our extensive collaboration with CA ANZ. I am not exaggerating when I refer to our strategic alliance as ground-breaking: we are bringing together almost 800,000 current and future finance professionals under this agreement, and it is an unparalleled opportunity for us to work together on shaping and leading the profession around the world. I am looking forward to seeing this alliance develop over the coming years, and to see both our memberships benefit from the work we are doing together.
It has been the highest honour to serve as your president and to represent ACCA's members and students around the world. Thank you to my fellow officers and Council members for your support and wise counsel, and of course to the ACCA staff in our offices around the world for the work that you do.
My term as president may be ending, but my ACCA journey still has a long way to go. I know that I will continue to be proud of the work that my membership body does under the auspices of our current deputy and incoming president, Leo Lee.
Brian McEnery is a partner specialising in corporate restructuring and healthcare consulting at BDO in Ireland