The shared services sector in Sri Lanka has thrived by embracing advances in technology. Jehan Perinpanayagam FCCA shares lessons from the region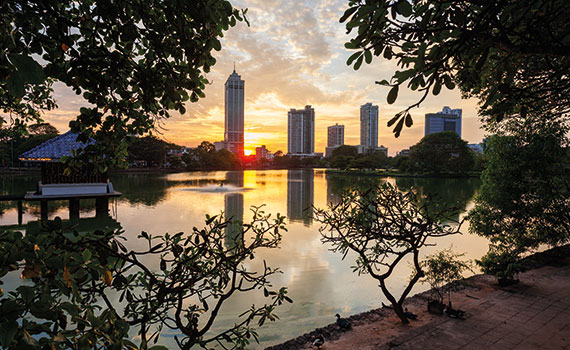 This article was first published in the June 2019 International edition of Accounting and Business magazine.
An objective that every shared services centre (SSC) provider will identify with is the continuous delivery of efficiencies through process automation and new technology adoption. The pursuit of such efficiencies is often the result of cost pressures and client demands for better pricing, however it positions SSCs as the organisations with the business need, the tech knowhow and the skillset to drive adoption of new tech in the finance function.
In a Sri Lankan context, there has been rapid growth in the adoption of SSCs by the country's largest conglomerates, business groups and multinationals. Such is the expansion of SSCs and business process management (BPM) companies that Sri Lanka has become known as a centre of excellence for accounting. As The New York Times declared a decade ago: 'Southern China has its assembly plants. India has customer support centers, research laboratories and low-cost lawyers. And Sri Lanka's contribution to global outsourcing? Accountants – thousands of them, standing ready to crunch the world's numbers.'
HSBC, BPM outsourcer WNS, Moody's Analytics, Accenture, communications group RR Donnelley and the London Stock Exchange are just some of the international companies that have located their back-office centres in Sri Lanka. Many of these SSCs work closely with ACCA and are accredited as ACCA Approved Employers.
For close to 15 years I have led Infomate, a Sri Lanka-based SSC set up for John Keells Holdings, the country's largest listed conglomerate. Through that experience, and my active involvement in Sri Lanka's BPM industry, I have observed that most automation initiatives and technology adoptions in finance are driven by SSCs.
As the shared services sector has evolved it has gone through several cycles of efficiency improvements.
Leveraging ERP
This cycle involved helping companies get the best out of their enterprise resource planning (ERP) investments. In the pre-SSC era, companies often made huge investments in ERP but failed to leverage more than a fraction of the capabilities. Even with million-dollar ERP suites, companies commonly did their reporting in Excel. A consultant once told me that in his estimation the best ERP program was Excel!
SSCs facilitated the introduction of ERP best practices, such as electronic bank reconciliations, automatic payment runs, automation of foreign currency valuation, recurring journal entries, and the automation of financial statements such as cashflow and balance sheet schedules.
ERP integration
The next phase of automation involved the integration of corporate systems with ERP suites. Host-to-host integration with banking platforms, and integration of workflow systems, line of business systems and supplier portals eliminated duplication of work and manual processes, delivering significant efficiency gains.
Manufacturing practices
Learning from the success of India's BPM industry, SSCs adopted techniques traditionally deployed in the manufacturing sector, such as productivity measures, quality scores, productivity targets, key performance indicators (KPIs), leaderboards, stack ranking, turnaround times, average handling time, etc. Systems evolved to measure productivity-related metrics, and close monitoring of statistics to identify efficiencies on a continuous basis became the norm.
OCR
Scanning and document management technologies are vital to SSCs, and Sri Lanka's centres have all adopted document management systems. Some have purchased commercial applications, while others built bespoke systems. Optical character recognition (OCR) technology was adopted to automate data capture from scanned documents.
Automation
The latest wave of automation initiatives embraces robotic process automation (RPA), machine learning, big data and artificial intelligence (AI), and many SSCs are engaged in implementing these technologies. RPA, AI, machine learning and OCR are being used to automate repetitive functions, while big data tools are deployed for analytics and fraud detection.
Advantages
The benefits of using technology in the finance function are many and significant:
Efficiencies can be captured in the form of lower costs and shorter cycle times. The paybacks for successful projects are highly attractive and – in my experience – provide significant returns on investment.
A new, digital workforce of robots has become available. As a war for talent rages and attracting and retaining skilled staff becomes ever more challenging, the deployment of robots to handle the more mundane, repetitive tasks is a positive alternative. One Sri Lankan SSC already has robots doing the work of more than 10 full-time equivalents. A bot-based digital workforce works 24x7, with complete accuracy and zero stoppages for breaks, time off, etc.
Opportunities arise to devote more resources and attention to higher-end functions, business partnering and value add. Automation allows finance staff – too often burdened with transactional tasks, churning out reports, accuracy checks and closure tasks – to focus on value creation for the business in the form of analysis and insights, the application of judgment and the identification of options.
Improvements in accuracy and decision-making become possible.
Digital skills
Digital is one of the seven quotients formulated following ACCA's research into the skills required by the finance professional of the future, and is at the core of the ACCA Qualification. Under the digital quotient, ACCA has emphasised the need for:
awareness and application of emerging digital technologies
the formulation of digital strategies
automation and the use of RPA and mobile technologies.
Finance professionals will thrive by embracing new technologies and digital literacy, committing to lifelong learning, making strategic use of technology to relieve themselves of mundane tasks, and focusing on business partnering and adding value to the organisation.
Jehan Perinpanayagam FCCA is CEO of finance and accounting services provider Infomate in Sri Lanka.
"Most of the automation initiatives and technology adoptions in finance are driven by SSCs"