As attention turns to recovery in a post-Covid-19 world, is now the time to focus on creating a more sustainable and resilient global economy through green finance?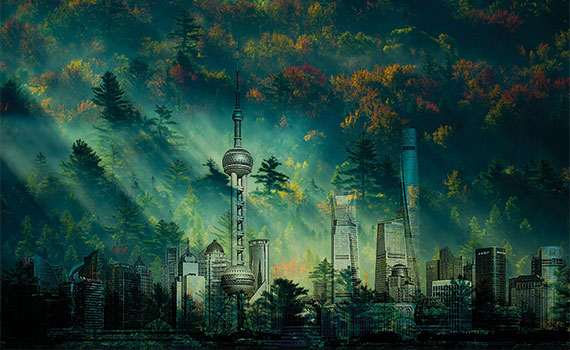 This article was first published in the July/August 2020 China edition of Accounting and Business magazine.
The Covid-19 pandemic has caused unprecedented disruption to economies and financial systems. With recovery urgently needed, some financial professionals believe the time is right to bet on green finance to rebuild the economy on a more equitable foundation.
Investors have retained their confidence in green finance throughout the turmoil that has roiled markets over the past few months. Inflows into environment, social and governance (ESG) funds steadied at around US$4bn per month from January to March this year, while inflows into top US equity exchange-traded funds showed notable volatility, according to data from Morgan Stanley and Bloomberg. The data point to a shared vision for a low-carbon, better balanced and fairer future for all even as the Covid-19 outbreak has left millions jobless, stalled many businesses and crippled supply chains putting the global financial system in peril.
'The Covid-19 pandemic – and how we respond to it – is a serious threat not only to global health but our investments and financial system stability,' says Matthew McAdam, director of Asia Pacific at Principles for Responsible Investment (PRI). 'The crisis has raised genuine questions about whether our global financial system is fit-for-purpose.'
McAdam believes that investment can play a pivotal role in putting the system back on track. 'Investors can act immediately to minimise longer term damage,' he says. 'They can begin by publicly signalling their support to companies and governments for a whole-of-economy response.'
Long-term outlook
Another thing investors can do is to use their influence to ensure companies are managing for the long term when assessing how they treat employees, contractors and suppliers, and acting responsibly when making decisions about pricing and the supply levels of goods and services which help society respond to the health and economic aspects of the crisis.
'The actions that companies and investors take collectively over the coming weeks and months should lay the foundations for a more stakeholder-driven and sustainable global economy,' McAdam says.
Important not just for global economic recovery, green finance has also helped companies cope with the current crisis a little better. Nadira Lamrad, assistant director of sustainability and ESG advisory at the Hong Kong-based Business Environment Council, says Covid-19 has made many realise that ESG does safeguard the value of a company. She cites a recent Morningstar report that suggests how sustainable funds have weathered the pandemic better than others.
Similarly, UBS data shows that green bonds have generally held up better. They saw a maximum drawdown of around -7% compared with -12% for global corporate bonds from 6-20 March, when global markets plummeted. UBS analysts even noted that green bonds have 'proven to be a more defensive way to invest in investment grade debt'.
'The main takeaway from this crisis is that it has opened our eyes to the importance of a company's resilience. We really need to shift our priorities more towards resilience, instead of just cost-cutting, operations and efficiency,' says Lamrad. 'Companies need to invest in ESG and contingency strategies to see them through random events like these times.'
Indeed, Lamrad believes that such 'random events' will become more frequent. 'We are seeing more extreme events and the likelihood is that these occurrences will become more frequent with significant impacts on business,' she says. 'This is why I encourage business to consider ESG risks as business risks and developing strategies to enhance long-term resilience.'
Realising the value of green finance, Asia has been sparing no efforts in pushing this agenda in recent years. The Global Green Finance Index published in March, ranked major Asian cities, such as Beijing, Shanghai, Shenzhen, Seoul, Singapore, Tokyo and Hong Kong, between 20th and 36th among 67 cities worldwide.

China leads the race
With its cities having a strong presence in the index, mainland China unarguably has made great strides in promoting green finance. 'China has been leading the race to green bonds and last year, the People's Bank of China revised its macroprudential assessment framework to include green lending and green bonds, which will only encourage more green financing by banks,' says McAdam. Last year, China's annual issuance of labelled green bonds exceeded CNY361bn, up 56% from CNY231bn in 2016.
More efforts are on their way. For example, the mandatory environmental disclosure for all listed companies will take effect this year. 'In 2020, China will implement increasingly harmonised green finance standards, which have differed between regulators and financial tools in the past,' Wang Yao, director general of the International Institute of Green Finance at Central University of Finance and Economics in Beijing, said in a research note. 'China is simultaneously in the process of launching more green finance policies.'
Efforts to promote green finance are also gaining ground in Hong Kong. In May, the Green and Sustainable Finance Cross-Agency Steering Group was established with the aim of helping the city move faster towards green and sustainable finance.
The steering group is a coordinated effort from the special administrative region's financial regulators and government departments, and will examine policy and regulatory issues, facilitate policy direction and coordination, and track trends and developments, among other tasks.
Similar to mainland China, Hong Kong requires all listed companies to report on the role of the board in ESG governance, as well as providing an assessment of the effects of climate change from July.
In a post-Covid-19 world where economic recovery is much needed, green finance could be a long-term solution. As the Hong Kong Stock Exchange's chairman Laura Cha puts it, 'sustainability will be a driving force of economic prosperity, financial resiliency and investment strategies in the decades to come'.

Boom for sustainable bonds
Monitoring the Asia-Pacific region, McAdam has also noticed that sovereign bond issues with sustainability at the forefront are booming. Last year, for example, South Korea issued a US$500m sovereign sustainable bond to support its green agenda, building on sovereign issuances in Hong Kong and Indonesia.
Other members of the 10-country Association of Southeast Asian Nations (ASEAN) are making progress. The Monetary Authority of Singapore is reviewing banks' sustainability practices as part of its supervisory assessments and has established a US$2bn green investments programme to drive future growth. Meanwhile, the Malaysian securities regulator introduced guidelines on sustainable funds in 2017 and the central bank is now developing a green taxonomy for banks and insurers.
'Alongside the stewardship codes that have now been introduced in eight major Asian markets, these measures are designed to influence the flow of capital towards businesses and activities that will support the transition to low-carbon and sustainable economies in the region,' says McAdam.
Some financial professionals are even pushing the agenda further to advocate a more holistic model centred on sustainable finance.
'Essentially, sustainability has to be holistic and not just focused on green finance,' Constance Chalchat, head of company engagement at BNP Paribas CIB, said in a commentary. She argued that policy prior to the virus outbreak was heavily centred on environment but the fallout requires an immediate response to issues ranging from inequality and education to climate action and biodiversity. 'Investors and issuers are aware of the vital role they can play in channelling finance to support these efforts,' she said. A roadmap to refocus sustainable finance towards several sustainable development goals, as she puts it, 'has never been more important'.
PRI shares the same vision. 'When the public health emergency of Covid-19 starts to subside, the approach to recovery must be aligned with other key priorities: in particular, the climate and biodiversity emergency and the level of inequality,' the group said. 'The crisis has highlighted the attention that social issues, including emerging labour practices, must receive in the responsible investment community.'

Elise Mak and David Ho, journalists
"The main takeaway from this crisis is that it has opened our eyes to the importance of a company's resilience"