The furore over PwC's Oscar winners mix-up put the spotlight on how simple errors can potentially have serious reputational consequences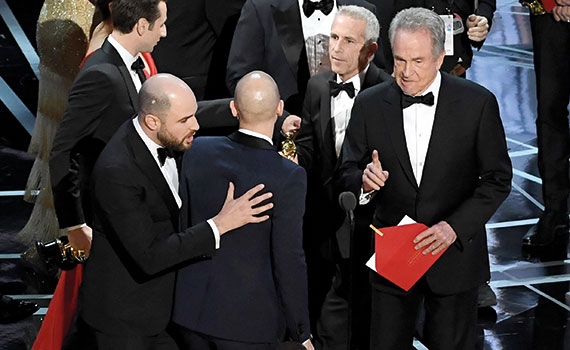 This article was first published in the July/August 2017 Ireland edition of Accounting and Business magazine.
Mistakes happen in every business. Clerical error, loss of client data, inadequate quality control, accidents, customer service failings – all have the potential to inflict damage on a firm, but it's how you deal with these situations that can determine the ultimate cost and impact.
A crisis, even a moderate one, within an accountancy practice can have an impact beyond the clients directly affected by it, warns Gerry Naughton, a director with communications consultants, Drury Porter Novelli. He says: 'Managing the issue at stake is important, but how you communicate in a crisis can have a positive or negative effect on a business for years to come.'
PwC's mistake, which resulted in the wrong film initially being named as the winner of the Oscar for the best film, was beamed all around the world, but the firm ultimately won praise for accepting responsibility for the gaffe quickly and not seeking to divert the blame elsewhere.
There are practical steps every company can take to minimise the risk of reputational damage.
Naughton says: 'The first thing is "prepare, prepare, prepare". Set aside time to scenario plan with your team for the most significant risks you face. Decide on basic structures – who is on the core team and especially who will lead on communications issues.
'A simple exercise such as drafting basic press releases or internal emails in response to a number of scenarios can be invaluable when the heat of a crisis hits. Get a key spokesperson media trained so they are better able to handle a pressurised situation,' Naughton says.
Asked how much information a business should reveal about a crisis situation, he says that while every case is different, there are some essentials. 'Be clear about what you know, what you don't know, and what you can do to fix it.
'In deciding how and what gets communicated, always think about how to restore credibility. One conflict which can often arise is between lawyers (who worry about litigation) and communications professionals (who are driven by protecting reputation). We've worked with clients where putting out negative information actually helped to restore credibility by demonstrating openness and transparency.
'Ultimately, timing and truthfulness are the two key criteria for successful crisis communications,' says Naughton.
When mistakes happen, the speed at which news travels can result in pressure to issue a statement before you have had time to establish the facts.
Panic strikes
'People panic when they are contacted by the media,' says Barry McLoughlin of The Communications Clinic, whose first advice for a client facing a public relations crisis is always: 'Don't just do something – stand there'.
"It's essential to establish the facts and avoid speculation. You're better to suffer a brief period of bad PR because you didn't issue a statement than to issue a hastily written statement that could exacerbate a crisis.'
McLoughlin cites a well-known case study involving the French mineral water brand Perrier which was criticised during the 1990s for its PR handling of a product recall partly because initially different explanations for the recall were given in the US, UK and France.
Greg Canty, managing partner of Fuzion Communications, recommends setting up alerts to monitor any mentions of your firm online so that you can be the first to notice when something goes wrong.
Social media strategy
Firms should have a social media strategy in place that covers their objectives, key messages and guidelines for content, and this needs to be understood at the highest level. The strategy should set out who to interact with, how to interact and how to deal with negative comments and trolls – including when to respond and when not to, Canty advises.
'The cardinal sin that I see happening over and over is people handing the keys to an intern who is "good on Facebook" and never briefing them. This is often the source of embarrassing mistakes,' says Canty.
Your firm could also find itself in trouble over something an employee says on a personal social media account so your social media policy should make clear what is and what is not permitted.
'Where employees declare that they work for your firm on their LinkedIn personal account, they are effectively wearing the team shirt and they must act accordingly.
'Similarly, if they tweet or post where they work, or include mentions of your firm in their bio, or accept people from work such as clients, suppliers or prospects as followers or friends on social media, then they have a responsibility to the firm. Simply saying "views are my own" doesn't quite cut it in these circumstances,' says Canty.
Every cloud…
Whether things go wrong internally in the firm or publicly, there are usually opportunities to learn from the mistake and improve your organisation's internal processes and controls.
'Focus everyone's attention on what happened, why it happened, who was involved, when it happened, where the weaknesses in your controls were and how you will ensure it won't happen again,' advises Sean McLoughney of LearningCurve.
If you are managing inexperienced people then a tight 'control and tell' management style will work best, McLoughney suggests. However, if you are managing an experienced team of professionals then a non-directive coaching style may be better because it encourages people to take responsibility for their own performance.
McLoughney recommends discussing your policy for handling mistakes with your team before errors occur so that they understand that it is normal for mistakes to happen and have a safe environment in which to report and learn from any mistakes that do occur.
Whatever the crisis, the faster you find out about it, the better your chances are of controlling it. Thinking about situations in advance and providing appropriate training can help limit the damage when things go wrong.
Daisy Downes, journalist
"The cardinal sin that I see happening over and over is handing the keys to an intern who is "good on Facebook" and not briefing them"