Frequently asked questions (FAQs)
Find answers to common advocacy questions here, or contact us for specific answers to questions not listed.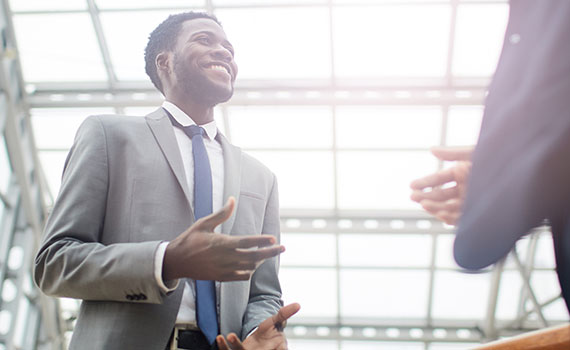 What is advocacy?
Member advocacy is any incidence where an ACCA member promotes or expresses public support for ACCA and/or the profession. In short an advocate is someone willing to actively promote and support ACCA in a variety of ways.
An ACCA advocate is someone who has an immense sense of pride in their own achievement of qualifying and gaining membership and, from that have a desire to give something back to the profession.
Advocacy is based on feeling an affinity with and embodying ACCA values particularly those of:
opportunity
diversity, and
integrity.
Advocates have a desire to raise the profile of ACCA in their locality, workplace, amongst colleagues and in their daily lives and actively recommend ACCA to others.
What is advocacy trying to achieve?
Advocacy is about spreading the word, about building bridges between members and future members. It is about building a community, a strong ACCA family.
ACCA is aiming to develop a culture of advocacy amongst our members – so that advocacy becomes second nature to members.
We aim to develop and increase a sense of pride in being an ACCA or FCCA.
What are the benefits to me,
as a member advocate?
Member advocates talk in terms of giving something back to the profession in general and to ACCA in particular. This is often to recognise ACCA as the qualification and body that gave them a career opportunity that they otherwise may not have had.
Other motivations include:
raising their profile locally and nationally or even internationally;
personal development, and more.
Does it count as continuing professional development (CPD)?
If the activity undertaken meets a development need that you have then it could count towards your CPD.
Visit the CPD for members area for more information on professional development as an ACCA member.
What is the time commitment?
Advocacy need not be difficult of time consuming. The important thing is that you talk about being a member, what your qualification means to you, how it helped your career and pass on the benefit of your experience.
Further information is available in the following question, 'What counts as advocacy? What do members do?'.
What counts as advocacy? What do members do?
Advocacy can be almost anything from a casual conversation with a colleague to a presentation to school age children at your local school; from mentoring a student to being involved in a member's network or taking part in a policy group.
What are the key messages for advocates?
Key messages for advocates are:
Advocacy is about a set of behaviours and a state of mind. It's not a programme, but a culture
Advocacy can be almost anything (that shares your pride and enthusiasm for your ACCA experience)
Advocacy comes from pride in having invested so much in achieving the qualification, membership and success in your career
Advocacy comes from pride in our values of access to opportunity, public value and ethical professionalism
Advocacy comes from the fact that ACCA changes people's lives for the better, and effective advocacy means that members can play their part in changing other people's lives too
Finally – ACCA is listening to its members so please take part in surveys, vote in elections and at the AGM and generally get involved. The more you put in the more you'll get back.
I'm interested, what next?
Ask yourself:
Are you proud of your qualification?
Are you an advocate/promoter of ACCA already?
Do you have an idea how you'd like to get involved in advocacy?
Your next steps
Consider how you can share your story with others. Or make use of your own social networks (use the hashtag #ACCAAdvocate). Why not take a look at our suggestions on how to be an advocate.
Alternatively, contact your local ACCA office for further information on advocacy.
Are you interested in telling others about ACCA advocacy?
If you would like to share this information with friends or colleagues, the following URL will lead them to the first page of this section:
www.accaglobal.com/advocacy
Is your question
not listed here?
Our advocacy team are waiting to hear from you.
If you have a question that isn't answered already on this page, please contact us and we'll be happy to answer your questions.