Sharon Machado,
Head of Business Reporting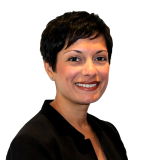 Sharon Machado has recently joined Professional Insights as the portfolio head of the business reporting team.
In this role, she provides a holistic representation of the business reporting function, and manages the team of experts who cover ACCA's thought leadership and policy work in financial and integrated reporting, audit, tax and business law.
While Sharon's area of specialism is weighted towards the area of financial and integrated reporting, her prior experience enables a breadth across the business reporting portfolio.
Sharon's area of expertise relates to the impact of the profession on both qualification and education needs. Breadth across the business reporting portfolio and education expertise has been gained from preparing students for the technical and professional demands of professional accountancy qualifications, which she did prior to joining ACCA in 2008.
Furthermore, since joining ACCA, her role has included shaping the ACCA Qualification, its global transition from paper to computer based exams, development of the practical experience policy, and the online Ethics and Professional Skills Module. Sharon continues to work closely with learning providers, standard setters, regulators and employers.
Sharon has a degree in Pure Mathematics and Statistics, and gained her professional accountancy qualification with Deloitte. She is a Fellow of ACCA.