While Brexit has dominated economic and political headlines in Europe, the rest of the world is unperturbed. However, the manufacturing purchasing managers' indices (PMIs) suggests that global growth remains weak.

The UK economy broadly appears to be weathering the initial fallout from Brexit has certainly helped, but other factors have also played a part. Better news from China has supported commodity prices, which in turn has lifted sentiment in other emerging markets.
Deep recessions are ending
Other big emerging markets are showing signs of improvement.
Deep recessions in Brazil and Russia are finally coming to an end, while easing inflation should open the door for interest rate cuts soon that should further boost growth. In India, there are encouraging signs that Prime Minister Modi is starting to make good on his reform agenda after the passage of a landmark bill on goods and services tax in August.
Government spending index
A rise in the government spending index was a key factor behind the improvement in global confidence in Q3 which is now at its highest level since the third quarter of 2014.
The capital expenditure index also picked up slightly – as did the new orders index.
Hiring flat lining
So far hiring has not picked up: 50% of respondents say their business is considering either a hiring freeze or staff cuts, compared with just 19% who say they are hiring more staff. In every region there were more businesses planning to cut staff than hire more.
According to data from the World Trade Organization (WTO), countries are applying record numbers of trade restrictions against other nations: its members applied an average of 22 measures each month between October 2015 and May this year – the highest number since 2011.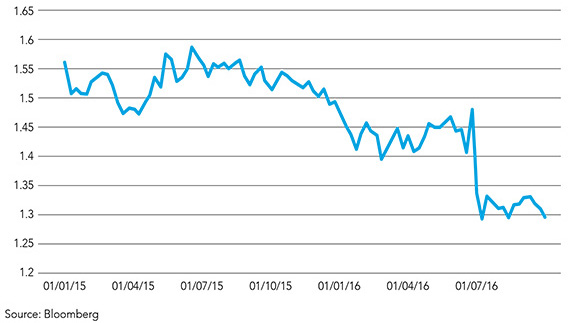 Graph showing the pound plummeting against the US dollar.
"Brexit is a European not a global concern. Outside of Europe, the global economy appears to have largely shrugged off the initial impact of the UK's vote to leave the EU. More than half (59%) of respondents say that there would be no impact from the Brexit vote, with that proportion rising to 70% in North America."
Accountants' key role in economic development
Global economic conditions continue to dominate business and political life.

Research for the Q3 2016 GECS took place between 2nd and 19th Sept 2016.

1,512 ACCA and IMA members around the world responded including more than 150 CFOs.

The Global Economic Conditions Survey (GECS) is the largest regular economic survey of accountants around the world, in terms of both the number of respondents and the range of economic variables it monitors.