Jessica Bingham,
Regional Lead Policy & Insights – EEMA and UK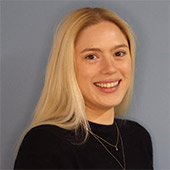 Jessica is the regional policy and insights lead for ACCA, working with key stakeholders and partners to support its professional insights, advocacy and policy work across the UK and EEMA.
Her experience spans the public, private and NGO sectors, and she has spent considerable time working in both financial and value for money audit. Jessica is a Chartered Accountant with experience sitting on and moderating panels across a broad range of issues including sustainability. Her most recent event being at COP 15 as prior to joining the ACCA she was a subject matter expert on climate and nature-related reporting at a boutique consultancy. Her specialism continues to be sustainability and it informs her work across the UK and EEMA, given the regulatory leadership within the region.
Jessica holds a BSc Economics from The University of Sheffield and is a Fellow of the Royal Society for Arts, Manufacture and Commerce.