How to become a lifetime member
How to make the move to lifetime membership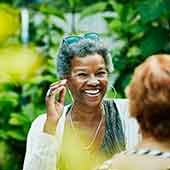 Lifetime membership is open to all Fellows (FCCA) who are permanently retired from work or business (full or part time).
If you're still working but are perhaps starting to cut back on your commitments, you may be eligible for a reduced subscription. Lifetime members can undertake voluntary roles, visit the FAQs section for details.
You can only hold a practising certificate or insolvency licence while on the retired members register if you transferred before 1 January 1998 and held a practising certificate or insolvency licence on 31 December 1997.
You can apply for lifetime membership in myACCA.
When you apply for lifetime membership, you will be required to submit documentary evidence to confirm your retirement.
The documents we require will vary depending on your circumstances but some examples of what may be accepted are:
Official documents which confirm you are not in active employment.
Letter from your employer confirming your retirement.
Pension confirmation.
Tax returns confirming zero earnings through a salary.
If you are self-employer or a business owner / partner, please submit a letter from the company director to confirm you are no longer paid a salary from the organisation and to confirm ownership of the company has been transferred.
We understand that some circumstances are unique, so please do get in touch if you're unsure about your eligibility or have any questions.