Bukkie Adewuyi
Bukkie Adewuyi is the Head of Internal Audit at Prospera Credit Union in British Columbia, Canada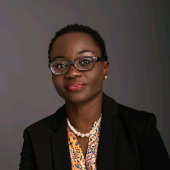 With a degree in Accounting and part CA exams completed, I started out with PwC Nigeria in 2003 in Tax and Corporate Advisory Services. Over time, I worked alongside the external audit team on due diligence assignments for the ongoing bank mergers in Nigeria and took part in financial advisory work, compiling monthly accounts for corporations and undertaking process/controls redesign for the merged banks. Upon relocation to an office that didn't have tax services in South Africa in 2005, I chanced upon Internal Audit and fell in love. Prior to this, my main knowledge of Internal Audit was through the process/controls redesign work in Nigeria. I was not aware there was a designated career along such lines. I have since enjoyed this diverse field of audit, risk, governance, and other related aspects.
It has been over 16 years of being in this field and what I love about internal audit is the variety and diversity of the work. I have not encountered two audits that are the same, even when conducted over time, in the same organisation. You must continuously think outside the box, anticipate risks, review how controls are designed to manage the risks and compile a suitable assurance or consulting engagement that will bring value to stakeholders.
I also love the fact that our work is premised on strategy, we therefore direct our approach with the aim of assisting the organisation with achieving core objectives. The linkage of strategy, risks and performance is a key component of the work we do and that is the cornerstone of any progressive organisation.
As an auditor, we have audience with various stakeholders, the board, executive management, the regulator. I love these interactions and the knowledge that our work is relied on for key decision-making.
The Internal Audit profession is evolving as the business landscape evolves. Technical skills in technology risk, business, automation, and data analytics as well as soft skills in communication, persuasion and collaboration are becoming critical success factors for the modern-day internal auditor.