Iryna Shkraba
Iryna Shkraba is an Internal Audit Manager at ICBC Austria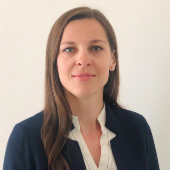 After several years in external audit at EY - first in my home country, then London - I decided to pursue an internal audit career in continental Europe's financial services sector.
By the very nature of their profession, internal auditors must categorically remain current with developments, both within the discipline itself as well as for their respective business sectors, thereby spontaneously fostering continuous professional growth. Acquire a thorough understanding of the business, comprehend the intricacies of your entity's processes from A to Z, and keep in touch with the latest sectorial trends - all of these enable you to contribute genuine value to your organisation.
Moreover, since the focus of activities throughout the year is inevitably subject to rapid changes - even radical upsets like Covid - you never get bored with the job becoming too routine or repetitive. As a financial services professional, I must keep my finger on the pulse of other sectors too, namely to be aware of their trends to help me connect the dots and identify implications for my own sector.
A trusted, open relationship with your auditees, complying with stringent external regulations, meeting challenging internal expectations - yet always maintaining an independent attitude while performing your work - these are the professional and personal qualities at the heart of an internal auditor's daily life. I especially enjoy interacting with people from diverse backgrounds, both workwise and culturally, and I consider having to learn other languages as an absolute bonus. At the end of the day, meeting and connecting with others are the highlights that beget personal fulfilment.