Jonathan Arnold
Jonathan Arnold is an Internal Auditor at Union Assurance Plc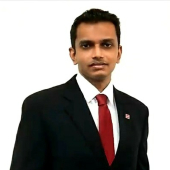 Internal Auditors have an inborn ability and an acquired taste. This enabled me to provide objective assurance to organisations under my purview. The dissimilarity of each Internal Audit project, combined with the uniqueness in approach, was both intriguing and fascinating.
The key motivating factors for robust internal audits stem from how they are viewed; as a way to identify and correct issues quickly, whilst maintaining a good reputation. The value addition brought about by performing a multitude of Internal Audit tasks, identifying the root causes and addressing risks in a timely manner has been paramount to success.
My career as an Internal Auditor commenced at the Big Four global firm PricewaterhouseCoopers (PwC), and spanned over 5.5 years. ACCA instilled in me the ability to 'think out of the box' and to exercise professional scepticism. Captivated by the assortment of risks faced by many companies, and overcoming the challenges imposed in mitigating such risks motivated me.
Fraud detection is a spine tingling component of Internal Audit, as it requires resilience to identify and address any wrongdoing, whilst avoiding reprisals. This facet combined with the international exposure during my tenure, bestowed job satisfaction.
Presently I am an Internal Auditor at Union Assurance PLC, which is a leading life insurance provider and a subsidiary of John Keells Holdings Plc. This exposure has facilitated me to gain much insight into the financial services sector and the surrounding regulatory framework, particularly in relation to Anti Money Laundering (AML) and Combating the Financing of Terrorism (CFT).
A key challenge in my industry is the constantly evolving regulatory landscape, where new regulations are to be adhered to. The life insurance sector, being part of the financial services industry is highly regulated. Non-compliance could result in penalties which are both monetary in nature and non-monetary, with repercussions such as reputation damage.
Information technology should be embraced in order to stay relevant in the industry. Performing IT Application control reviews on various internationally renowned and customised systems is vital. Processes and controls adopted in companies evolve frequently and can be daunting, however adaptation to such changes is rewarding.
In conclusion, ACCA has given me all the competencies required for a successful Internal Audit career and was a stepping stone to accomplish several added, globally recognised qualifications.