Jonathan Arnold
Jonathan Arnold is a Manager of System of Quality Management (SoQM) at KPMG in the Cayman Islands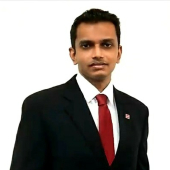 Internal Auditors have an inborn ability and an acquired taste. This has enabled me to provide objective assurance to organizations under my purview. The dissimilarity of each Internal Audit project, combined with the uniqueness of approach, is both intriguing and fascinating.
The key drivers for robust internal audits stem from how they are viewed; as a means of identifying and rectifying issues swiftly, whilst maintaining a virtuous reputation. The value addition brought about by performing a multitude of Internal Audit functions, identifying root causes, and addressing risks in a timely manner has been paramount to my success as an Internal Auditor.
My career in Internal Audit commenced at the Big Four Global Audit Firm -PricewaterhouseCoopers (PwC). ACCA instilled in me the ability to 'think out of the box' and to exercise professional skepticism. Captivated by the assortment of risks faced by organizations and overcoming the challenges imposed in mitigating such risks, I was motivated to pursue a career in Internal Audit.
Fraud detection is a spine-tingling component inherent to Internal Audit, as it requires resilience to identify and address any wrongdoing, whilst avoiding reprisals. This facet which I was immensely successful at, combined with the widespread international exposure during my tenure, accorded job satisfaction.
I was subsequently invited to join Union Assurance PLC as an Internal Auditor, to help establish a newly formed Audit & Compliance Division. This experience enhanced my perception of the financial services sector and the surrounding regulatory framework, particularly in relation to Anti Money Laundering (AML) and Combating the Financing of Terrorism (CFT).
Presently employed at yet another Big Four Global Audit Firm - KPMG in the Cayman Islands, as a Manager for System of Quality Management (SoQM). SoQM is a mechanism introduced recently by the International Auditing and Assurance Standards Board (IAASB), that seeks to create an environment which supports engagement teams in performing quality engagements, across the globe.
The SoQM is imperative in preventing audit scandals, which have plagued reputed audit firms around the world for decades. I perform the pivotal Internal Audit role of control testing, thereby ensuring the effective operation of SoQM controls implemented at KPMG Member Firms.
Whilst working for KPMG in the Cayman Islands, I have had the privilege of working with a plethora of overseas island territories including KPMG Member Firms in the Cayman Islands, Bahamas, British Virgin Islands (BVI), Bermuda, Malta, CARICOM, the Crown Dependencies & the KPMG Islands Group (KIG).
Working for an organization like KPMG that promotes diversity and inclusion in the workplace, I enjoy communicating regularly with multi nationals across differing time zones. Skillful communication is crucial in convincing both control operators & control owners, to buy into the remediations /improvements recommended by control testers.
In conclusion, ACCA has given me the competencies required for a successful career in Internal Audit and has served as a stepping-stone towards accomplishing several additional, world-renowned qualifications.