Muhammad Umar Usman Rashid
Muhammad Umar Usman Rashid is the Group Internal Audit Manager at Maaden - a Saudi Arabian mining company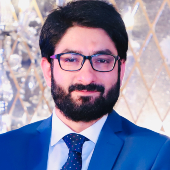 After becoming an ACCA affiliate back in 2008, I joined KPMG and was appointed to Risk Advisory. I found Internal Audit very interesting due to the involvement in the financial & operational audits, risk, and compliance services. I continued to work in Internal Audit in many different types of organisations. My related qualification and experience helped me to transfer my skills to the organisation wherever I worked.
Throughout my career I had the opportunity to work at all phases of Internal Audit whether it is the establishment of an Internal Audit department, developing risk registers, the execution or review of audit assignments, supervisory roles, presentation of reports, follow up activities, and investigation or advisory engagements etc.
I am very passionate about Internal Audit as I believe that you are forced to keep learning new things because you are exposed to different business areas and processes. The extensive knowledge of the overall business that internal auditors have helps to provide added value to the organisation. You are able to think critically, bring new ideas, be curious/sceptical, build and sustain relationships, act as a change agent, and display listening, writing and communication skills.
The challenges I have faced are the misconception of Internal Audit as a watch dog, fault finders or focussed on financial compliance. However, those challenges were overcome by maintaining effective relationships with the business owners, having business discussions, and conducting facilitation workshops etc. to help them understand that Internal Audit is also a partner to the business bringing economy, efficiency, and effectiveness to provide added value to the organisation.
Being an internal auditor provides an opportunity to highlight the associated risks, benchmark with best practice, and come up with valuable recommendations to mitigate the risks and enhance the processes to be effective and efficient in order to achieve the organisation's overall strategic objectives.