Samantha Berry
Samantha Berry is the Head of Information Governance and DPO at NHS Property Services Ltd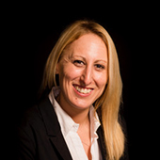 After graduating, I worked for HMRC in their Operational research team, during which I took the opportunity to join the Accountancy Scheme. This enabled me to take the ACCA qualification as well as experience a number of rotations in different roles around the business - one of which was Internal Audit. From my first audit which was working with the Serious Fraud Office, I knew I had found something which gave me the opportunity to work with a variety of people from around the business and be exposed to something different on a daily basis.
After HMRC, I moved to an accountancy firm for a few years, then worked in-house at ACCA for 5 years. This took me around the world and gave me a great insight into different challenges experienced in different countries, but also taught me that you could apply the same logic to anything, anywhere to mitigate risks. Since then I have worked in the Financial Services, for a law firm and I am currently at NHS Property Services.
Working in Internal Audit brought me the variety of work I wanted, as well as exposure to the whole organisation. I enjoy working with and speaking to a variety of stakeholders and fundamentally being able to make a difference. You really do get the opportunity to assess what's working well and what's not, and work with the business to put the right controls in place as well as helping to drive the right culture.
I don't currently work within Internal Audit, but my experience has brought me to where I am in my career and is standing me in very good stead. My recent roles have extended into risk as well as Internal Audit, but I am currently Head of Information Governance and DPO.
I am regularly calling on my experience from Internal Audit to assess the risks across the business and introduce the right controls, training and awareness to mitigate these.
I think a career in Internal Audit provides a great opportunity to experience every aspect of the organisation and would recommend it to anyone who doesn't want to be stuck behind a desk in a regular cycle of work!