Evelyn Isioye,
Regional Lead, Policy & Insights – India and Africa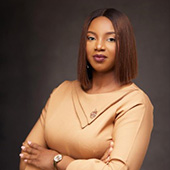 Evelyn leads ACCA's regional policy and insights work across India and Africa. She has authored several region- and country-specific reports, contributing to the shaping of policy conversations, consultations, and capacity building. Notably, she authored the ACCA and Pan African Federation of Accountants (PAFA) joint report on the Journey to AU2063 – professional accountants empowering the AfCFTA.
Prior to her role in policy development, Evelyn has worked in various capacities within ACCA, including overseeing ACCA's public sector and policy engagements at the federal level in Nigeria for over 5 years.
Evelyn holds a first degree in accounting from Covenant University and is a Fellow of the Institute of Chartered Accountants of Nigeria. She is a Global MBA candidate at the University of London and holds executive program certificates from the Blavatnik School of Government, University of Oxford, and the Lagos Business School, Pan Atlantic University.
She currently serves as a member of the Board of Trustees and the Governing Council of the Covenant University and Lagos Business School Alumni Associations, respectively.