Changing the face of Pakistan
"Most of us underestimate our potential to act as a force for global good. When we make our choices whether personal or professional we need to consider the planet as a stakeholder."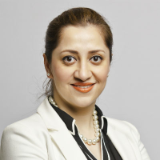 The world is significantly lagging behind on meeting the UN SDGs, whether it's eliminating poverty and hunger, reducing inequalities, providing education for all, or addressing the climate crisis.
Ayla says: 'This planet is ours and each one of us bears the responsibility for its well-being. Our actions have consequences. And that is why sustainability should not only be a conversation but high on the agenda and while including the planet as a stakeholder.'
The pace of sustainable development in most countries has been very slow, one factor being a huge financing gap to implement and scale SDG focused projects, particularly in developing countries. There is a rising need for finance professionals to create innovative financial solutions to bridge the investment gaps in achieving the Sustainable Development Goals.
She said: 'Being a finance professional has equipped me with the tools and connected me to people who are working towards creation of a sustainable world,' she said. Ayla sits on the Boards of various public and private entities in Pakistan in the areas of energy, pharmaceutical and not for profit sectors. In her various roles she focuses and advises on the adoption of the SDGs across different industries.
Through Ayla's involvement with the Global Future Council for Energy at the World Economic Forum, she is working on important initiatives to accelerate energy transition and to define potential actions to positively shape related developments.
"I don't believe that old-fashioned attitudes survive for long when they come up against professionalism, a desire to succeed, and a dedication to getting the job done"
She said: 'The current socio-economic and environmental situation is calling for collaborated efforts from all sectors of the economy. I am working in this area to create awareness and advocate for the cause of climate change mitigation, energy transition, sustainable business, innovation for achieving the SDGs and empowering women along the way.'
Ayla's first Board role was a decade ago. She said: 'Back then the acceptability of women working in governance positions was very low and often times came with resistance, as I stood out as the only woman among a group of grey-haired men. This has changed now. Women take their place in the boardroom as of right.
'I don't believe that old-fashioned attitudes survive for long when they come up against professionalism, a desire to succeed, and a dedication to getting the job done. It's a huge honor for me to be serving as a board member of ACCA, representing our community members who have entrusted me with this responsibility, and contributing towards ACCA's global strategy and growth.'
For Ayla promoting the role of women in governance is something she is very passionate about. She said: 'It is the need of today's forward-looking organisation.'
Education is another important area of her focus. UNICEF estimates that more than 22 million children in Pakistan have never seen the inside of a classroom – the majority of them female.
Different dynamic
That is why among the several corporate boards Ayla serves on, her work with an organisation called The Helpcare Society is especially close to her heart.
Since 1998 the society has helped thousands of children from marginalised families attend school. It costs families almost nothing. The priceless education gives them the chance of a career, a place at university, and a promise of a future in professional life.
Ayla is also proud that ACCA plays a major role in offering young Pakistanis a promising path to a good job and a good life.
'Every country has a different dynamic which affects its people's chances of getting on,' she said. 'In Pakistan many people find it hard to access professional chances.
'ACCA reaches out to different sections in the society. No-one is excluded. And ACCA's digital capability brings learning within reach for even the remotest student.
No barriers
'ACCA is a wonderful option for so many, because it is flexible and works with
people's circumstances. There truly are no barriers, which also makes it an attractive option for women especially.'
Ayla has grown used to being the only woman in the room throughout her career as a finance executive. It hasn't stopped her scaling many summits: she was the first female to sit on the board of any stock exchange in Pakistan; she is a Young Global Leader of the WEF, most recently she was invited to the World Economic Forum's Annual Meeting in Davos where she led a session on Global Risks; and she is MD of Khalid Majid Rehman Chartered Accountants in Islamabad.
Thanks to pioneers like her, the influence and impact of women is changing the face of Pakistan.