Adefisayo Adefarakan
Adefisayo Adefarakan is the Managing Director of Pharakan & Associates Inc in Canada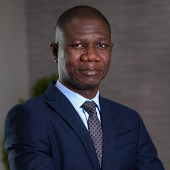 At the start of my career, I wanted to go into Forensics but I ended up as an accountant and was privileged to join EY in Nigeria. When I moved into the Core Advisory team within the Risk & Performance Improvement Space, we had some IA projects and I was the only Manager available to work with the new Partner for the Risk – IA. That was the beginning of my journey into the world of Internal Auditing. It has been interesting ever since. Though I was reluctant to take it but it has been a great platform for me.
One of the greatest things I enjoy, is being able to add value to organisations through the Advisory/Consulting engagements. I have found Internal Auditing to be a platform to harness my several industry experiences and exposure to proffer solution to issues. I have distinguished myself as an Internal Auditor who is solution driven - it is not so much about the exception/gaps identified during an audit, (which of course have to be reported), but for me it is about the value I bring to the table for my audit clients, being able to challenge the thought behind a process and point out the blind spots gives me joy. The role has offered me opportunities to make presentations to senior management and help those organisations make informed decisions. I have had the opportunity to move from being the Head of the QAIP within a large Bank to being a Country CEO for one of the Bank's subsidiaries. It has been a journey worth the sacrifice.
One of the major challenge I face is the perception about what Internal Auditors do. Having spent a substantial part of my career in the Financial Services Sector, stakeholders tend to challenge the value of the Internal Audit function usually when frauds happen. Or when there is a regulatory fine, the question is usually "Where was Internal Audit?" I will continue to project the profession to ensure that all stakeholders appreciate their role within the enterprise.
I particularly like the GRACE acronym – the Governance, Risk Management, Assurance, Control & Efficiency approach to what we do as IA professionals. It is not just about the governance, risk management, assurance or even the control bit of the work - as much as those are crucial and important, the ultimate end point in my perspective is that we want organisations that are being run efficiently. This efficiency bit is really my point. We must continue to push the bar higher for the efficiency game.
The ACCA has given me a platform to do this in so many ways, and I look forward to connecting with other professionals to improve the IA Profession. If you are ACCA qualified and you intend to earn the CIA certification, the ACCA Challenge Exam route is something I recommend. This is just one of the many opportunities that we have as ACCA members to turn up the dial. Let's do this together.