Halima Salim
Halima Salim and Prodipta Patel of Prohal specialise in golf clubs, fin-tech and pharmaceutical companies.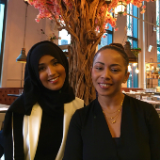 Regardless of the sector, it's crucial to stay positive. Pharmaceutical companies need to ensure they're using the right technology, golf clubs need to be visible and engage with customers, fintech companies need to analyse their market and be bold, but every business needs to stay positive.
Monitor brand and consumer sentiment to understand pressure points. Leverage the power of community – utilise social media to evolve the business. Explore ideas for new products and opportunities. Build closer relationships with your suppliers and funders highlighting the steps you have taken to introduce a survive-and-thrive strategy – they'll support you if they understand and believe in your business.
Accountants need to stay positive too. Working alongside government efforts to support clients and communities, practices can respond with purpose and humanity. Actions taken by practices in these difficult times will be remembered for years to come - support clients and prove ideas for business growth and sustainability and they'll stay with you.