Ben Thompson
Ben Thompson is the founder of The Accounting Room Ltd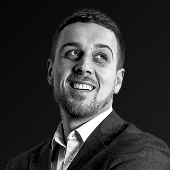 The Accounting Room journey started in April 2022, with a vision to work more closely with small/medium business owners, providing more insight and hands on support than the old school year-end accountant. I planned that if I had replaced my salary within 12 months and was working with the type of clients I wanted to, then this had been successful.
I had no client base to take with me, nor any promised sales, however truly believed in the value of being able to help small/medium business owners understand their numbers, take the stress away from accounting/tax and allow them to focus and flourish on doing what they do best.
Fast forward 12 months, we have 2 full time staff, 2 part time staff, a partnered tax team, cool office space and an amazing network of local professionals that all come together to meet almost every requirement of a small/medium business owner.
We work with a variety of industries, shapes and sizes, to help improve bottom line profits and revolutionise processes. We are passionate about excellent client service, providing clarity from the start of our journey. Through understanding clients' aches, pains, dreams and aspirations, we work closely to help our clients achieve the best possible results. This is our foundation for long lasting successful relationships.
I believe our fundamentals are what sets us apart and why growth has been as significant as it has. Word of mouth and organic growth has been our biggest driver of new clients. Our commitment to quality and adding value is what we believe to be our core and what will retain and attract further clients.
Our culture is the single most important thing in our firm, it is our differentiator and what I strongly believe gives us our edge through unmatched energy, care and results. We thrive on continually exploring what can give our clients competitive edge and how we can deliver information and strategies to our clients that will make an impact. Our personal approach and willingness to find the answers that will propel our clients is what we get our best feedback from.
Every staff member at The Accounting Room is unique and has a passion for client ownership, truly investing in our clients and doing all we can in aiding them to be as successful as possible.
I believe the single most pressing issue for practitioners today is price. So many inexperienced accountants charge way too low, which ultimately leads to them being overworked, providing a poor service and their clients leaving. This then has a knock-on effect of portraying our industry in a negative light and also means when good firms price fairly, it can be seen as expensive by business owners. There is a never-ending conflict of price due to such disparity and convincing a prospect of what value looks like is the ongoing battle.
If you are starting a practice, then my advice is to price correctly and choose your software wisely. We have been a tech focused firm from the very beginning. Saving clients time through accounting software, automation and the ever-expanding available digital tools is just as important, if not more important, than saving clients tax. We have tried and tested countless software and strategies and will continue to do so - most small/medium businesses we assist in setting up finance functions for have a good proportion of the software and processes that we implement in-house for our own business.
Being an accountant is about more than saving clients time and tax. It's helping them grow, being someone that they can trust, and being that external sounding board to allow them to step back, look at things from a sophisticated perspective and help them achieve their dreams and goals in the most efficient manner possible. There is nothing more rewarding than succeeding with our clients. When they win, we win!
It's important to be on hand to help your clients through the good times and the tough times, using the skills you have developed through years of training and working experiences. Care and determination trumps everything.