Gurmeet Kaur
Gurmeet Kaur is an Audit Assistant Manager at EY Newcastle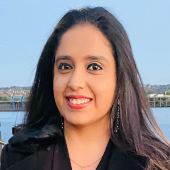 My career journey began with EY Global Delivery Services in India back in 2013, and I have remained with the firm since. As a recent college graduate, I wasn't quite sure which career path to take. However, EY introduced me to the Association of Chartered Certified Accountants (ACCA) and its potential benefits. In June 2019, I left everything behind and relocated to EY's Newcastle office in order to enhance my experience and growth, before going on to obtain my ACCA qualification in November 2021.
In my opinion, the top concern for professionals is finding ways to increase acceptance of change. With the dominance of digitalisation in every aspect of work, it's crucial to keep up with the pace of advancements. Resisting change could cause businesses and societies to fall behind in this rapidly evolving, technology-driven world. Instead, we must embrace technology to become value creators and reliable business advisors.
EY is a global professional services firm which covers assurance, consulting, strategy and transactions, tax, audit and law. It is recognised as one of the Big Four accounting firms. EY has a diverse presence across different sectors and industries.
My time at the EY Newcastle office has allowed me to work with clients from various industries, including real estate, technology, consumer products, and more. It has been an excellent opportunity to learn about clients' business operations and sustainability practices.
It was an incredible feeling to be selected as a rising star accountant for the prestigious 2022 North East accountancy awards. The entire experience was surreal – from meeting the panel for the interview to attending the awards themselves. It was a dream come true. This achievement holds a special place in my heart and marks an important milestone in my accounting journey. During my time at EY Newcastle, I actively participated in several office-wide initiatives that aligned with EY's focus on digital innovation, continuous development, and diversity & inclusion. My leadership team acknowledged my skills and my ability to build strong relationships with management across various levels, which aligned with the positive and thriving culture in the EY Newcastle office.
The significance of the changes happening before us should not be downplayed. Technology will serve as a tool to aid accountants, not to replace them, and it has the potential to help firms optimise time management, accuracy, productivity, and security. Adapting to change will be key for accountants to remain effective in the field.
In order to succeed as an accountant in the future, I feel it will be essential to have knowledge of digital technology, such as Artificial Intelligence (AI), data analytics and big data usage, as well as to understand the globalisation and outsourcing of accounting services. Additionally, being aware of evolving regulations including tax and new corporate reporting requirements such as integrated reporting regulation will also be necessary.
Every morning, I enjoy taking a stroll with my spouse through the charming Leazes Park before heading to my workplace at City Gate which happens to be just opposite the Newcastle United football stadium. This routine rejuvenates me and motivates me to be proactive and engage with my acquaintances and co-workers throughout the day.
I truly admire the beauty of constantly learning every day in this job. There are countless opportunities to try new and different things. It's amazing how much can happen in just one day.