James Best
James Best is a director at Precision Finance Consulting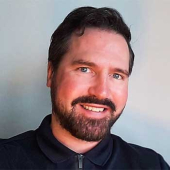 I became an accountant by accident. Even though I studied business and information studies A-levels, which I thoroughly enjoyed, my initial plan was to pursue music. However, my placement to study at a performing arts school fell through. I decided on a gap year and started work as a temp in the finance function of a fashion company. After 10 months, I applied for a trainee accountant position in a medium-sized practice, which included full ACCA study support. The rest is history.
I became an ACCA member in 2007. After three years of contracting, I'd saved enough to be able to take a sabbatical to study music and eventually achieved a songwriting diploma. On returning to the corporate world, I viewed the finance function through fresh eyes. Business models were changing to adapt to an increasingly digital and data-driven world, but the finance function was operating as it always had. I resumed contracting, targeting finance transformation projects, as I could see that all businesses would need to address this in the future.
There has been a huge drive in the application of automation tools to reduce processing tasks in finance. I now help clients redirect the resulting available capacity to strategic advisory activities within the organisation.
"Research shows people favour making decisions based on gut feelings and emotions as opposed to logic and reason"
My clients adapted well to the virtual world created by the pandemic. There was a togetherness, resilience and increased awareness of how others were coping. Ultimately, mindsets and the adoption of change aligned almost overnight. I believe that's because the problem impacted everyone at the same time – everyone was part of the journey from the start and everyone felt a part of the solution. A lot can be learnt from this, and it supports my take on a successful transformation approach. New processes and technology are enablers, but people are the solution.
I am very creative and enjoy abstract painting as well as songwriting but, being an accountant, I'm also very analytical and methodical. I guess it's expected that brains must be either left- or right-side dominant. Despite this, research has shown that people tend to favour making decisions based on gut feelings and emotions as opposed to logic and reason.
I've found the story-creation aspect of songwriting very effective when trying to explain complex things or influence others in a corporate context with data. People hear statistics but feel stories. I believe accountants need to be able to work better with ambiguity, in an agile manner, and appreciate the value of data and technology.
I'm a mentor on the ACCA Mentoring Programme. It's something I recommend to both members and students because it provides direct insight into the challenges mentees face and their perspectives. A mentor can offer guidance on how to overcome such challenges and help navigate a path to achieving objectives. I think it is important to remain curious, to continue developing and to take the time to look at how things are done outside your own profession and industry.