Jonathan Baillie
Jonathan Baillie is a partner at James Cowper Kreston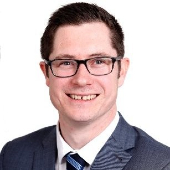 In the UK James Cowper Kreston is a large practice of 24 partners and over 200 staff and we offer a broad spectrum of services - corporate finance, business and private client tax, audit, accounts, payroll and insolvency services - everything you would expect us to do. Most of our clients are based in the Thames Valley region of England, but we do a lot of work internationally as part of our Kreston Global membership.
I work with owner managed business clients from zero turnover up to your £100 million turnover, so a broad range of businesses. The majority of our client base is owner managed businesses - I would see a private equity backed business that has management team as an extension to that owner managed business. We want to be acting for them from day one to whatever it is at exit, and we can provide all the services that they need to support their growth along the way to help them maximise their potential. I buy into the journey and want to be part of it – so I have some that are early-stage start-ups and others that are much bigger. We've always done a lot of work with tech-based start-ups and spin outs.
A lot of my work is with UK based companies that have overseas parents which presents challenges such as language and cultural barriers. You need to build trust not just with the UK management, but overseas management as well so that they understand why we need something that wouldn't be needed in their country. In the UK that can be client ID for example.
"The single most pressing issue for accountants today is staffing without a doubt. And not necessarily just related to retention of staff, although obviously that's very important, but recruitment in general as we grow and try to create that capacity for growth."
Candidate interviews are almost sales pitches, and we are asked more questions than we ask ourselves - mostly about what it's like working here. We usually invite them to meet the team so they can see our visions and values in practice.
There are huge opportunities for firms of our size. If I focus on my service line in audit and assurance, the shakeup of the audit market will present opportunities for us. In the rest of the business, we see opportunities coming from working with good quality owner managed businesses that we can grow with and deliver all of our different services to. And there will be international opportunities our Kreston Global membership – especially from a tax perspective.
Aside from the client side of my job, the bit I enjoy most is the development of our students. In in my role as Qualified Person Responsible for Training, I oversee their development and make sure that we, as a firm, provide appropriate resources. It's not just about sending them to college three times a year to study for their exams, but what the whole of the team does to develop them. I'm passionate about making sure that the training they get on the job is done in the best way that we can.
It's about progressing up through the roles - you can't do the high-level stuff unless you understand the basic stuff – so we want to make sure that people progress in an appropriate manner and at certain points in time. That can include taking them into client meetings - I take my audit seniors into client meetings but not necessarily to contribute. A lot of what we do is learning by osmosis and I know from my experience that going in there and seeing that process helps you to absorb more information.
Communication is key – it's the most important skill for future accountants. It's already started but certainly over the rest of my working career we will move so much further from a compliance driven service to an advisory driven service.
"You need to be a good communicator, able to articulate complex problems or advice in a straightforward way whilst also ensuring that you're delivering that in a manner that our clients would like and understand. It will always be about compliance, but that won't be what the advisors in the future do."
Skills with IT will be incredibly important in the not-too-distant future. I'm not talking about being proficient on IT - I'm talking about being able to code. Not everybody will need those skills – we'll need different skill sets and it's going to become much more about the wider business – like sustainability and the environment – rather than just the numbers.
We've always done a lot of fundraising internally and we give our people a certain number of days off a year to do CSR related activities. It's our 100th anniversary as a firm this year so we felt that that it was a good time to formalise that approach and we've just launched the James Cowper Kreston Foundation. The foundation is being driven by a Nominations Committee which is made up of a wide range of people across the firm, not t the partners, and we all feel passionately about giving something back so hopefully over the next 12 months we will be giving grants to lots of great local causes.