Sharon Baker
Sharon Baker is the managing director of Kinder Digital Accountants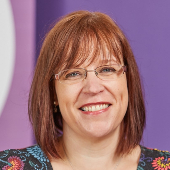 I fell into practice by accident. After art college, I went away travelling and when I came back, I saw an advert for a secretary in an accountancy firm. I only intended to be back for six months so thought it would be perfect, but I ended up staying 7 years as I progressed from the secretarial work to petty cash analysis and then stayed on the accounting side and was put through AAT and ACCA. I moved to Bath and was in practice initially before working in different businesses in industry before moving back home. Once home, I worked for a hotel as their accountant before setting up my own practice.
When I set up my practice, it was a very traditional practice doing accounts and tax returns using spreadsheets and Sage, and I would bill after I'd done a job. I had become aware of online accounting but then in mid-2012, two separate clients asked me about the benefits of online accounting, and I thought I was already too late. I should have been advising them rather than them coming to me.
So I immediately started looking at online accounting software and looked at three of them before settling with Xero which was easy to use and provided great support on my journey. My first demo event for clients took place in the autumn of 2012. Once I had discovered online accounting software, it opened up all the doors to what was possible – if you embrace it and immerse yourself in it, you can reap so many benefits. It also satisfies my creative side – it's visually pleasing and you can find out what different apps can do and how they can link together.
Practice Ignition was our second or third app. Letters of engagement are a bug bear for any accountant and it's always last on the list of things to do before you start acting for a client. I saw it at Xerocon and was in awe that something could do this. It used to take so long to do letters of engagement in Word but now it takes me 5 minutes to generate a proposal and letter of engagement. With Practice Ignition, not only am I sending out a letter of engagement to comply with ACCA's regulations, but the client is agreeing to that letter and the fee, and payment is in place with that one click to send it out.
We really like working with people who are proper entrepreneurs and want to grow. If you're only doing year end accounts for a client then you don't really have a relationship with them. Our values are so important to us – that we live into those values and that our clients do as well. Sometimes that results in a difficult conversation with a client and you have to go your separate ways but relationships, attitudes and values trump everything. If your team is happy then your clients will be happy as well.
Last year we won the Accounting Excellence Covid Hero Firm Award. I entered the award for my team – we got so many lovely comments from clients for the work we were doing through lockdown, and I wanted the team to be recognised. We did so much for our clients through that period – calling them and working out action plans, running regular webinars for them on any new guidance, live updating of our Facebook page, etc. It was so important to keep the team motivated, so we captured all those lovely comments for everybody in the team to be able to see.