Suda Ratnam
Suda Ratnam is a partner at Raffingers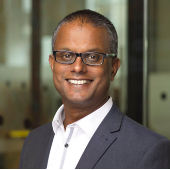 At school, I was reasonably good at maths and always had an eye for analysing things. After my degree, I worked in a small firm and then one of the Big Four. I joined Raffingers in 1999 and became partner in 2007. We work with SMEs in the recruitment, construction, charity, property and ecommerce sectors.
The single most pressing issue for practitioners today is AI. ChatGPT, for example, has taken it to the next level in the past six months. AI-based technology will change everything practitioners do, from compliance to advisory. So it's important to focus on what we can do that machines cannot. Developing our communication skills is important, for example. If you want to be successful, just obtaining an accountancy qualification is no longer enough.
"The more clients automate the boring stuff, the more of the exciting stuff we can do with them"
Digital transformation has become a crucial part of our firm. It is essential for all organisations to adopt and implement the right technologies to stay competitive. The more we can help our clients automate the boring stuff, the more of the exciting stuff we can do with them.
Sustainability activities such as reducing energy consumption, minimising waste and optimising the use of resources can lead to significant cost savings. As a trusted adviser, we recognise the significance of staying up to date with these practices and their potential benefits for our clients. Our goal is to help operate more sustainably while contributing to a more environmentally conscious business community.
I most enjoy making a difference to both our clients and our team – being there when they need me most. There is nothing better than seeing happy faces.
I have lots of hobbies. I am an Arsenal season-ticket holder, I go to the gym and I love cycling and travelling. I am part of a charity that works with children in Sri Lanka who are under privileged and have special needs, and I spend several weeks a year working there.