Thomas May
Thomas May is a partner at Jerroms GCN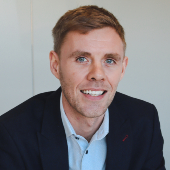 My journey into the profession started whilst at school when I completed work experience in a local practice – my Sunday league football manager was a partner in this practice and once I finished the work experience, I knew I was attracted to a career in accountancy.
After completing my A-Levels, I applied for a place at a university to undertake a course in accounting and finance. My family's more traditional working-class roots made me lean towards getting a job and when I saw an advertisement in Connexions for an apprenticeship for a trainee accountant, that made up my mind.
The trainee accountant role was with a local practice in Great Barr where I grew up. During my apprenticeship, I completed my AAT qualification at Sutton Coldfield College. Following this, I completed further studies towards ACCA at Kaplan to qualify at the age of 25. I was primed to take over from one of the retiring partners, however the practice was unexpectedly sold. Whilst that was disappointing, other doors opened for me and I joined a larger practice where I became an accounts manager, with a significant portfolio of clients.
"I pride myself of having a strong work ethic which has led to my ambitious nature - to become an equity partner. "
That was unlikely in the larger organisation I was working within. When the opportunity arose to join Jerroms as a Client Director, I recognised this as a great opportunity to lead and grow the practice.
Our Jerroms Bromsgrove office has since merged with GCN - Accountants from Dudley, and we have come together in new offices in Halesowen and formed Jerroms GCN. Our new office brings together two strong teams. As part of this merger, I became a partner in the practice, achieving a career goal!
I believe that Jerroms GCN is committed to invest in technology and the future of our team through upskilling our team and bringing in new talent through apprenticeship schemes.
We are on a digital journey at Jerroms GCN and we recognise that as technology continues to develop, so must we.
I truly believe that investing in our team creates a powerful work force that will move our practice forward to become the top accountancy firm in the West Midlands. I also recognise the importance of continually growing our practice through new talent.
We have recently partnered with a local college, and plan to introduce a number of apprentices to our team. This generation will uncover skills that are not readily identifiable, but will no doubt play a significant part within the digital transformation of our profession in years to come.