Wendy Wright-Davies
Wendy Wright-Davies is the Deputy head of internal audit at NHS Wales Shared Services Partnership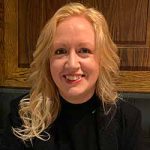 From as early as high school I wanted to qualify as an accountant. After a short spell in local government on graduating, I moved to internal audit where I had an excellent mentor who encouraged me to progress and keep learning. I was determined to gain my ACCA Qualification after a presentation at university inspired me. I've remained in internal audit across different areas of the public sector and found the work interesting and varied.
My current employer provides internal audit services to the whole of the NHS in Wales. I work within the south-central team, which supports five NHS organisations, and report to a head of internal audit. I oversee the operational delivery of the internal audit plan for one of the largest NHS organisations in Wales, which includes presenting the findings to the audit and assurance committee. I also help manage the allocation of resources to ensure the audit plans for each of the organisations are delivered.
Working with the public sector is great, as no two weeks are the same. I started in local government, and have worked with Welsh and English NHS providers, police, fire services, housing associations, higher education and further education providers. The projects I have worked on have been varied and include: reviewing evidence stores holding firearms and drugs; working through the impact of revised governance models, such as the introduction of police and crime commissioners in Wales; and more recently, the impact of the pandemic and responsive governance models.
Resources are a consistent challenge in the public sector. To truly add value through any internal audit, the current climate and the associated risks must be considered when making recommendations that are viable. Staff engagement is also a recurring challenge, which has been exacerbated by the pandemic. I believe that good communication skills and empathy go a long way in the workplace.
My biggest career risk was when I left local government. I felt I needed a new challenge, so I moved to the private sector, providing business assurance services to public sector clients. I'm so glad I took that step, as I gained a vast amount of experience with a broad mix of public sector organisations and can appreciate the public sector viewpoint.
During the first year of the pandemic my husband and I left Cardiff, after 20 years, to relocate to west Wales. I spend most of my time renovating our new home and trying out new places to eat in the area. I also put my qualification to good use, as I'm a school governor and chair of the finance committee.