Helen Jones
Helen Jones is s partner at McGills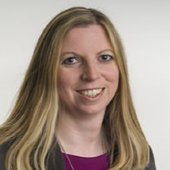 I was a mum at a young age, but I wanted to have a career. Both of my parents were accountants so I looked at AAT which I could do alongside having the baby. I went into a full-time job whilst my husband took a back seat and went part-time with his work until the baby could go into nursery. I then went onto ACCA where I was a prize winner on the higher tax paper with a five-year-old! Looking back, I don't know how I did it, but I had the determination, I enjoyed what I was doing, and my employer was so supportive and made it a goal to get me qualified. That made such a difference.
Through my practice journey, I've been in smaller practices that gradually become bigger through mergers until I was a director at Baldwins. I'd started at Nigel Barnett & Co which merged with Davies Mayers Barnett to become a five-partner practice and then they were bought out by Baldwins. Given its size, Baldwins felt quite corporate by comparison so I went full circle and joined McGills several years ago which is a lovely practice of 30.
At McGills, we constantly have new clients coming through the door as a result of client recommendations. We have a huge variety of clients – we do personal tax returns for anyone from those needing just a little help to high-net-worth clients with EIS complications. We also do work for sole traders, partnerships, farms and loads of limited companies. It's very much compliance work but with the personal touch on top giving them advice.
We're seeing more and more clients coming through the door saying that the compliance work is too much for them. They want to be set up on Xero and they're happy to do the bulk of the work, but they want us to look at it and make sure it's right and tell them if they're doing anything wrong – they want that assurance.
With such a broad church of clients, there's a lot to keep on top of but fortunately I enjoy reading and I watch a lot of webinars. I used to find it difficult to find the time to travel to in-person training events so although I do miss meeting up with other accountants at events, webinars are good for fitting CPD into a busy life.
McGills is very family-oriented both for employees and the clients we have. Everybody looks out for everybody else. We have five lots of family working within the practice - three sets of mother and daughter, and two lots of sisters. On the client side, we're seeing the younger generations come through with longstanding clients so hopefully we're doing something right!
We're one of the biggest apprenticeship placements in Cirencester – we currently have five that we're putting through apprenticeships. We only started apprenticeships last year and it's so rewarding to see them coming through. Of the two that we took on last year, one came on as an admin apprentice but has now gone into the payroll team. Another joined on an accounting apprenticeship and has just scored 98% on her AAT exams and is doing complex jobs at work. We've mapped out her career progression for her to see so that she can understand why it would be good for her to stay and we'll take her through the professional qualification. We're always happy for our team to try out tax, accounts or payroll to see what they like.