Dominic Noakes
Dominic Noakes is a Director, Business Support and Outsourcing at Haysmacintyre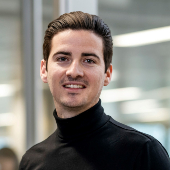 After studying accounting and finance at UEA, I enrolled with ACCA, which appealed to me as I saw it as industry and internationally focused. ACCA enabled me to self-study and gave me continued direction and purpose post-formal education.
I joined a small local accounting practice and worked across many areas of accounting, which was great for starting my career. I gained a solid grounding in the basics of accounting, tax, company secretarial, and payroll.
Whilst working, I was self-taught from textbooks and completely self-funded; I remember the long days studying during lunch breaks and after work. The challenge further motivated me to pass all the exams first time.
After qualifying within three years and working up to a Finance Manager level, I decided to continue my development and move to central London, as well as a much bigger practice - when I joined Haysmacintyre LLP in 2016.
At Haysmacintyre, I have worked my way through manager levels and I'm currently a director in a team of 35+ London-based accountants, from graduates to trainees to experienced managers. I also manage a diverse and often challenging portfolio comprising predominantly small and fast-growing companies, and I'm heavily involved with several strategic firm projects.
Last year I was personally nominated in Accountancy Age's Top 35 Under 35, highlighting young talent in the accountancy sector. Haysmacintyre's outsourcing team has also won several awards and we're a finalist in the Accounting Excellence large firm of the year award for 2023.
Whilst there is emphasis on technology and process, it is people that ultimately make a business. We strive to offer the best possible environment for our teams, knowing that clients will be in good hands if we do.
Our development is as focused on soft 'human' skills as they are on technical - this has never been more important than now in the age of technology and AI.
It's the most topical subject for a reason. Still, I don't think most people have fully grasped how deeply the explosion in AI will disrupt almost every facet of our lives.
"Technological advances have historically impacted so-called 'low-skill' and easily automated tasks, but AI-based technology is on an exponential curve and will impact professional services like never before."
We must be cautious about privacy, security, and data accuracy risks. However, practitioners and companies that can move with pace and adapt the fastest can thrive.
Accountants are the backbone of financial transparency, translating complex data into actionable insights for informed business decisions.
Accountants at their best are trusted business advisors, often wearing many hats; integral to how a business operates successfully.
Beyond numbers, accountants are unsung heroes that ensure compliance with UK financial regulations, build investor trust, and empower businesses to allocate resources efficiently and fuel growth. Overall, no mean feat!
What I enjoy most about my job are the people I work with and being able to work with many companies simultaneously, which has given me tremendous exposure to different industries, services, and ways of operating.
Although I'm now more specialised in my area of accountancy, every day has a new client challenge or opportunity. I love the fast pace and strong relationships I have forged and the client-facing aspect, where I have become a trusted advisor to many growing businesses.